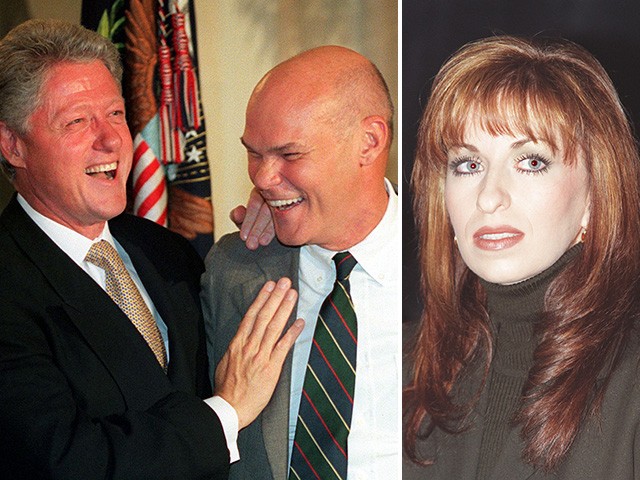 Yahoo News spread fake news Wednesday by falsely attributing a sexist quote from a Clinton political operative to Sen. Lindsey Graham (R-SC).
Asked by The Atlantic's editor-in-chief Jeffrey Goldberg about President Donald Trump's Tuesday evening remarks about Christine Blasey Ford, Graham said the comments were "factual" and more broadly represented a shared frustration among conservatives of the treatment Supreme Court nominee Brett Kavanaugh is being subjected to. "Factual? It was a personal, degrading attack on someone who is a private citizen," Goldberg replied. "Here's what's personally degrading," Graham replied, then quoting Carville: "This is what you get when you go through a trailer park with a hundred dollar bill."
The line, uttered by Carville in January 1996 in reference to Paula Jones, was met with light laughter.
In a now-deleted tweet, Yahoo News shared footage of the brief exchange attributing Carville's slur to Graham, with the a description which read: "Sen. Lindsey Graham defends Trump mocking of Dr. Ford: 'Everything he said was factual… this is what you get when you go through a trailer park with a $100 bill.'"
The message described the audience reaction as a "gasp."
Ok so @YahooNews deleted the tweet screen-grabbed below without tweeting that they deleted a tweet and without reposting it with an accurate headline such as: "@LindseyGrahamSC Notes the Clintons Were Way Worse on Accusers Than @POTUS @realDonaldTrump." pic.twitter.com/uYs2fG6hqq

— Yossi Gestetner (@YossiGestetner) October 3, 2018
Yahoo News posted the following retraction: "We deleted a tweet that did not accurately reflect the context of Lindsey Graham's quote in the below video clip."
We deleted a tweet that did not accurately reflect the context of Lindsey Graham's quote in the below video clip. pic.twitter.com/U5ihRhiP27

— Yahoo News (@YahooNews) October 3, 2018
Paula Jones alleges that Bill Clinton, then the governor of Arkansas, groped her, exposed himself, and propositioned her in a hotel room in Little Rock, AR, on May 8, 1991. Clinton settled a sexual harassment lawsuit against Jones in 1998 for $850,000. The "trailer park" line from Carville is one of many sexist attacks that Clinton allies used against women who came forward alleging sexual misconduct. Most famously, Clinton's gubernatorial chief of staff Betsey Wright coined the term "bimbo eruptions," used by many in the Clinton White House — including now-ABC anchor George Stephanopoulos.
Speaking before supporters in Southaven, Mississippi, President Trump criticized Ford, the California psychology professor who recently leveled a decades-old claim of sexual assault against Kavanaugh, for testifying she does not remember the exact time and location of the alleged incident while declaring absolutely that she drank one beer.
"I had one beer, that's the only thing I remember," President Trump said, launching into an imitation of Ford. "I don't know. I don't know. Upstairs, downstairs, I don't know. I don't remember."
The remark drew ire from moderate Republicans — Sens. Jeff Flake (R-AZ), Lisa Murkowski (R-AK), and Susan Collins (R-ME) — three key swing votes needed to confirm Kavanaugh. "There's no time and no place for remarks like that," Flake told NBC's Today Show earlier Wednesday. "To discuss something this sensitive at a political rally is just not right. It's just not right. I wish he hadn't of done it. It's kind of appalling."
"The President's comments were just plain wrong," Collins told reporters on Capitol Hill shortly after Flake's comments.
http://feedproxy.google.com/~r/breitbart/~3/w3tQXstpwGw/