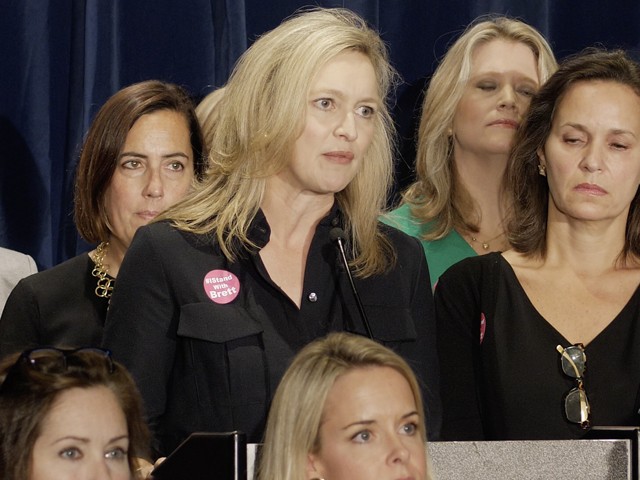 Laura Cox Kaplan joined more than 75 other women Friday at the #IStandWithBrett press conference and expressed her outrage over how close friend Supreme Court nominee Judge Brett Kavanaugh and his family have been treated after Christine Blasey Ford's allegation.
"The nomination process should be one that weeds out those who are not qualified or suited to serve," Kaplan, who like Kavanaugh served in the George W. Bush administration, said from the podium at Washington, DC's JW Marriott hotel. "Sadly, this process isn't. It seems anyone can lodge an allegation, without corroboration or evidence, and dismantle a person's career, and their life, and the lives of their family members. This is wrong."
"My husband Joel and I have been friends with Brett and Ashley Kavanaugh from the early days of the George W. Bush administration and well before the four of us were married," Kaplan explained. "For more than 15 years, we've shared life's victories and its heartaches, its highs and lows."
"There are no two people who are more humble, more honorable, more generous, or more gracious and, in Brett's case, more qualified, to serve this country in the role for which he has been nominated," Kaplan said, recounting stories of shared children's birthday parties and holidays between their two families.
Kaplan focused on the pressures put on Kavanaugh's family who, after intense left-wing media scrutiny, have received threats since Ford's accusation about a high school party in the early 1980s when Kavanaugh was 17 emerged after the close of regular confirmation hearings. She told the audience:
While Brett is the person who's been nominated, his family is going through this process too. My friend Ashley, and her precious girls, Margaret and Liza, who I love. I am heartbroken over the way that this precious family has been treated. What saddens me the most is that I know this person, Brett Kavanaugh, to be a person of the highest moral character and integrity — someone who is humble, who puts others before himself, and someone who is beyond well-qualified for the position of the U.S. Supreme Court.
The #IStandWithBrett conference was put on to bring together more than 75 women who have known Brett Kavanaugh for years or decades and stand by him. Some of the women have known Kavanaugh since the high school days where he is alleged, without corroborating evidence, to have drunkenly groped Ford at a small party. Kaplan was one of six who spoke.
"It would have been a lot easier not to come here today. This is not particularly fun," Kaplan said. "But it wouldn't have been right. And it wouldn't have been what Brett would have done."
http://feedproxy.google.com/~r/breitbart/~3/2Z99P27UaC0/