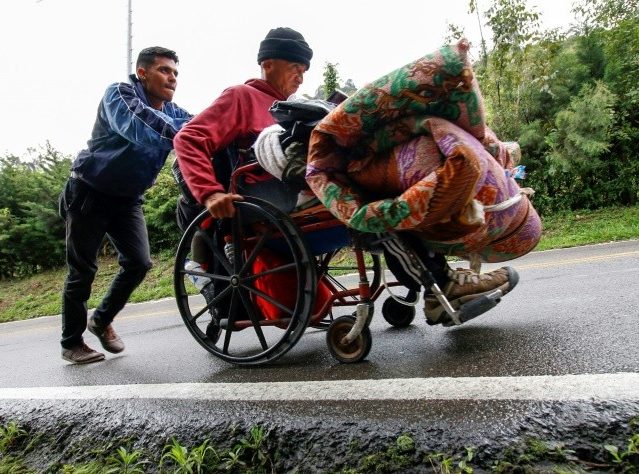 José Agustín López Pérez, a paraplegic man, has begun a nearly 400-mile journey in a wheelchair from western Venezuela into Colombia seeking life-saving medicine, the man told the Agence France-Presse in a report Thursday.
His story is representative of the desperation that has led thousands of Venezuelans to flee the country on foot, flooding neighboring Colombia, Brazil, and Ecuador seeking food and medicine. Venezuela's economy has nearly completely collapsed and faces reaching 1,000,000 percent inflation by 2019, according to International Monetary Fund (IMF) estimates. The collapse is a direct result of over two decades of socialist rule and the imposition of left-wing dictatorial economy and political policies on what was once Latin America's most prosperous nation.
López's story first appeared in AFP and has since been reproduced in Venezuela's El Nacional newspaper. The 51-year-old man and his 20-year-old son Jefferson Alexis are hoping to cross about 600 kilometers (about 374 miles) overall, from San Cristóbal in western Venezuela to the Colombian capital of Bogotá. They have completed 100 kilometers and are at press time in Pamplona, Colombia. His son has pushed him uphill as the pair traveled through mountains in extreme conditions.
"It has been a demonstration of love," Pérez said of his son, who left his mechanical engineering degree to help his father make the journey. "I realized I had to take the road to Colombia to get all the medicines I need and some sustenance to take home."
"You have to make a good sacrifice to have a good future in life, along with my father fighting there we go, crossing all Colombia if necessary," Alexis explained.
Pérez lost both his legs in a road accident in 2005, forcing him to leave his job as a courier just as the country's economy began to implode. After having both his legs amputated, he now needs regular antibiotics to prevent his wounds from becoming infected.
"There was a shortage of food and the total failure of Venezuela. It was very painful," he explained."If I had stayed there I think I would have died, possibly from an infection."
During his journey, the two men used supermarket bags and other industrial tapes to cover his wounds, before realizing they needed to reach the nearby city of Pamplona to tend to them. The pair began to see their arrival as impossible due to the deteriorating state of his wheelchair, but eventually, they were rescued by an ambulance who took them there.
The story is one of the countless heartbreaking tales to come out of Venezuela amid the country's current humanitarian crisis, as millions of people continue to suffer in dire poverty with little to no access to food, medicine, and other essential living resources.
Thousands of Venezuelans are now making similar trips to Colombia, Brazil, and other neighboring countries on foot as they seek to escape their homeland. Many are in need of urgent humanitarian assistance provided by foreign governments including the United States and aid agencies such as the Red Cross.
Socialist regime officials have denied the existence of a migration crisis, claiming it is being staged by the West to undermine their socialist revolution.
Follow Ben Kew on Facebook, Twitter at @ben_kew, or email him at bkew@breitbart.com.
http://feedproxy.google.com/~r/breitbart/~3/87_HbNxWpyA/