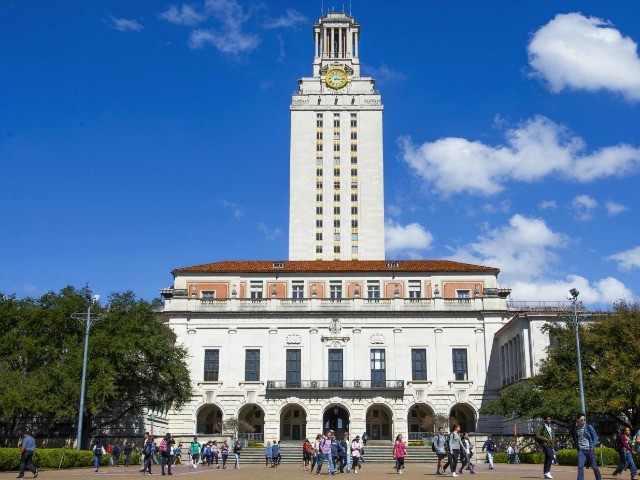 The University of Texas at Austin says the program they halted last spring following criticism it treated masculinity as toxic and as a "mental health issue" is back, re-branded, and determined to uphold its original intent to "engage men in discussions about masculinity as one tool to prevent violence."
During a five month hiatus, UT-Austin determined one way to overhaul the MasculinUT program's tarnished image was to move it from the Counseling and Mental Health Center to the Office of the Dean of Students, Division of Student Affairs. The university reassembled the program's original steering committee to work out a few kinks in response to last year's critical "media attention."
Following inquiries about MasculinUT's intent last spring, the program's original steering committee was reconvened and expanded to provide recommendations and feedback to ensure the at the program's mission is clearly defined an fully aligned with its original intent of reducing sexual assault and interpersonal violence.
The program's gender-bending poster campaign also came under fire for portraying expanded definitions of masculinity such as men wearing dresses and makeup.
Breitbart News reported:
The original website for the MasculinUT program stated it was designed to "provide a framework for men and masculine-identified students to develop a gender awareness that translates into positive contributions to their relationships on campus, relationships to their friends and families, and quality of life, including career goals."

"At the same time, this program was created as a resource and support for students who want to learn more about their masculine gender identities, including students traditionally understood as male, as well as female, transgender, genderqueer, and non-binary students who embody a diversity of masculinities," the program's description continues.
In an August 1 memorandum, Carol Longoria, chair of the MasculinUT steering committee, outlined program recommendations to propel the male-centric program forward, noting the committee "has no final decision-making authority" but they included "all available perspectives" so that Vice President for Student Affairs and Dean of Students, Dr. Soncia Reagins- Lilly, could make "fully informed decisions."
The 22-member committee, comprised of students, staff, and faculty, suggested keeping the MasculinUT moniker and adding clear, non-stigmatizing language devoid of jargon to the website. They recommended adding a publicly accessible wiki page to house some of the program's educational content, and "removing any responses to the allegations it ever treated masculinity as a mental issue." They also called for Student Affairs to "embrace any new version" of MasculinUT and publicly support the program's existence and work.
The committee proposed hiring a fulltime program coordinator, calling it a "Men's Engagement Specialist," pointing out UT-Austin's female survivor-centric Voices Against Violence (VAV) added a "Healthy Masculinities Coordinator" last year.
They also offered up program pillars, like fishbowl discussions, story circles, and facilitated discussions on men's issues and masculinity-related topics. Previous program literature described these elements as discussion-based events that allow participants to ask themselves "what does masculinity mean to me."
Amid the #MeToo Movement, the committee submitted several versions of a proposed MasculinUT "purpose statement." One included concepts of healthy masculinities, increased acceptance of gender diversity, an emphasis on consent, and the many ways to express masculinity and self-care.
In 2016, the American Psychological Association insisted that men who adhere to masculine norms have poorer mental health and are less likely to seek treatment. They described traditional masculinity traits as a desire to win, risk-taking, self-reliance, importance placed on one's job, power over women, disdain for homosexuality, the need for emotional control, violence, dominance, and sexual promiscuity. One year later, a Psychology Today article proposed "feminine socialization" which teaches males to have feminine characteristics to save men from themselves.
On Sunday, a UT-Austin male student, who participated in last year's MasculinUT poster campaign, told the Daily Texan he believed the program was essential for the university.
"I think the students here understand the importance of talking about gender," said Austin Smith. "MasculinUT was never an attack on men or masculinity. If anything, it was a celebration of how varied and unique men can be when they have the space to be themselves instead of having to try to 'be a man.'"
MasculinUT launched in 2015 to "help reduce sexual assault and interpersonal strategies specifically tailored to men."  It was built largely on the findings of Cultivating Learning and Safe Environments (CLASE), a UT System student survey conducted across 13 of its campuses that focused on male behavior and found "sexual assault and interpersonal violence raise serious issues that affect our university community." The project maintained its goal was to "increase student safety."
CLASE invited nearly 187,000 to participate in the system-wide survey, but only around 26,400 did, a 14 percent response rate. In 2016, the UT System enrolled 221,000 students. The Austin flagship campus, had 51,331 students of which 7,500 students participated. CLASE's aggregated report identified respondents as 53 percent female, 46 percent male, and one percent other gender identity. Heterosexuals surveyed accounted for 88 percent, gay/lesbian and bisexual each reflected four percent, and additional sexual orientation, three percent.
Follow Merrill Hope, a member of the original Breitbart Texas team, on Twitter.
http://feedproxy.google.com/~r/breitbart/~3/0O7L_MzAVIc/