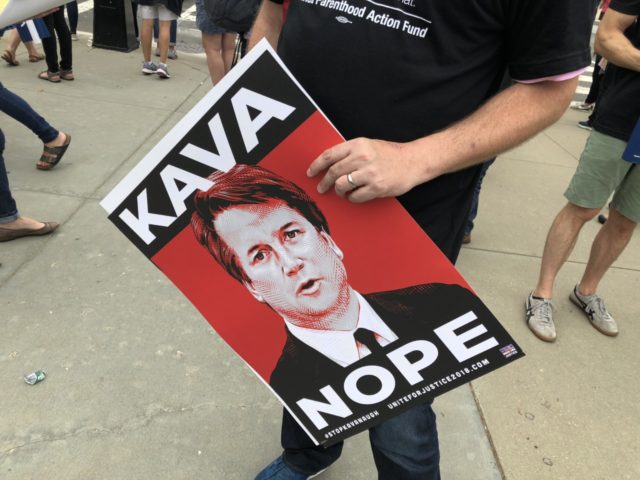 The University of Southern Maine barred a retired professor who still taught classes after she offered credit to her students if they protested the appointment of Brett Kavanaugh to the Supreme Court.
Professor Susan Feiner of the University of Southern Maine has been barred from teaching at the university after she attempted to offer class credit to students who joined her in a protest of Supreme Court Justice Brett Kavanaugh.
Feiner officially retired from the university earlier this year, but was still permitted to teach courses. Feiner, without approval from the university, offered course credit to students who agreed to accompany her to Washington D.C. to protest Brett Kavanaugh's confirmation to the Supreme Court. This week, the University of Southern Maine announced that, as a result of her "pop-up" course, Feiner had been banned from teaching.
In a statement, University of Southern Maine President Glenn Cummings condemned her behavior. "Dr. Feiner is technically retired," Cummings said in the statement. "Dr. Feiner acted in a very rogue manner. Her behavior was inappropriate. It was unacceptable."
"This pop-up course was hastily arranged in the past 24 hours, without the knowledge of the Provost or myself. It was not appropriately reviewed nor went through proper channels," Cummings added. "As soon as the Provost and I were apprised of the course, we immediately pulled the one-credit offering. We also made sure that no USM monies were being used for the trip."
"University policy makes it absolutely clear that our public, taxpayer-funded institutions must be non-partisan in terms of political activity and institutionally impartial in all political, religious, and social matters that are unrelated to our universities' core mission of education, research and public service," Cummings finished.
Green Mountain College in Vermont also offered a "pop-up" course on Brett Kavanaugh. The course, which was entitled "Brett Kavanaugh: Boys Will Be Boys." The course focused on issues of sexual assault in the United States.
http://feedproxy.google.com/~r/breitbart/~3/V9LZ2fW8Ji0/