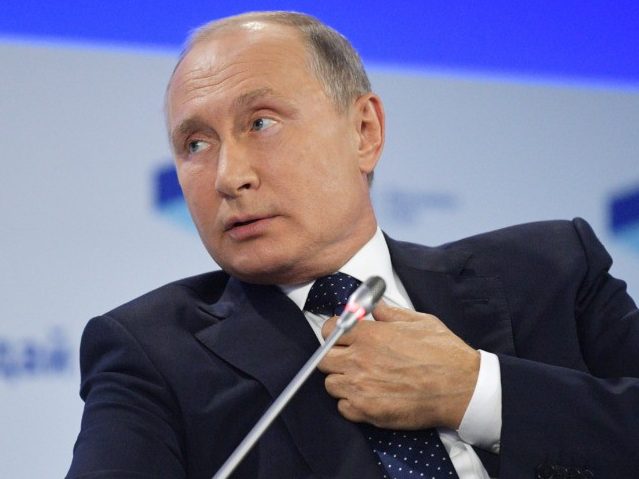 U.S. officials told Fox News on Thursday that Russian President Vladimir Putin's claim that the Islamic State (ISIS) is holding around 700 people hostage in Syria, including several European and U.S. Nationals, is "fake news."
Speaking at a conference in the Black Sea resort city of Sochi, Putin claimed that ISIS had resurged in U.S.-controlled territory and had taken hundreds of people hostage.
"Islamic State terrorists have delivered ultimatums and made certain demands, threatening to shoot ten people every day," he said. "This is just horrible, it is a catastrophe. Some U.S. and European citizens are among the hostages."
A senior U.S. official told Fox News that the claim was "fake news" and that ISIS has been virtually eradicated in the region by Assad and the U.S.-led coalition.
"While we have confirmed that there was an attack on an IDP camp near Deir Ezzour last week, we have no information supporting the large number of hostages alleged by President Putin and we are skeptical of its accuracy," Pentagon spokesperson Cmdr. Sean Robertson later explained.  "We are also unaware of any U.S. nationals located in that camp."
"We reject Russian assertions that the U.S. and Coalition have failed to address the threat posed by ISIS.  On the contrary, the Coalition has liberated more than 99 percent of the territory previously held by ISIS," he continued. "We will continue to work by, with and, through our local partners to pursue the remnants of ISIS in the Middle Euphrates River Valley. Despite our successes, there is still much work to do with our partners to ensure the lasting defeat of ISIS."
Robertson also attacked Russia's involvement in Syria, where they continue to support the Assad regime and its alleged war crimes as his Syrian Arab Army edges closer to victory. The U.S. has continued to focus on destroying ISIS but has also ordered missile strikes on areas of Damascus in response to Assad's alleged use of chemical weapons.
"Russia, on the other hand, has focused its efforts exclusively on aiding the Syrian regime with limited steps to address the threat posed by ISIS and without regard for the laws of armed conflict, civilian casualties, or regime use of chemical weapons," he contested.
On Thursday, the Director of National Intelligence Dan Coats also issued a stark warning to Americans to be aware of propaganda messages put out by foreign governments that may be untrue.
"Responsibility doesn't stop with the federal government, we also need the private sector and media outlets to step up and take greater responsibility because this a national interest it is a national interest that demands a response from both the federal government and from the private sector," he said from a technology conference in Washington D.C.
The Kremlin announced on Friday that President Donald Trump's national security adviser John Bolton will meet with Putin and other Russian senior officials when he visits Moscow next week, where they will reportedly plan another meeting between the two leaders.
Follow Ben Kew on Facebook, Twitter at @ben_kew, or email him at bkew@breitbart.com.
http://feedproxy.google.com/~r/breitbart/~3/Ut4caRwuw-w/