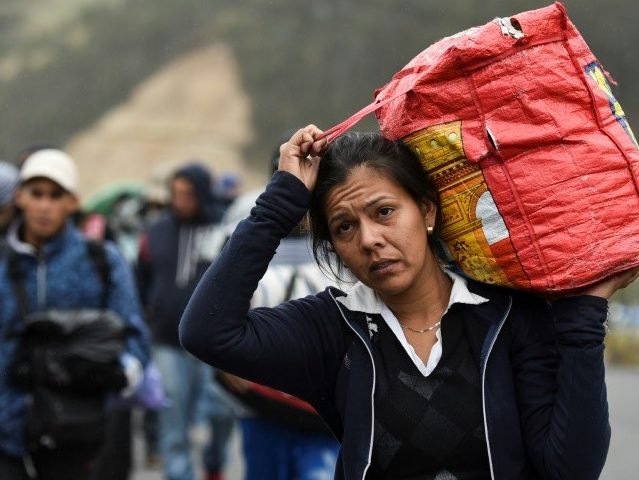 President of Ecuador Lenin Moreno told the United Nations General Assembly during his address Tuesday that his country takes in an average of 6,000 Venezuelan refugees a day, many children "coming with chickenpox, diphtheria, and polio," diseases easily preventable by vaccine.
Moreno was the second head of state to address the General Assembly and the second from Latin America, following President Michel Temer of Brazil. Both nations, and other neighboring countries such as Colombia, are on the front lines of the Venezuelan migrant crisis, which international aid agencies warn could grow to a size comparable to or larger than that of Syria. As of July, Colombia alone has taken in half a million Venezuelans.
Venezuela is currently facing the complete collapse of its political infrastructure and economic and healthcare systems, the product of two decades of socialist policies. Prior to the rise of socialist dictator Hugo Chávez at the turn of the century, Venezuela was the wealthiest nation in Latin America. It is home to the world's largest known oil reserves.
"In Ecuador, we are receiving at least 6,000 Venezuelan brothers daily," Moreno told the General Assembly. "The children come with chickenpox, with diphtheria and polio; pregnant women come having never taken birth control."
According to Moreno, Ecuador has provided over 50,000 vaccines to children and "tens of thousands of medical checkups to the over one million brothers who have fled their home to seek a better fortune in the largest diaspora in the history of our continent."
Without naming Maduro personally, Moreno noted that Ecuador urged "the government and people of Venezuela to resolve their crisis with a national, frank, and inclusive dialogue."
"No one emigrates out of their own will. They do it because they see themselves forced into uprooting, into painful familial and emotional dismemberment," Moreno insisted. He quoted the Cuban poet and founding father José Martí in criticizing the Maduro regime: "when a people migrate, are not needed."
"Those who perpetuate themselves in power and turn their governments dark, sinister, full of corrupt mafias – they are not needed," Moreno asserted.
The Ecuadorian president noted that Venezuela is not alone in suffering a dictatorship, naming also Nicaragua, and stating that they "have the great challenge of consolidating their democracies just as our various countries lived through authoritarian, corrupt, and populist governments." In including Ecuador on that list, Moreno appeared to take a subtle swipe at his predecessor and former support, socialist Rafael Correa, who attempted to end term limits and maintain control of the country. He opted instead of supporting Moreno, who ultimately turned on him and begun dismantling the corrupt socialist government structure Correa built.
Moreno made a final plea to Ecuadorians abroad to come home.
"Just as we express solidarity with those who come to us, we also invite our people who left long ago to return to their birthplaces, to reintegrate into the large family that is their country," Moreno said.
In wide-ranging comments independent of his call for a remedy to the Venezuelan situation, Moreno lauded the United States, quoting the Declaration of Independence as an inspiration to the Ecuadorian constitution and a guiding moral document for the hemisphere.
He also shared his suffering of losing the use of his legs two decades ago, describing having to use a wheelchair as "not that good, not that bad." He added that his perception on life changed since becoming disabled, however, stating, "when we have legs, we see forward and upward. In a wheelchair, we see horizontally, we see below us, we find other realities. Other worlds."
Follow Frances Martel on Facebook and Twitter.
http://feedproxy.google.com/~r/breitbart/~3/NebhXOWnRAo/