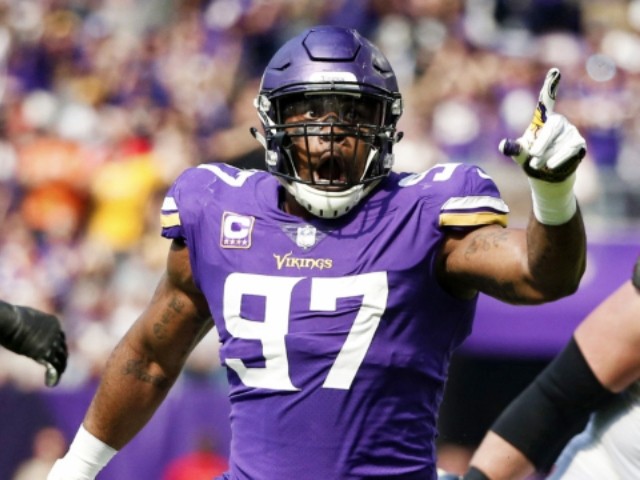 Vikings defensive end Everson Griffen became embroiled with police last weekend, after being accused of threatening to "shoot up" a Minneapolis hotel and causing a disturbance at a team mate's home.
The three-time Pro Bowl player was picked up and questioned by Minneapolis police after the two incidents, according to The Big Lead.
Police said they tracked the player from a hotel to another player's home, and that the player was then remanded to a hospital for "evaluation," according to KSTP-TV.
Police reports state that a person at Hotel Ivy called in to report that a man was threatening to "shoot up" the hotel. A source confirmed to the ABC affiliate that the person under suspicion was Griffen, but the player was not at the hotel when police arrived.
The police report says that the suspect paced in the lobby of the hotel, threatened employees, and eventually left the premises. Employees told police that despite his warnings of armed violence, Griffen did not display a gun.
The player was not booked into jail but was instead sent for a medical evaluation, according to a report by police in western Hennepin County.
Griffen was said to have broken into the home of a fellow player after he left the hotel.
The Vikings released a statement saying, "We are aware of the situation involving Griffen Griffen and certainly concerned by what we have heard. We are currently focused on Griffen's well-being and providing the appropriate support for him and his family."
Griffen had been listed on the injured list for last Sunday's game but was scheduled to be on the sidelines. He missed the game due to the arrest and medical evaluation.
Follow Warner Todd Huston on Twitter @warnerthuston.
http://feedproxy.google.com/~r/breitbart/~3/6skY9QTV27Y/