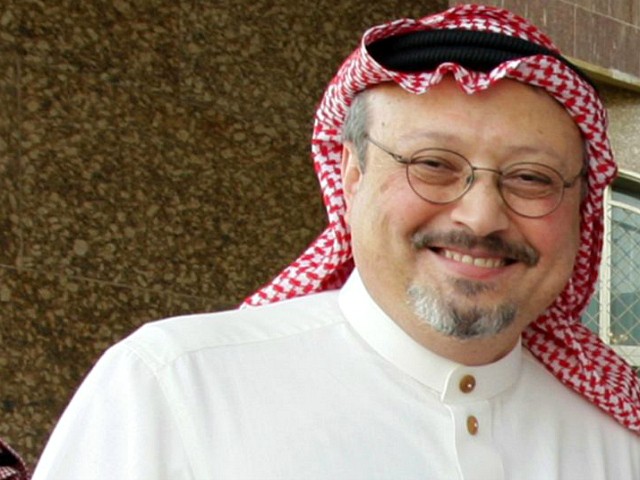 Ahmet Hakan, a Turkish journalist with a history of criticizing President Recep Tayyip Erdogan, published a column Friday claiming that one of his reputable sources called reports that missing Saudi journalist Jamal Khashoggi was dead "garbage" and that he is still alive.
Hakan also claimed to receive gruesome pictures of hacked body parts this week from sources who claimed the remains belonged to Khashoggi, but he did not offer proof identifying the remains.
Khashoggi, a critic of Saudi Crown Prince Mohammed bin Salman, who lived in self-imposed exile in the United States, disappeared on October 2 after entering the Saudi consulate in Istanbul seeking marriage documents. Fiance Hatice Cengiz reported him missing after he failed to return to their car. No publicly available evidence suggests that he has left the consulate since October 2.
A variety of reports citing anonymous Turkish government sources in American and Turkish media have offered several theories about what happened to Khashoggi, including unsubstantiated reports that he was hacked into pieces while still alive or dissolved in acid in the consulate.
Turkish investigators have not announced any relevant findings following their probe into the consulate or the home of the Saudi consul. Saudi Arabia denies any involvement in Khashoggi's disappearance.
In his regular column at the Turkish newspaper Hurriyet, Hakan wrote that he received photos of bloodied body parts this week that he compared to scenes from the Hannibal movies, which made him question if he should look at them at all, but, he said, "I can't help myself looking at them." He did not specify where these photos came from and did not indicate that he had reason to believe the photos were legitimate images of Khashoggi's remains.
The report claiming Khashoggi was still alive, Hakan wrote, did come from a reputable source he described as a "friend … [whose] past predictions about such complicated issues were always proven true."
That source said, "All the stories are garbage. He is alive, he was not killed."
"I did not fully believe in him but I hope that he is right," Hakan remarked.
The source denying reports that Saudi officials killed Khashoggi contradicts numerous statements provided to the pro-Erdogan press with increasingly lurid explanations for his disappearance, particularly at the Islamist daily Yeni Safak. Hakan has a long history of irritating Erdogan and his Islamist Justice and Development Party (AKP) and has suffered physical assaults as a result of his open criticism.
In 2015, four men stopped Hakan on his way home from work in Istanbul, dragged him out of his car, and beat him, breaking several of his ribs and nose. While the men told police they attacked Hakan as part of a "traffic dispute," subsequent reports by Hurriyet itself revealed that two of the culprits had ties to the AKP.
"Such attacks will never intimidate us. We are not afraid. We will continue walking on the path that we know is right," Hakan wrote from the hospital at the time.
Less than a month before the attack, a columnist for a pro-Erdogan newspaper wrote that Hakan was "lucky [he was] still alive" and that the Erdogan supporters "could crush [him] like a fly if [they] want."
At the time, Hurriyet and its parent company, Dogan Media Group, were considered among the most reliably impartial news sources in Turkey. In March of this year, the owner of Dogan Media Group sold the entire establishment to Demirören Holding, a corporation Erdogan ally Erdogan Demirören owns. Hurriyet, nonetheless, continues to employ Hakan.
While not as prolific in publishing unsubstantiated anonymous Turkish government accounts in the developing Khashoggi case than the aforementioned Yeni Safak, Hurriyet has published numerous reports indicating the Turkish government believes Saudi officials killed him in the consulate. Hurriyet published the claim that Saudi officials dissolved Khashoggi's body in acid to do away with any evidence of his killing, along with the U.K.'s Sky News.
Initial Turkish reports claimed that Khashoggi was hacked to death, cut into pieces, and taken out of the consulate in suitcases, a report that would make the likelihood of the photos sent to Hakan of Khashoggi's alleged body more probable. Yeni Safak published a report citing anonymous sources claiming Khashoggi was "dismembered while still alive."
That allegation extends from the multiple reports claiming that audio recordings of Khashoggi's last moments alive exist and prove that Saudi officials tortured him to death. Some Turkish reports claim Khashoggi's Apple Watch, which he allegedly wore to the consulate, recorded the audio.
An ABC News report published Thursday night claimed that Turkish officials let Secretary of State Mike Pompeo listen to the audio when he was in Ankara this week to discuss the case, an assertion the Turkish government soundly rejected on Friday.
"Turkey's handing over of any audio recordings regarding Khashoggi's disappearance to U.S. Secretary of State Mike Pompeo or any other U.S. official is out of question," Foreign Minister Mevlut Cavusoglu told reporters, one of the few on-the-record statements Turkish officials have provided on the issue. The State Department also denied the report.
Follow Frances Martel on Facebook and Twitter.
http://feedproxy.google.com/~r/breitbart/~3/gISJdWdhrFg/