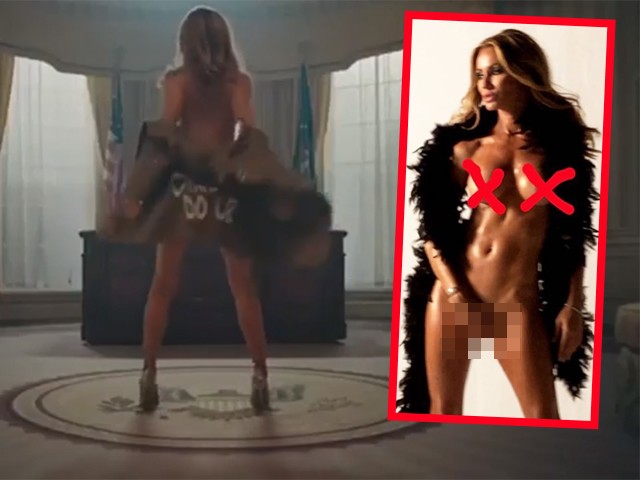 Model Melanie Marden praised herself for her "brave" decision to film a nude scene depicting First Lady Melania Trump stripping in the Oval Office in an interview released Thursday.
Rapper T.I.'s controversial video features Marden taking off an "I Don't Really Care. Do U?" jacket, popularized by President Donald Trump's wife Melania, then mounting the Resolute Desk dressed only in high heels. "It was an opportunity for me to step right outside my comfort zone and play the first lady — yes, naked, which I've never done before… I was brave," Marden told Inside Edition.
She responded to complaints that the video could be interpreted as "bullying" Mrs. Trump, saying the "first lady's husband does a lot of bullying himself."
"So they've got some thick skin," she added. "If I was insulting her and degrading her, then it would be one thing, but I don't think I was."
Marden also previewed a second video mocking the first lady, saying "God bless America. And Russia. And the Trumps," while imitating Melania Trump's accent.
The model played First Lady Melania Trump in a video recently released by T.I., stripping her clothes off for him.
Dear 45,
I ain't Kanye. 😳 pic.twitter.com/BCS8nkbn1M

— T.I. (@Tip) October 13, 2018
T.I. released this video, captioned "Dear 45, I ain't Kanye," after he went on an angry rant against rap star Kanye West for his support of President Trump.
"This is the most repulsive, disgraceful, Embarrassing act of desperation & auctioning off of one's soul to gain power I've ever seen," the "Live Your Life" rapper said.
Stephanie Grisham, the first lady's press secretary, responded to the video by calling it "disgusting" and suggesting a boycott of T.I.'s music.
How is this acceptable? #disgusting #boycottT.I. @Tip https://t.co/HvnFahfsVK

— Stephanie Grisham (@StephGrisham45) October 13, 2018
Marden responded to some of the backlash in an Instagram post this week, saying that her decision to appear in the video was somehow an "opportunity to empower women."
"It was a hard decision for me but I'm proud of myself for being so brave," she also wrote.
Marden has also posted several behind-the-scenes snaps of a photoshoot apparently related to the music video, tagged #NakedMelania — one of which encouraged her followers to register to vote in California.
The establishment media, as always, didn't take any opportunity to defend the first lady from the humiliating treatment.
Though many of CNN's personalities jumped at the opportunity to defend porn star Stormy Daniels from a jab from President Trump, the network was almost silent about Melania's sexist treatment from T.I.
http://feedproxy.google.com/~r/breitbart/~3/l2Qa2eV3PvM/