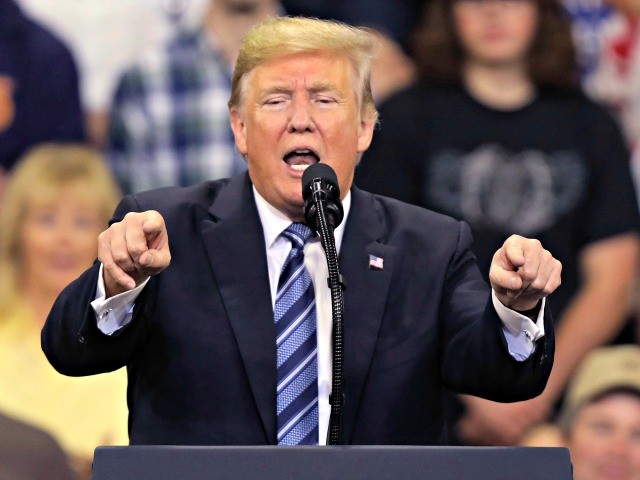 President Donald Trump urged supporters on Thursday evening in Las Vegas, Nevada, to not be "complacent" in the 2018 midterm elections so Democrats do not take back Congress by riding the so-called "blue wave."
Campaigning for Sen. Dean Heller (R-NV), Trump said Congress needs more Republicans to enact his America-first agenda.
"But we have to get out for the midterms. Promise me. You gotta get out for the midterms. Don't be complacent. You gotta vote. We need more Republicans," Trump said, adding that the GOP majority is so slim that they could lose it if somebody has a cold. "We have to have more Republicans in office. We'll get everything we want so fast. We gotta have it."
Trump made his remarks days after Bloomberg Businesweek obtained an internal Republican National Committee (RNC) survey that found that complacency among Trump supporters could cost Republicans control of Congress in the fall.
The poll found that "fully half of self-identified Republicans don't believe Democrats are likely to win back the House. And within that group, 57 percent of people who describe themselves as strong Trump supporters don't believe Democrats have a chance (37 percent believe they do)."
In addition, Bloomberg Businessweek reported that the survey found that "that complacency among GOP voters is tied directly to their trust in the president—and their distrust of traditional polling."
"While a significant part of that lack of intensity is undoubtedly due to these voters' sentiments toward the President, it may also be partly because they don't believe there is anything at stake in this election," the report's authors reportedly concluded. "Put simply, they don't believe that Democrats will win the House. (Why should they believe the same prognosticators who told them that Hillary was going to be elected President?)"
http://feedproxy.google.com/~r/breitbart/~3/m8Ce87POdYw/