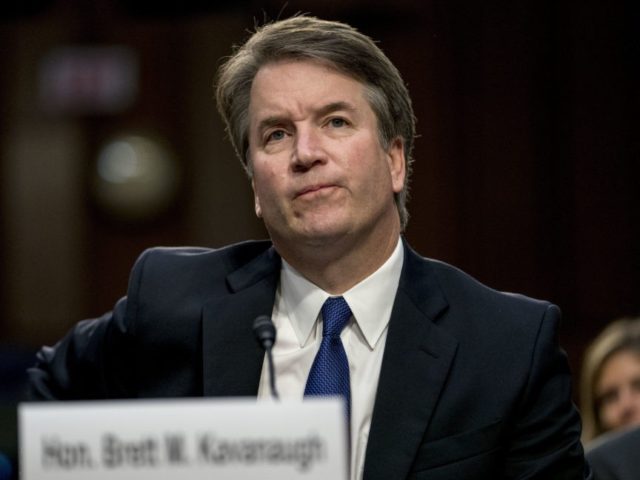 President Donald Trump on Thursday evening said Democrats are trying to "besmirch" Supreme Court nominee Brett Kavanaugh and need to "get on with it" without any more Senate Judiciary Committee delays.
"I don't think you can delay it any longer. They've delayed it a week already," Trump told Fox News host Sean Hannity before a Las Vegas, Nevada, rally. "They have to get on with it."
Before the rally, Trump told Hannity that he thinks "it's a sad situation" and said that Kavanaugh is an "outstanding person." Trump, referring to Christine Blasey Ford, the Northern California psychology professor who has accused Kavanaugh of sexual assault, asked, "Why didn't somebody call the FBI 36 years ago?"
"To take a man like this and besmirch," Trump said, adding that he has been "accommodating." "Now, with that being said, let her have her say and let's see how it all works out."
Later at the rally for Sen. Dean Heller (D-NV), Trump said, "One of the reasons I was elected was because you believed I was going to pick great Supreme Court Justices."
"Brett Kavanaugh—and I'm not saying anything about anybody else—but I want to tell you that Brett Kavanaugh is one of the finest human beings you will have the privilege of knowing or meeting. A great intellect. A great gentleman. An impeccable reputation. Went to Yale. Top student. Went to Yale Law School. Top student," Trump said at the rally. "So we'll let it play out, and I think everything's going to be just fine. This is a high-quality person."
On Thursday afternoon, Ford's lawyers told Senate Judiciary Committee Chairman Chuck Grassley (R-IA) that though Ford will not testify on Monday, Ford "wishes to testify, provided that we can agree on terms that are fair and which ensure her safety."
"A hearing on Monday is not possible and the Committee's insistence that it occur then is arbitrary in any event," Ford's lawyers wrote Grassley, who had given Ford's team a Friday morning (10 a.m. ET) deadline to make their decision about testifying. "Dr. Ford has asked me to let you know that she appreciates the various options you have suggested. Her strong preference continues to be for the Senate Judiciary Committee to allow for a full investigation prior to her testimony."
Kavanaugh also wrote Grassley and said he "will be there" on Monday and looks "forward to the opportunity to testify before the Committee."
"I continue to want a hearing as soon as possible, so that I can clear my name," Kavanaugh wrote. "Since the moment I first heard this allegation, I have categorically and unequivocally denied it. I remain committed to defending my integrity."
On Thursday evening, Ford's lawyers reportedly indicated that Ford could be willing to testify on Thursday of next week so long as certain conditions are met. Ford's lawyers reportedly are opposed to Senators using outside lawyers to question Ford. They also want Kavanaugh to testify first and to not be in the same room at the same time as Ford.
Earlier in the week, Lisa Banks, one of Ford's lawyers, told CNN's Anderson Cooper that her client was "not prepared" to testify on Monday and indicated that Ford did not want to do so before a full FBI investigation into her allegations. Banks also claimed that the Judiciary Committee's "stated plan to move forward with a hearing that has only two witnesses is not a fair or good faith investigation" and added that "there are multiple witnesses whose names have appeared publicly and should be included in any proceeding."
http://feedproxy.google.com/~r/breitbart/~3/C1kmycv6-mE/