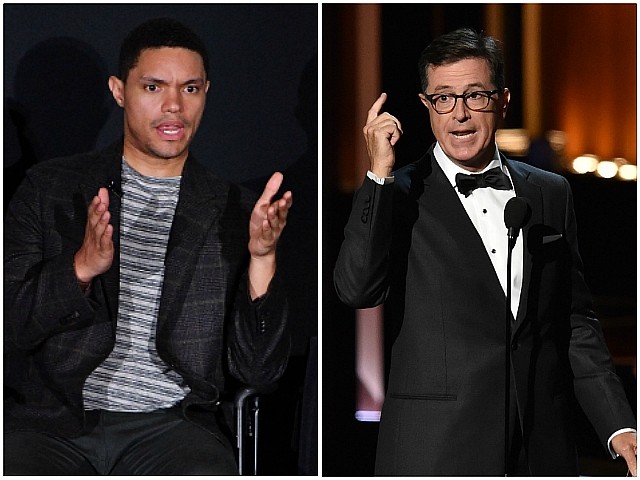 Late-night hosts including Stephen Colbert and Trevor Noah accused President Donald Trump of fearmongering over the migrant caravan traveling through Central America toward the United States.
The two hosts attacked the Pengaton's recent announcement that over 5,000 troops would be sent to the border to handle any potential illegal crossing, with reports that there are many violent criminals within the oncoming migrant caravan.
"Really, Trump is sending the same amount of troops to deal with asylum seekers as he sent to fight ISIS? That has to be so weird for the troops," Noah said. "It'd be like one guy talking to another: He's like, 'I'm headed to Iraq to stop a violent death cult from destroying civilization. Where are you going?' 'Oh, yeah, I'm going to try and convince a baby to crawl south. Just switch around."
"That's right, these migrants are both super strong and riddled with disease. These are the strongest lepers I've ever seen! Coming across the border, their jacked arms falling off in the streets," he continued. "It's the thing that he does best: He's scaring the sh*t out of his voters. It's sort of like Halloween, but a racist Halloween. Or as Megyn Kelly calls it, Halloween."
Over on CBS' Late Show, Stephen Colbert described Trump as the "fearmonger-in-chief," and at one pointed implied he was a dictator due to his recent plans to end birthright citizenship.
"This year the campaign's have been dominated by fear," Colbert declared. "Our fearmonger in chief… he knows how to stoke the fear, he knows how to appeal to the Latinophobic, the 'his-panickers' if you will."
"To combat one of the things he wants you to be afraid of, Trump has announced a plan to deploy 5,200 troops to the southern border," he continued "The Pentagon has a powerful name for this mission: Operation Faithful Patriot. Which beat out their second choice, Operation Loyal Eagle Freedom Boner."
Meanwhile, ABC funnyman Jimmy Kimmel chose to focus back in on Robert Mueller investigation, amid claims from a woman who says she was offered money to make false claims against the FBI's special counsel.
"Several journalists say they were approached by a woman who said she was offered $20,000 to make false assault and harassment claims against special counsel Mueller, in order to discredit him — which is very clever," he said. "You witch-hunt the witch-hunter, that way people won't know which witch-hunter to hunt."
"I feel like we've reached the point at which we need to control-alt-delete the whole country and just start over again," he added.
Follow Ben Kew on Facebook, Twitter at @ben_kew, or email him at bkew@breitbart.com.
http://feedproxy.google.com/~r/breitbart/~3/SnhINKYfWCw/