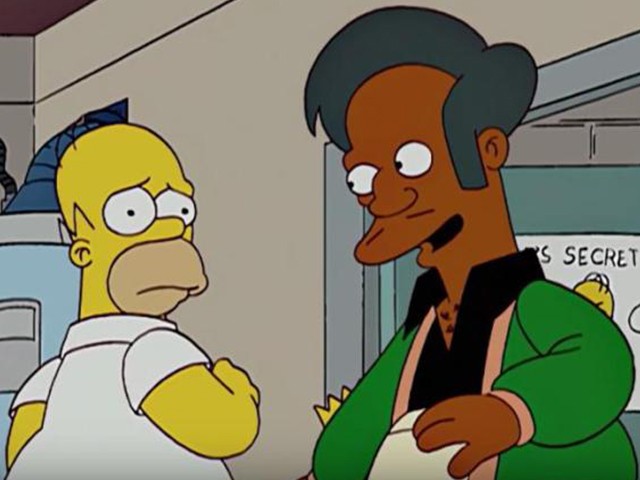 Producers of The Simpsons have announced that their long-running Indian character, Apu, will be written out of the show due to increased complaints that he reflects an insulting racial stereotype, NME reported.
The nearly 30-year-old animated sitcom has featured Kwik-E-Mart owner Apu Nahasapeemapetilon as a wise-cracking, and sometimes clueless, father of eight children.
Apu first appeared in 1990, early in the series. But criticism has been mounting over the depiction of the character. With the character being a convenience store owner and sporting a heavy accent, it has been deemed a "racist" depiction of an Indian-American. People of Indian heritage have slammed the heavily accented cartoon character for reinforcing stereotypes they insist can lead to bullying and self-loathing.
The series has acknowledged that the character has become a problem. Indeed, The Simpsons did make a small attempt to wink and nod at the issue with the Apu character. In the April episode titled, "No Good Read Goes Unpunished," one segment dealt with the stereotypes that were once accepted in society but have become problematic today.
In the episode, Lisa Simpson tells her mother, Marge, "Something that started decades ago and was applauded and inoffensive is now politically incorrect. What can you do?" As Lisa delivered the line, a framed photo of Apu is seen sitting on a bedstand next to her.
But now, that problem is about to disappear into thin air. And some are not happy with the plans.
Indie film producer and Indian-American Adi Shankar attempted to raise fan support for a Simpsons episode that would deal with the show's "Apu problem."
However, that idea is set to die, as Shankar has reported, "I've verified from multiple sources now: They're going to drop the Apu character altogether. They aren't going to make a big deal out of it, or anything like that, but they'll drop him altogether just to avoid the controversy."
Shankar, however, says the sudden disappearance of a near 30-year-old character is a mistake. "If you are a show about cultural commentary and you are too afraid to comment on the culture, especially when it's a component of the culture you had a hand in creating, then you are a show about cowardice," Shankar said.
Shankar concluded that just dropping the character without explanation is "a step backward" for race relations.
Some actors on the series have also expressed unease with the Apu character.
Only a few months ago, Hank Azaria, the actor who has voiced the character since its debut, announced that he would no longer provide Apu's voice for the animated series.
During an April appearance on The Late Show with Stephen Colbert, Azaia said he hoped producers of the series would make a change over the character.
"I'm perfectly willing and happy to step aside or help transition it into something new. I really hope that's what The Simpsons does," Azaria proclaimed.
Azaria added that if anyone was bullied because of Apu, he would be mortified. He said he only wanted to "spread laughter and joy with" the character.
"I've given this a lot of thought, and as I say my eyes have been opened," Azaria exclaimed:
I think the most important thing is we have to listen to South Asian people, Indian people in this country, when they talk about what they feel and how they think about this character, and what their American experience of it has been … Listening to voices means inclusion in the writers' room. I really want to see Indian, South Asian writers in the writers' room, not in a token way, but genuinely informing whatever new direction this character may take, including how it is voiced or not voiced.
Comedian and Indian-American Hari Kondabolu, also recently expressed his distaste over the character with a documentary titled, The Problem With Apu. Kondabolu said that growing up as an Indian in the U.S., he was often made fun of by other children with the Apu catchphrase: "Thank you, come again."
"Sure, growing up in New York City everyone tries to be funny. If you grow up there, you learn to make jokes and how to make comebacks, but it's hard to counter an accent – what's your comeback for an accent?," Kondabolu told the BBC late last year.
Follow Warner Todd Huston on Twitter @warnerthuston.
http://feedproxy.google.com/~r/breitbart/~3/FBZ7mywMpQ8/