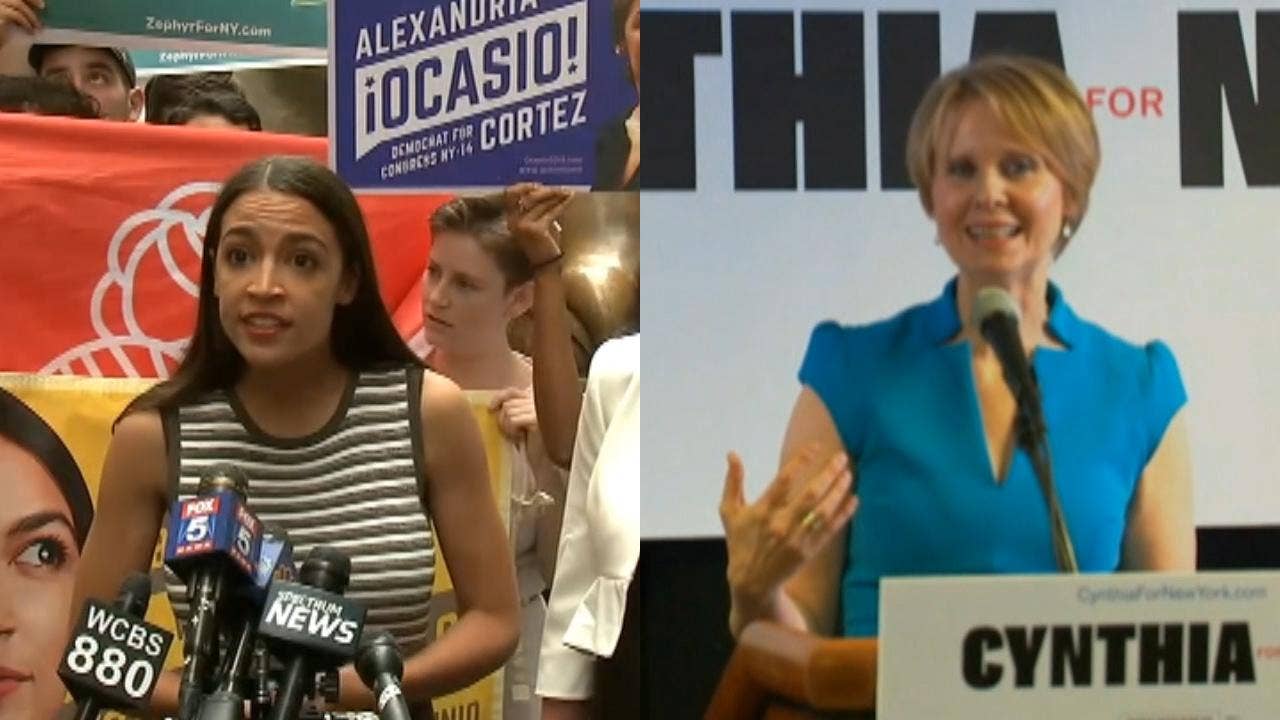 As Democratic socialists chalk up victories across the country during primary season, there are indications that the wave is having an impact on the Democratic Party at large.
Backed by Vermont Sen. Bernie Sanders, a slew of liberal candidates have pulled off upsets in Democratic primaries across the country this year by embracing a Democratic socialist platform, with agenda items such as implementing Medicare-for-all, free college tuition, abolishing the Immigration and Customs Enforcement (ICE) agency and impeaching President Trump.
Among candidates embraced by the left wing of the party who have won primaries in major contests this year: New York Democratic congressional candidate Alexandria Ocasio-Cortez, Maryland Democratic gubernatorial nominee Ben Jealous and Florida Democratic gubernatorial nominee Andrew Gillum.
The results have been a mixed bag, however, with a number of candidates falling flat. Most notably, "Sex and the City" actress and New York gubernatorial challenger Cynthia Nixon was soundly beaten by establishment Democratic Gov. Andrew Cuomo last week despite a high-profile campaign.
Cuomo mocked the idea of a left-wing wave in remarks Friday, saying that his brand of pragmatic progressivism was where the real revolution was.
"That is a revolution," he said of his win, according to The New York Daily News. "That is a wave. On the numbers. Not on some Twittersphere dialogue where I tweet you and you tweet me and between the two of us, we think we have a wave. We're not even a ripple."
But there is no sign that left-wing push is slowing down and party elders are warning the party not to go too far to the left. Even the liberal former President Jimmy Carter is expressing concern that Democrats could alienate independents.
"Independents need to know they can invest their vote in the Democratic Party," Carter said Tuesday during a speech at his post-presidential center and library in Atlanta.
Joe Lieberman, who was the Democratic Party's candidate for vice president in 2000, said in an interview with Fox News last month that Ocasio-Cortez's ideas will struggle to gain support across America.
"When I see somebody who really says she's a socialist — she's a very captivating, charismatic candidate — when you look at those policies, those policies will not be supported in many places across America," Lieberman said.
ALEXANDRIA OCASIO-CORTEZ SHUNS HOLLYWOOD ELITES IN WEST COAST TOUR 
House Democratic Leader Nancy Pelosi, D-Calif., has also expressed concerns about the left-wing's push for the impeachment of Trump, calling it a "gift" to Republicans.
Pelosi told Politico in May that impeachment was popular in her district, but that she still didn't support it: "I'm not walking away from impeachment for political reasons and I'm not walking toward it for political reasons. I just think it's divisive and I think what we should do is always try to unify."
But there are signs that the groundswell of hard-leftism is having an effect on more mainstream, national candidates.
For instance, while Cuomo brushed off Nixon's challenge, he had also dipped his toe into some left-wing positions such as abolishing ICE, at the same time as Nixon was calling it a "terrorist organization."
Controversially, Cuomo took a left-wing turn in August and declared that America "was never that great."
"We have not reached greatness, we will reach greatness when every America is fully engaged, we will reach greatness when discrimination and stereotyping against women, 51 percent of our population, is gone," he said.
"I think this is just another example of Andrew Cuomo trying to figure out what a progressive sounds like and missing by a mile," Nixon told NY1.
Top 2020 Democratic prospects have also started endorsing some of those radical ideas. Sens. Elizabeth Warren, D-Mass., Kamala Harris, D-Calif., and Kirsten Gillibrand, D-NY, have all expressed support for abolishing or overhauling ICE. President Barack Obama recently voiced his support for Medicare-for-all healthcare plans.
Polls are showing increasing support for socialism, once a dirty word in American political discourse. According to a Gallup poll released in August, more Democrats view socialism positively than they do capitalism.
Fifty-seven percent of Democrats polled by Gallup have a favorable view of socialism, while just 47 percent of Democrats in the poll have positive feelings about capitalism.
Republicans meanwhile, are licking their lips at the prospect of a hard-left turn by Democrats. President Trump, in an interview with Fox News' Maria Bartiromo in July, predicted that if Democrats push to abolish ICE, they will get beaten in elections.
"Well I hope they keep thinking about it. Because they're going to get beaten so badly," he said.
Fox News' Alex Pappas and Lukas Mikelionis contributed to this report.
http://feeds.foxnews.com/~r/foxnews/politics/~3/kA4q0Xq8eEI/socialism-rises-in-democratic-party-as-primary-season-upsets-comes-to-close.html