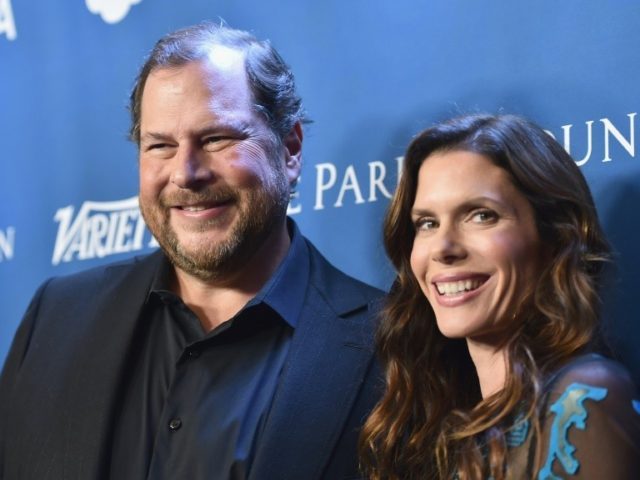 Salesforce.com CEO Marc Benioff, a notable promoter of Big Tech and financial backer of failed presidential candidate Hillary Clinton, has purchased Time Magazine for $190 million.
Benioff made the purchase with his wife Lynne, and according to the Wall Street Journal, they're "buying Time as individuals," and not as Salesforce.com.
"We're investing in a company with tremendous impact on the world, one that is also an incredibly strong business. That's what we're looking for when we invest as a family," the Salesforce.com CEO declared, while Mrs. Benioff added, "The power of Time is its unique storytelling of the people and issues that affect us all and connect us all."
The power of Time has always been in its unique storytelling of the people & issues that affect us all & connect us all. A treasure trove of our history & culture. We have deep respect for their organization & honored to be stewards of this iconic brand. https://t.co/TsbcXhO1OU

— Marc Benioff (@Benioff) September 16, 2018
Benioff was a prominent supporter and financial backer of failed 2016 Democratic presidential election candidate Hillary Clinton, and he was even rumored to be a potential running mate for Clinton in 2016.
In 2015, the Washington Post described Mr. Benioff as a "major donor" to the Ready for Hillary super PAC, while his company Salesforce.com gave Clinton over $450,000 to deliver two speeches.
He was also invited with a handful of other tech company executives to a 2016 party at Apple CEO Tim Cook's house in Silicon Valley where they celebrated by "each contributing or raising at least $100,000 for Hillary Clinton's campaign."
Mr. Benioff has also taken shots at President Trump for allegedly seeing America as "homogenous," claimed he will only back political candidates who promise more visas for foreign workers, and urged President Trump to stay in the Paris Agreement.
Mr. Benioff is the latest Big Tech executive to own a media outlet, joining Amazon founder Jeff Bezos who owns the Washington Post, Apple founder Steve Jobs' widow Laurene Powell Jobs who owns a majority stake in the Atlantic, biotech billionaire Patrick Soon-Shiong who owns the Los Angeles Times, and eBay founder Pierre Omidyar who created the Intercept.
http://feedproxy.google.com/~r/breitbart/~3/g5k3TwfTFlY/