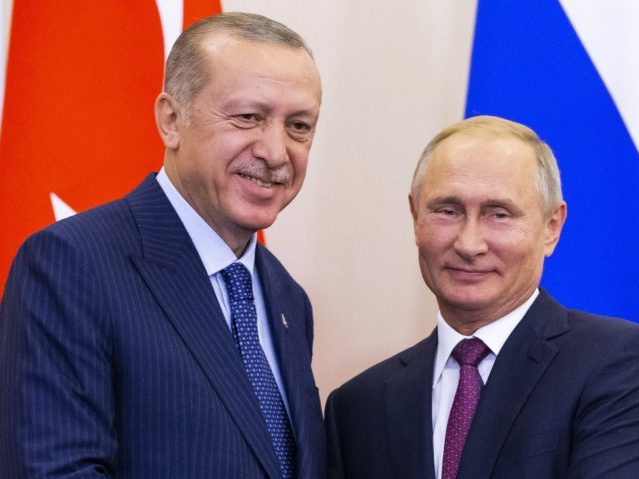 Russia and Turkey reportedly agreed Monday to establish a demilitarized buffer zone in Syria's Idlib province to keep forces loyal to dictator Bashar al-Assad's forces separate from rebel fighters in the region.
The zone is expected to be 9 to 15 miles wide and expected to be implemented by mid-October, Russian President Vladimir Putin declared, according to the state-owned TASS news agency.
"At the meeting, we discussed in detail this situation (in the Idlib governorate) and decided to establish a [9 to 15 mile]-wide demilitarized zone along the contact line between government troops and the armed opposition by October 15, 2018 and evacuate radical militants, including Jabhat al-Nusra (a terrorist organization outlawed in Russia – TASS)," Putin said.
Jabhat al-Nusra refers to al-Qaeda's branch in Syria, primarily based in Idlib. Some analysts have deemed the wing to be al-Qaeda's strongest branch.
Putin announced the demilitarized zone after meeting with Turkish President Recep Tayyip Erdogan on Monday at the Russian leader's presidential residence in the coastal city of Sochi.
"I believe our joint statement following this meeting will give the region a new hope," President Erdogan reportedly said, adding, "At the moment, I believe, not only our region but also the world is looking at Sochi today."
Turkey's Daily Sabah noted:
The province of Idlib in northwestern Syria is the largest bastion of the opposition, and Turkey has been eager to prevent a potential regime offensive there.

Russia calls Idlib a hotbed of terrorism and says the Syrian regime has the right to retake control of it. Turkey has appealed to Russia and Iran for a diplomatic resolution to the ticking bomb. At the same time, it has sent reinforcements to its troops ringing Idlib, a move designed to ward off a ground assault, at least for now.
Turkey has also warned about the presence of terrorist groups in Idlib, stressing ahead of the Sochi meeting that inaction would lead to "heavy consequences."
"Let's all take steps against terror groups among rebels," Erdogan said Sunday, adding, "We should find a solution with Russia and [U.S.-led] coalition forces without giving any chance to this."
Ongoing U.S. support for Syrian Kurds considered terrorists by Turkey has strained the relationship between NATO allies Washington and Ankara.
The Sochi meeting came ten days after a summit between Putin, Erdogan, and their Iranian counterpart Hassan Rohani, another Assad ally, failed to generate a compromise to prevent an expected Syrian government offensive in Idlib Province.
http://feedproxy.google.com/~r/breitbart/~3/akMMpQ4d4VQ/