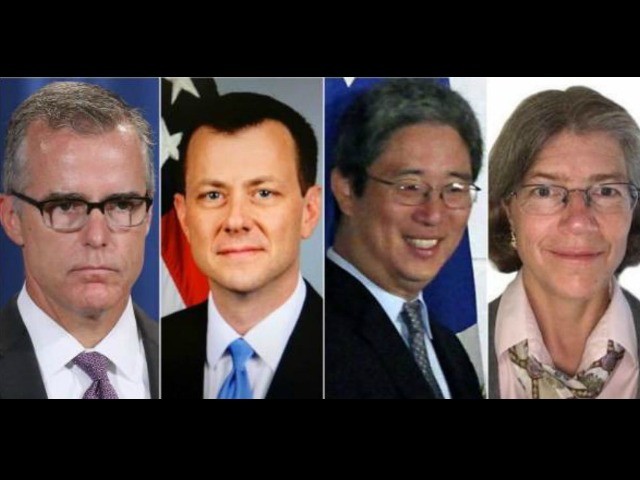 President Donald Trump ordered the declassification records surrounding the Russia investigation on Monday, according to the White House.
White House Press Secretary Sarah Sanders cited "reasons of transparency" for the president's decision, as well as requests from Congressional investigative committees in a statement confirming the action.
Trump ordered the Director of National Intelligence, the Department of Justice, and the Federal Bureau of Investigation to declassify select parts of the FISA court application to spy on his former campaign surrogate Carter Page during the 2016 election.
Trump also ordered that FBI interviews with Bruce Ohr be released surrounding the ongoing Russia investigation as well as all text messages relating to the Russia investigation from former FBI Director James Comey, Deputy Director Andrew McCabe, and agents Peter Strzok and Lisa Page.
The volume of unclassified information is likely to throw the Russian investigation into chaos as the motivations for the investigation into Trump campaign collusion will likely be revealed.
Trump commented on the investigation on Twitter on Monday, citing a Fox News report about Page's testimony that there was no evidence of collusion before the Mueller appointment.
"The case should never have been allowed to be brought," Trump added. "It is a totally illegal Witch Hunt!"
He also highlighted a message from Strzok to Page, proposing to "lock in" an investigation right after Comey was fired from the FBI.
Immediately after Comey's firing Peter Strzok texted to his lover, Lisa Page "We need to Open the case we've been waiting on now while Andy (McCabe, also fired) is acting. Page answered, "We need to lock in (redacted). In a formal chargeable way. Soon." Wow, a conspiracy caught?

— Donald J. Trump (@realDonaldTrump) September 17, 2018
Immediately after Comey's firing Peter Strzok texted to his lover, Lisa Page "We need to Open the case we've been waiting on now while Andy (McCabe, also fired) is acting. Page answered, "We need to lock in (redacted). In a formal chargeable way. Soon." Wow, a conspiracy caught?

— Donald J. Trump (@realDonaldTrump) September 17, 2018
http://feedproxy.google.com/~r/breitbart/~3/t6wUPDY97zM/