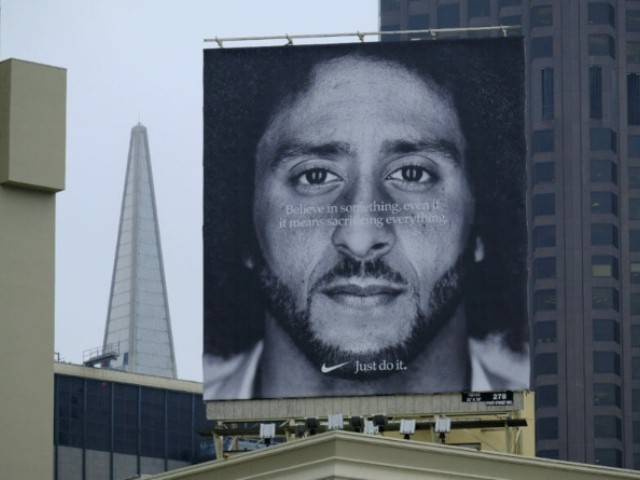 A Rhode Island town is set to debate a resolution calling on city agencies to boycott Nike products, because of its "Just Do It" ad campaign featuring Colin Kaepernick, according to a report.
North Smithfield Town Council President John Beauregard has submitted a resolution which asks all town departments to refrain from making any purchases of Nike sports equipment for city use, according to the Providence Journal. The resolution includes the city school system.
Beauregard's resolution is not binding and is just a suggestion of policy, but the council president said that he was incensed that Nike made the anthem-kneeling Colin Kaepernick the face of its 30th anniversary "Just Do It" ad campaign. Beauregard, who is a retired state police trooper, specifically cited Kaepernick's anti-police activism saying it is a "very personal" issue with him.
"This is not about kneeling during the anthem. This is about the disrespect Kaepernick has shown toward the police. For Nike to sponsor him perpetuates this lie that police are racist, that they are out to keep people of color down," Beauregard said.
Over 100 cops were killed in the line of duty last year," Beauregard added. "Some were accidents. They are the ones who have sacrificed everything. Colin lives a millionaire's lifestyle."
Kaepernick, who is also the NFL's original anthem protester, has been outspoken about his attacks on police. In fact, during a practice session in 2016 when he was still a player for the San Francisco 49ers, Kaepernick wore socks that depicted all police a "pigs."
The Rhode Island ACLU, though, sent a letter to the city demanding that the city defeat the resolution.
"Leaving aside any legal issues, passage of the resolution would display a tremendous insensitivity to the demonstrable racial inequality in our society that Kaepernick's protest sought to highlight," the ACLU said.
It was not clear if any city department has ever purchased Nike equipment in the past.
Last week the Mississippi State Police also announced a ban on Nike equipment due to former NFL player Colin Kaepernick's anti-police activism.
Follow Warner Todd Huston on Twitter @warnerthuston.
http://feedproxy.google.com/~r/breitbart/~3/PEbWnMufDas/