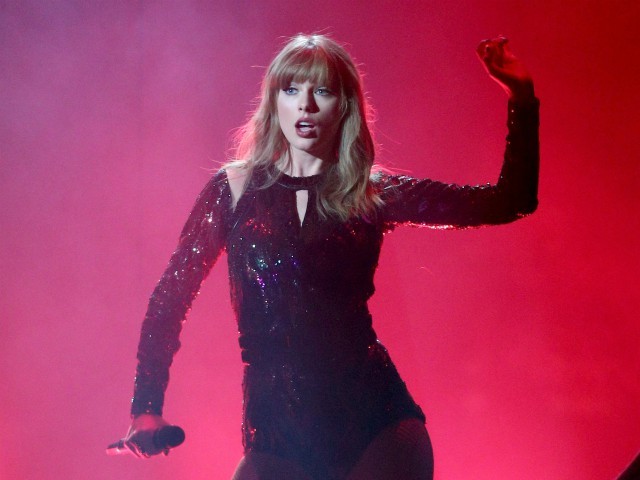 Pop star turned Democratic activist Taylor Swift headlined the American Music Awards Tuesday night, and the ratings dropped to a new all-time low.
The Wrap reports that ratings for the American Music Awards telecast fell to "a new record low in TV ratings," even lower than the previously record-holders for the lowest rated AMAs in 2017 and 2016.
Taylor Swift, who opened the night with a performance and won the "Artist of the Year" award, recently dove into politics, endorsing two Democratic candidates in Tennessee. At the AMAs Tuesday, Swift urged her fans to "get out and vote."
"This award and every single award given out tonight were voted on by the people, and you know what else is voted on by the people?" Swift said. "It is the midterm elections on November 6. Get out and vote. I love you guys."
Is it cool that she said all that? Of course it is. @taylorswift13 accepts the award for #AMAs Artist of the Year! 🎉 #TaylorSwiftAMAs pic.twitter.com/EmTzjlB8uH

— American Music Awards (@AMAs) October 10, 2018
Comedian Billy Eichner also urged young people to vote in the midterms at the AMAs last night, calling it "the biggest election of our lifetime" and saying that if you believe in women's equality and climate change, you must vote.
.@billyeichner references @taylorswift13 when telling audience to vote: "you can go to https://t.co/S9sA0MNy0j like Taylor Swift told you to" pic.twitter.com/zS7k5JXHs7

— Hollywood Reporter (@THR) October 10, 2018
In a recent Instagram post, Swift wrote she believes "in the fight for LGBTQ rights, and that any form of discrimination based on sexual orientation or gender is WRONG."
The Blank Space singer also blasted the "terrifying, sickening and prevalent" kinds of "systemic racism" that exist in America.
"I cannot vote for someone who will not be willing to fight for dignity for ALL Americans, no matter their skin color, gender or who they love," Swift wrote. "Running for Senate in the state of Tennessee is a woman named Marsha Blackburn. As much as I have in the past and would like to continue voting for women in office, I cannot support Marsha Blackburn. Her voting record in Congress appalls and terrifies me."
Trump responded to the 28-year-old's political endorsement by joking, "Let's say that I like Taylor's music about 25 percent less now."
The AMAs abysmal ratings follows the trend of many politicized award shows in 2018 posting embarrassing ratings.
September's Emmy Awards fell to an all-time low in the ratings. The MTV Video Music Awards also posted all-time low ratings, as did the Oscars.
http://feedproxy.google.com/~r/breitbart/~3/bAXJ-D0GBAE/