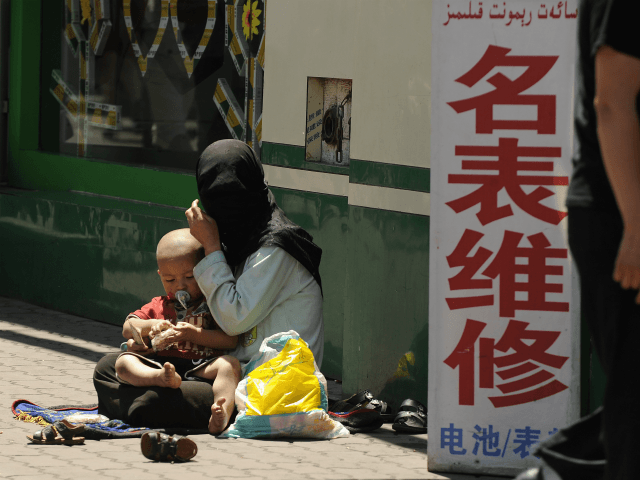 The government of China passed a regional law Tuesday formally allowing officials in the Muslim-majority province of Xinjiang to established internment camps for ethnic Uighurs considered insufficiently loyal to the Communist Party.
The camps have existed for at least one year. Human rights groups and the State Department have estimated that police have arbitrarily detained one million Uighur Muslims in these camps, where they are forced to renounce their religion, learn Mandarin, and memorize communist propaganda songs. Survivors of the camps say they endured physical and psychological torture.
When confronted about the camps, Chinese officials described the camps as "vocational centers" where individuals with minor criminal backgrounds could learn skills to make them more marketable as employees.
Communist Party leader Xi Jinping has made erasing the Uighur identity from Xinjiang a key policy of his tenure. In addition to establishing camps to indoctrinate particularly devout Muslims out of their religion, China has banned children from any religious activity, including attending services at mosques; forced stores in Xinjiang's capital Urumqi to sell haram products like alcohol and cigarettes; banned Islamic garb on public transport; and this week launched a campaign to eradicate halal certification in the region.
The law passed Tuesday allows Xinjiang to "set up education and transformation organizations and supervising departments such as vocational training centers, to educate and transform people who have been influenced by extremism," according to the South China Morning Post. The "centers" should aim to force those interned there to undergo "ideological education to eliminate extremism" and "help trainees to transform their thoughts and return to society and their families."
The law lists several behaviors that can land a citizen in one of these "vocational centers," including participation in any religious activity, "refusing to watch state TV and listen to state radio and preventing children from receiving state education," according to the BBC. China has strict laws curtailing homeschooling, as such education could keep children from receiving communist indoctrination as mandated in schools.
Urumqi's Communist Party launched a separate initiative on Monday to eliminate halal products from the region. The local party posted a notice on social media announcing its intention to "fight a decisive battle against 'pan-halalization.'"
"My belief is Marxism-Leninism … I must fly the flag high and battle (the) 'pan-halal trend' to the end, resolute in my beliefs, even to death!" an oath posted to a WeChat account by the Communist Party read, encouraging all Chinese people in the region to take the oath.
The party also reportedly posted an article by Uighur chief prosecutor for Urumqi, Ilshat Osman, titled "Friend, you do not need to find a halal restaurant specially for me."
Reports of the use of internment camps to indoctrinate and torture Uighurs out of both their religion and ethnic identity began surfacing in 2017, years after initial reports of laws banning Islamic clothing and beards on public transport in Urumqi. According to experts who have interviewed survivors of the camps, the government forces prisoners to eat pork, a haram meat, memorize communist propaganda songs, and learn Chinese characters and Mandarin language, the dominant language of the Han Chinese but not native to Xinjiang.
Survivors say they are forced to memorize songs with titles such as "Without the Communist Party, There Would Be No New China" and starved if they could not remember all the lyrics.
"In the end, all the officials had one key point. The greatness of the Chinese Communist Party, the backwardness of Uighur culture and the advanced nature of Chinese culture," former detainee Abdusalam Muhemet told the New York Times this year.
Radio Free Asia (RFA), which has published some of the most rigorous documentation of China's crackdown on the Uighur population in Xinjiang and abroad, reported on the death of at least one detainee, a young woman, in a re-education camp in late September. The report identified her as 30-year-old Amine Kadir. Kadir is believed to have suffered of a heart condition that Chinese officials let go untreated in the camp, likely leading to a fear-induced heart attack. She leaves behind a toddler-aged child, according to an anonymous officer who spoke to RFA.
"Sources say detainees face rough treatment at the hands of their overseers in the camps and endure poor diets and unhygienic conditions in the often overcrowded facilities—circumstances that can lead to severe complications for people already vulnerable to health issues," RFA noted.
Australia's ABC reported on Tuesday that overpopulation is becoming a growing problem in the camps, with another million people detained there who are not believed to be Muslim Uighurs, but found defective in some way and in need of communist indoctrination. ABC reported that China has suspended trains into and out of Xinjiang indefinitely and officials are now using them to transport detainees to prisons across the country.
"Based on the seriousness of their crime, inmates are being transferred to other major prisons in the region and also to inner China," an unnamed officer in Xinjiang told RFA at the beginning of the month, corroborating the newer ABC report.
Chinese officials have rejected the description of the camps as "internment camps."
"What China is doing is to establish professional training centers, educational centers," Li Xiaojun, director for publicity at the Bureau of Human Rights Affairs of the State Council Information Office, told reporters in September. "To put it straight, it's like vocational training … like your children go to vocational-training schools to get better skills and better jobs after graduation."
Follow Frances Martel on Facebook and Twitter.
http://feedproxy.google.com/~r/breitbart/~3/2M2c_7Rqyyo/