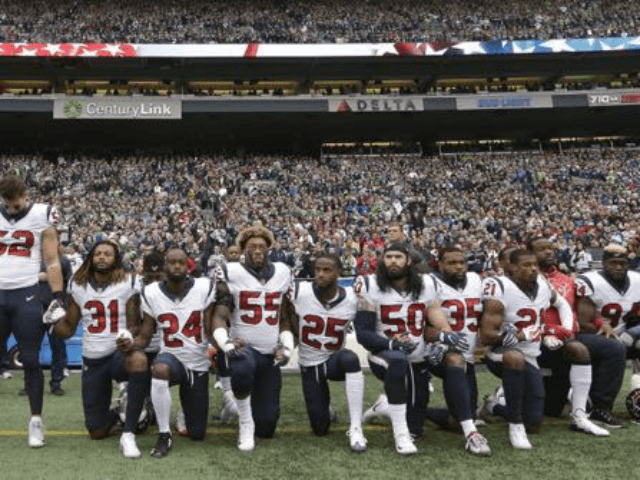 A recent Quinnipiac University poll finds that 54 percent of Texans think NFL players should not protest during the national anthem, even as they feel players have a right to free speech.
The poll, released Thursday, finds that Texans do not like anthem protests, according to Peter A. Brown, assistant director of the Quinnipiac University Poll, the Star-Telegram reports.
"Texans are opposed to the practice of some National Football League players kneeling during the National Anthem before NFL games," Brown said. "Although they don't like it, Texas likely voters overwhelmingly say it is the players' right to do so."
Still, even as the majority agreed that the players have the First Amendment right to protest against the country, some felt that they didn't have a right to do so at work. Of those polled, 59 percent of Republicans said that players do not have a right to kneel during the anthem. In addition, 53 percent of white voters with no college degree also agreed with that statement.
The poll was taken from 807 likely voters on Sept. 11-17. The margin of error is plus or minus 4.1 points.
The NFL's anthem protests have also become an issue in the U.S. Senate race in Texas. Liberal Democrat Beto O'Rourke said at a town hall meeting that nothing could be more American than protesting during the national anthem.
"When Beto O'Rourke says he can't think of anything more American (than players taking a knee), well I got to tell you, I can," Texas Republican, Senator Ted Cruz said in reply to O'Rourke's approval of the protests.
Follow Warner Todd Huston on Twitter @warnerthuston.
http://feedproxy.google.com/~r/breitbart/~3/v3j2UsSeCXg/