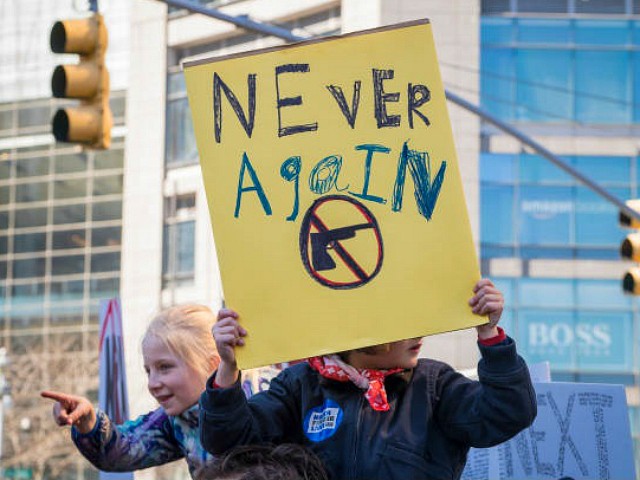 A Gallup poll shows support for stricter gun laws has fallen from from roughly 7 in 10 to approximately 6 in 10 as the midterm elections draw near.
According to the poll gun control support fell from 67 percent in March to 61 percent now.
Gallup notes that support for gun control typically rises following a high profile shooting, only to fall as time passes. Therefore, "after the December 2012 shooting at Sandy Hook Elementary School in Newtown, Connecticut, support for stricter gun control jumped to 58%, though it fell to 49% less than a year later."
The elevated support (67 percent) for gun control in March can therefore be understood as a reaction to the February 14, 2018, Parkland high school shooting.
When gun control support is broken down by party affiliation the Democrats carry the day. Eighty-seven percent of Democrats support stricter gun control while just 31 percent of Republicans do. Moreover, 73 percent of non-gun owners support more gun control while only 38 percent of gun owners do.
AWR Hawkins is an award-winning Second Amendment columnist for Breitbart News, the host of the Breitbart podcast Bullets with AWR Hawkins, and the writer/curator of Down Range with AWR Hawkins, a weekly newsletter focused on all things Second Amendment, also for Breitbart News. He is the political analyst for Armed American Radio. Follow him on Twitter: @AWRHawkins. Reach him directly at awrhawkins@breitbart.com. Sign up to get Down Range at breitbart.com/downrange.
http://feedproxy.google.com/~r/breitbart/~3/yjBX6oQcG6M/