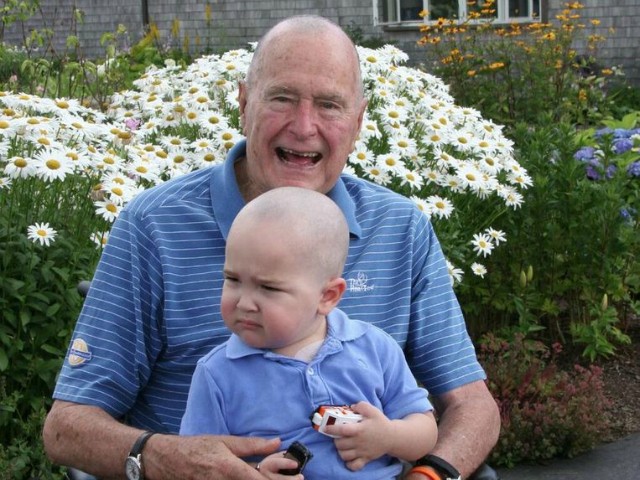 The United States Secret Service shared a touching photo Tuesday morning of the time former President George H.W. Bush— who shaved his head bald— posed for a picture with an agent's son, whose head was also shaved after being diagnosed with leukemia.
Everyone's #TuesdayThoughts are on President Bush & we wanted to share a memory. In '13, Timberwolf learned that the 2-year-old son of an agent on his detail was diagnosed with leukemia & the detail was going to shave their heads. You can see what happened, in classic 41 manner. pic.twitter.com/3Y0vnjNruJ

— U.S. Secret Service (@SecretService) December 4, 2018
The agency said in the post that the late president— referred to by his Secret Service code name "Timberwolf"— shaved his head in 2013 when he learned a Secret Service agent's two-year-old son had been diagnosed with leukemia, and other members of the security detail would be shaving their heads, as well, in support of the boy.
A second photo in the post showed Bush and the boy posing with the dozens of members of the 41st president's security detail— all with shaved heads.
Bush passed away at his home in Houston, Texas, Friday evening at the age of 94 and is being honored with a state funeral on Wednesday.
President Donald Trump declared Wednesday as a "National Day of Mourning" in honor of the late 41st president, and many federal government offices announced they will be closed in observance of the day.
http://feedproxy.google.com/~r/breitbart/~3/Hu1RfLlWFpI/