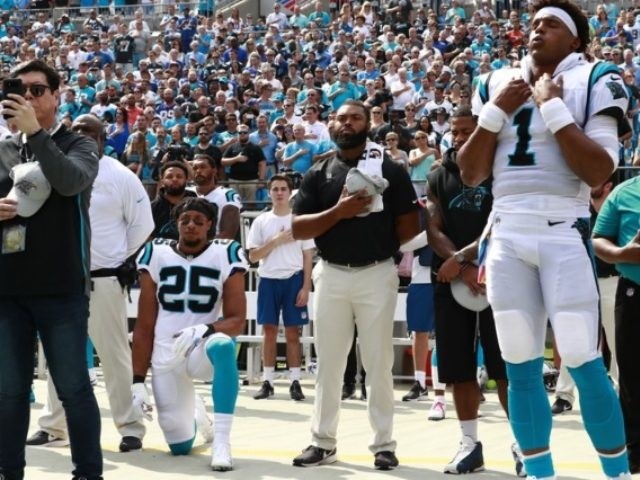 After New Carolina safety Eric Reid knelt during the national anthem last Sunday, Panthers coach Ron Rivera told reporters: "I'm not going to talk about a guy exercising his First Amendment rights."
Rivera went with that same narrative when asked by Washington Redskins beat writers on a conference Wednesday about his new player kneeling. The Panthers travel to Maryland to play the Redskins on Sunday.
"The biggest reason it's not an issue to me is I believe in the First Amendment," Rivera said. "And that's all he did was exercise his First Amendment. As far as I'm concerned, he's an American citizen entitled to exercise his rights."
But some legal scholars would argue with Rivera's assertion that the First Amendment protects individuals protesting at work.
"The First Amendment doesn't apply to private institutions," Erwin Chemerinsky, the dean of Berkeley Law and a constitutional law expert told the Washington Post. "Private employers can fire employees for their speech without having to worry about the First Amendment."
It's possible Rivera is just playing the First Amendment card to avoid talking at length about his newest player's anthem kneeling. Remember, Rivera doesn't have final say on player personnel moves in Carolina, that belongs to the GM and owner.
So it's unclear if Rivera, the son of career military officer, was 100 percent on board with signing Reid
Keep in mind, that shortly after anthem-kneeling movement was started in the summer of 2016 by San Francisco's Colin Kaepernick to protest police brutality and racial inequality, the 49ers traveled to Charlotte to play the Panthers in September.
A few days before the game, Rivera was asked about anthem protesting, and didn't seem to be a proponent of it.
"People come to the stadium to get away," Rivera explained to the Charlotte Observer. "And I decided that after the 1980 Olympic boycott. I didn't think it was fair. We were using sports as pawns.
"We weren't happy with the politics in Russia, and what did they do? They were invading Afghanistan. So as far as I'm concerned, sports is sports and politics is politics. If you want to talk politics, if you want to get involved, throw your hat in the political ring, you want to make change, vote. Vote. That's the truth of the matter."
So clearly Rivera doesn't love the mixing of sports and politics.
Rivera is a big supporter of the USO, and in 2015, the Carolina Panthers were honored as the NFL's first Purple Heart team for their tireless work with veterans in the Charlotte area.
"We have several military installations here, and a lot of retirees here are military," Rivera said in 2015. "We have such a good relationship with the military."
Before that 2016 49ers-Panthers game, Rivera was asked if anthem kneeling could be offensive to some fans.
"It could be (considered offensive). It depends on your outlook and how you look at things," Rivera said. "That's a personal thing. And I think we all have to make our own decisions and decide what they are. You guys know exactly where I stand."
He clearly stands for standing, and said as much when the kneeling movement started in the summer of 2016.
"Our guys know they're supposed to stand at attention at the line," Rivera told the Charlotte Observer in August, 2016. "Again, the national anthem is a very personal thing for me, obviously for specific reasons – my father and my mother's family and their service to this country. And that's why I stand."
But that statement was made under old owner Jerry Richardson, who was against the anthem protests. The team was recently bought by David Tepper, who said on CNBC in September it was "wrong" for President Donald J. Trump to question the patriotism of the anthem protesters.
"These are some of the most patriotic people and best people," Tepper said . "These are great young men. So to say that (they aren't patriotic) makes me so aggravated and angry. It's just wrong, it's dead wrong."
So you get the sense that Reid has an ally with the new owner, so perhaps Rivera had to soften his old anthem stance.
http://feedproxy.google.com/~r/breitbart/~3/ya8jdBC454I/