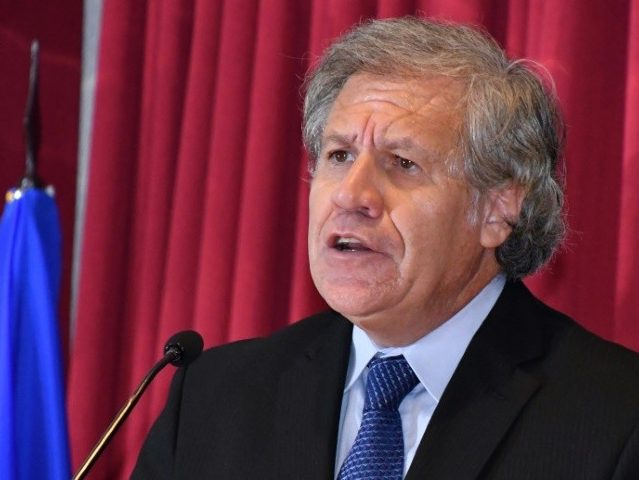 The head of the Organization of American States, Luis Almagro, warned on Monday that it is the responsibility of the international community to avoid a Rwanda-style genocide in Venezuela.
"In essence, the responsibility to protect consists in preventing it from happening," he wrote on Twitter in response to a tweet from Human Rights Watch director Jose Miguel Vivanco about the possibility of a genocide taking place in Venezuela. "We cannot wait until Venezuela becomes Rwanda, we must prevent it from becoming Rwanda."
Vivanco said that a military solution to the crisis in Venezuela would be against international law, which only permits the use of force in the case of genocide.
En efecto, la responsabilidad de proteger consiste en evitar que suceda. No debemos esperar a q Venezuela sea Ruanda, hay que evitar que sea Ruanda. Y ya son millones las personas asesinadas, torturadas, desplazadas en Venezuela. La responsabilidad d proteger no es contar muertos https://t.co/onq1h1VxAl

— Luis Almagro (@Almagro_OEA2015) September 17, 2018
"We must not wait for Venezuela to be Rwanda, we must prevent it from becoming Rwanda," Almagro contended. "And there are already millions of people who have been killed, tortured, and displaced in Venezuela. Our responsibility is to protect people, not just count the dead."
The Rwandan genocide, which took place in 1994, resulted in the slaughter of approximately 800,000 from the Tutsi ethnic group at the hands of the Hutu-led government. Violence erupted in its full form after months of public radio broadcasts referring to Tutsis as "cockroaches" and encouraging Hutus to kill their Tutsi neighbors.
The exchange comes days after Almagro raised the possibility of a military solution to the crisis in Venezuela, where Nicolás Maduro's socialist dictatorship is currently overseeing the worst humanitarian crisis in the country's history as well as transforming the country into a Cuba-style totalitarian state.
"As for military intervention to overthrow the Nicolas Maduro regime, I think we should not rule out any option, because definitively, the Nicolas Maduro regime is perpetrating crimes against humanity towards its population, and violations of human rights," he said at a press conference last week.
"The suffering of the people, in this induced exodus, that it is driving, means that diplomacy remains the first option but we can't exclude any action," he continued.
The suggestion drew condemnation from some regional powers. Eight out of 11 members of the Lima Group, founded to help bring the Venezuelan crisis to an end, signed a declaration rejecting "any type of action or declaration that implies military intervention or … threats or the use of violence."
However, representatives from Canada, Guyana, and Colombia all refused to sign the document, a clear sign of the growing support for a viable plan to oust the Maduro regime from power. Thousands of Venezuelan refugees in need of humanitarian assistance are now crossing into neighboring Colombia, Guyana, and Brazil every day to flee the crisis in their homeland, where hyperinflation has rendered their currency effectively worthless.
Talk of a military intervention is also growing in Washington. This month, The New York Times reported that the Trump administration met with disaffected members of the Venezuelan military planning to overthrow Maduro, although they eventually decided not to back the plan. Sen. Marco Rubio, the Senate's leading advocate for regime change, recently indicated there was a "very strong argument" for a military solution on the grounds of national security.
Follow Ben Kew on Facebook, Twitter at @ben_kew, or email him at bkew@breitbart.com.
http://feedproxy.google.com/~r/breitbart/~3/1D2E99EArQY/