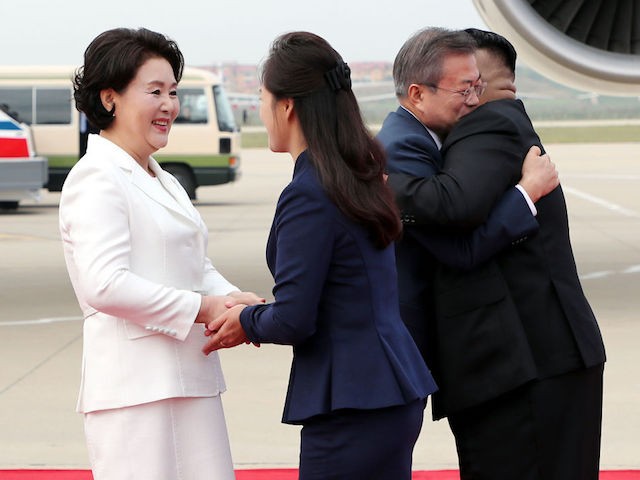 Leftist South Korean President Moon Jae-in landed in Pyongyang, North Korea, Tuesday morning to a fervent crowd and a hug from dictator Kim Jong-un, who thanked him for continuing talks with the rogue regime even as no evidence surfaces that Kim has shut down his illegal nuclear weapons program.
At press time, neither side has revealed the specifics on the table for discussions throughout the day Tuesday. Moon told a crowd at a banquet dinner Kim threw for him that the two would discuss "peace."
Moon's visit to Pyongyang is his third meeting with Kim this year, and the first visit by a South Korean president to the capital in over a decade. Before arriving, the Blue House, Seoul's presidential palace, issued non-commital statements regarding what the greeting for Moon and his 200-strong entourage would look like.
Upon landing, however, it became clear that Kim Jong-un and wife Ri Sol-ju had chosen to greet him at the airport and offer friendly words. Joining the dictator and his wife were an elaborate configuration of military leaders and a loud marching band playing patriotic North Korean music, as well as the signature throngs of civilians forced to congregate for parades and events applauding the Communist dictator or face dire humanitarian consequences.
North Korean leader Kim Jong-un greets South Korean President Moon Jae-in with a welcome ceremony at Pyongyang Sunan International Airport. #interkoreansummit pic.twitter.com/SY9GUoz2FO

— Global Times (@globaltimesnews) September 18, 2018
Kim greeted Moon with a hug, while the first ladies shook hands. The four then took a car towards the location of their first meeting, the headquarters of the Workers' Party of Korea. On the way, their car was flanked by what the Associated Press (AP) estimated to be a crowd of "thousands" waving flags and flowers. Moon is the first South Korean president allowed in the headquarters, a move that appears to be a signal that Kim trusts Moon as more than a visitor. Moon reportedly signed a guest book at the offices, "To peace and prosperity, our people's hearts are one."
Speaking to reporters at the start of their summit, Kim Jong-un thanked Moon for establishing "the start of the historic North Korea-U.S. talks"
"Thanks to this (U.S.-North Korea meeting), regional conditions stabilized and a more advanced outcome is expected," Kim continued. "I once again express my gratitude for efforts made by President Moon."
Moon, in turn, thanked Kim for meeting with President Donald Trump and his "determination to open a new era."
According to the South Korean newswire service Yonhap, Moon would offer "no new economic cooperation projects" to Kim, despite bringing with him an entourage including 17 high-profile South Korean business leaders.
Neither North Korean media nor the few international outlets allowed to cover the event were allowed to reveal the details of what the two leaders discussed in their first meeting. Following that meeting, however, Moon attended a banquet dinner in his honor where he asserted "the complete denuclearization of the Korean Peninsula and the establishment of peace are key agenda items," without elaborating. North Korea has yet to define "complete denuclearization" as including the destruction of their illegal nuclear program, suggesting instead that the phrase refers to a removal of all American assets from the region.
Moon continued to say that "Chairman Kim and I have trust and friendship … (The peace and denuclearization process) has just begun. We will be able to create a future nobody has experienced."
The AP notes that the state-run propaganda outlets in North Korea, the only media legally available, mentioned Moon's visit but did not provide any further information. Instead, the focus in Tuesday's news coverage at the Korean Central News Agency (KCNA) was on the "gangster-like" United States and its insistence on Kim fully abandoning the nation's illegal nuclear weapons in exchange for lifting sanctions.
"The U.S. is totally to blame for the deadlocked DPRK [North Korea]-U.S. negotiations," KCNA declared. "The U.S. is demanding unilateral and gangster-like claim forcing the DPRK to act without showing its movement. The conservative politicians of the U.S. are taking the lead in persisting in such gangster logic."
The report concluded that any progress in the relationship between the United States and North Korea "totally depends on the stand and action of the U.S."
As South Korean newspaper Chosun Ilbo notes, much of the pressure to make progress on denuclearization is not on Washington, but on Moon, who has insisted on a policy of friendship and lavish taxpayers' expenditures to please Pyongyang. Moon appeared aware of this pressure shortly before boarding his flight to Pyongyang, telling reporters, "Should the North-U.S. dialogue resume due to (my) visit to the North this time, (the resumption) itself would carry great meaning."
"Everything—whether there will be an agreement in denuclearization—is still unknown. We expect some progress in denuclearization, but in a very limited way," Moon's chief of staff Im Jong-seok said shortly before the trip, making no promises.
Follow Frances Martel on Facebook and Twitter.
http://feedproxy.google.com/~r/breitbart/~3/cXUmywZIMUY/