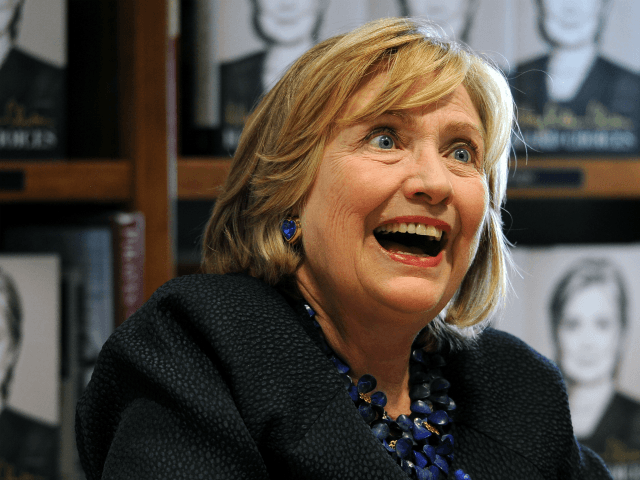 Hillary Clinton's favorability rating hit a record low of 36 percent, Gallup reluctantly reports — even though the polling firm has measured Clinton's favorability going all the way back to 1992.
Gallup's laughable attempt to bury this bad news for Madam Hillary can be found in its ridiculously generic headline: "Hillary Clinton's Favorable Rating Still Low."
Obviously, that is not the news in this poll; the news is that Hillary has hit a record low.
Gallup's sub-headlines also bury the lede. The first reads, "Hillary Clinton's favorable rating at 36%."
Again, nothing about this being a record.
The second sub-headline reads "Clinton remains a polarizing political figure," as though 64 percent of Americans not seeing her as favorable is not about as close to a consensus as you will find in a country split 50/50 on pretty much everything else.
Finally, at the end of the first paragraph, we are at long last informed that this is a "record low."
Prior to this poll, Hillary's record low favorable rating was 39 percent.
What's more, President Trump's favorability rating is a full 5 points higher than Hillary's — 41 percent, and this is despite the fact we have a corrupt establishment media battering and blistering him 24/7, while Hillary is treated like the wronged woman who would be president were it not for those damn dirty Russians.
Moreover, Gallup is always an outlier, an unreliable pollster that for some inexplicable reason polls "all adults," instead of aiming for the much more reliable numbers you get when screening for "registered voters" or "likely voters."
Oh wait, it is not "inexplicable" at all — "all adult" polls always come out better for Democrats.
A good example of this is Gallup's weekly poll gauging Trump's job approval. If you look at the Real Clear Politics poll of polls, Gallup is the only pollster polling the utterly useless "all adults." Because of this, Gallup usually comes in with the lowest approval ratings for Trump — at least until the even more unreliable Quinnipiac stumbles in.
But think about how partisan a polling company has to be to hide the big news that a major public figure like Hillary Clinton has just hit a record low in  favorability — her lowest in more than a quarter century of polling.
In this world of social media, where headlines are everything, if you want clicks, you put your big news in that headline. So it is obvious Gallup did not want that headline out there — did not want Twitter and Facebook spreading the news that Precious Hillary is scraping an all-new barrel bottom.
Another deception in Gallup's so-called analysis is the ludicrous premise Hillary has retreated from the political stage.
"She has tended to be quite popular when she is no longer seen as a purely political figure," Gallup accurately explains, before adding this bunk: "Clinton's 2016 loss has largely thrust her off the political stage, though she released a memoir of the campaign last year and has made periodic public appearances."
What in heaven's name is Gallup talking about? Hillary is everywhere — on top of her sore loser book tour, she's all over —  on Twitter, on talk shows, speaking engagements, interviews, and Murphy Brown cameos.
In my 30-plus years of watching politics, never before have I seen a losing presidential candidate so desperate to remain in the limelight. This even includes John Kerry and John McCain, who returned to the U.S. Senate after their respective '04 and '08 losses.
What makes Hillary's record low even more remarkable is that during the early '90s,  most especially in the early days of her husband's '92 presidential campaign and in '93 and '94 when, as First Lady, she lobbied to make Hillarycare (government-run healthcare) the law of the land, few people in America were more disliked than Hillary. She was never more off-putting, dishonest, and polarizing. But even that cannot top her latest era, the era of the sore loser with the secret email server who refuses to leave the stage.
As of now, only 77 percent of Democrats have a favorable opinion of Hillary, which statistically ties with a previous low of 76 percent. Only 30 percent of Independents and four percent of Republicans agree.
Meanwhile, since winning the election, Trump's favorability has climbed from 34 percent to 41 percent — even in this dumb poll.
Follow John Nolte on Twitter @NolteNC. Follow his Facebook Page here.
http://feedproxy.google.com/~r/breitbart/~3/SRiodmQuikg/