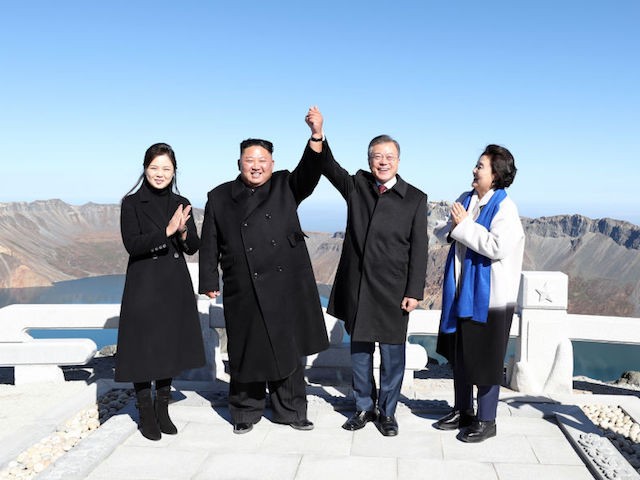 South Korean President Moon Jae-in addressed the U.N. General Assembly on Wednesday, expressing thanks to the United States, United Nations, and various international organizations for helping to create an opportunity for lasting peace between North and South Korea.
"Over the past year, something miraculous has taken place on the Korean peninsula. For the first time in history, the leader of North Korea crossed the military demarcation line to visit Panmunjom. A history summit between the United States and North Korea was held on Sentosa Island in Singapore. Chairman Kim Jong-un and I removed the shadow of war and resolved to usher in an era of peace and prosperity," Moon recalled.
The South Korean president credited Kim Jong-un and U.S. President Donald Trump with having great "courage and resolve" and giving "hope to all those who desire peace around the world."
Moon lauded every step taken thus far, including North Korea partially decommissioning its Punggye-ri nuclear test site and the U.S. temporarily suspending joint military exercises with South Korea, as movement toward that much-desired outcome. He was especially pleased with Kim's new commitment to dismantle a major missile-testing site under international supervision. He looked forward to North Korea shutting down its Yongbyon nuclear reactor "as the United States takes corresponding measures in the spirit of the Sentosa agreement."
Moon described permanently ending the Korean War as an "urgent task" and a necessary step to achieving a "peace regime." He qualified the urgency of this task by saying he expected a Korean War peace treaty to be signed only after "bold measures for denuclearization" have been implemented.
"The Republic of Korea will spare no effort to encourage North Korea's participation in the international community, while adhering to the resolutions adopted by the United Nations," he said, indicating his enthusiasm for the peace process would not shake his commitment to the international sanctions imposed on North Korea for its nuclear weapons program.
Moon expressed gratitude to the United Nations and the International Olympic Committee for helping to create a diplomatic opening with North Korea, citing the Winter Olympics in Pyeongchang as a historic moment. He asked for continuing support from the international community as the peace process moves forward.
"We must encourage North Korea to stay on the path that leads to permanent and solid peace," he said.
Moon stressed the importance of the North Korean peace process to all of northeast Asia, where he noted a fifth of the world's population resides, accounting for a quarter of the global economy. He encouraged support for cooperative endeavors in the region such as the East Asian Railroad Community he has proposed, an initiative that would involve six regional powers plus support from the United States.
"Regional conflicts stand in the way of pursuing broader cooperation," he lamented. "We'll begin the work of resolving conflicts in northeast Asia, starting from the Korean peninsula."
http://feedproxy.google.com/~r/breitbart/~3/dpmLnPIwVHo/