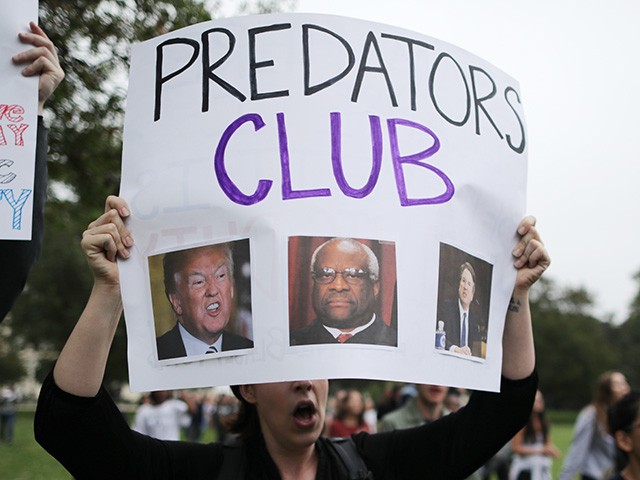 Breitbart News' "rap sheet" of violence and harassment toward conservatives and Trump supporters has now reached the milestone of 600 incidents.
Ever since Donald Trump announced his intention to run for president, the American left has responded with unhinged vitriol, violent fantasies, and mob attacks — targeting Trump and anyone associated with him. And amid this climate of hate, corporate media are purposely fanning the flames and rationalizing violence.
The latest surge in anger came as the U.S. Senate confirmed President Trump's Supreme Court nominee, Brett Kavanaugh. Protesters tried to intimidate and overwhelm Republicans — especially swing vote Sen. Susan Collins (R-ME) — but ultimately failed. In a display of impotent rage, a mob of demonstrators pounded and clawed on the doors of the Supreme Court while Justice Kavanaugh was sworn in.
NARRATOR: They didn't shut it down. pic.twitter.com/r9DhiN2OQb

— Breitbart News (@BreitbartNews) October 7, 2018
After the Kavanaugh fight came to a close, Democrats' attention has shifted to the 2018 midterm elections. Many top figures in the party — including Eric Holder and Hillary Clinton — have encouraged rank-and-file activists to be aggressive and uncivil. The message has been clearly received, as two Republican candidates in Minnesota were assaulted over the weekend — one of whom claims he suffered a concussion after a man punched him without warning in a restaurant.
Other notable incidents include left-wing news editor Martin Cizmar saying that Rep. Steve Scalise (R-LA) was not a "survivor" of an assassination attempt but an "accomplice" in the mass shooting by James Hodgkinson. A Utah man allegedly mailed letters containing ricin to President Trump and Secretary of Defense James Mattis. Antifa activists vandalized and attacked New York City's Metropolitan Republican Club.
Breitbart News sat down for an interview with Kelley Paul, wife to Sen. Rand Paul (R-KY), who describes the fear she has for her family in this climate of hatred and threats. Paul was hospitalized nearly one year ago after a neighbor attacked him outside his home and broke several of his ribs. Mrs. Paul says she installed three sets of deadbolts between her bedroom and the front door of her home — yet still sleeps with a loaded gun next to her.
"It does scare me that there's gonna be somebody that is really unstable that takes that message a step further and that something terrible happens to someone." —@KelleyAshbyPaul pic.twitter.com/xH2ivIJDBH

— Breitbart News (@BreitbartNews) October 9, 2018
"Words do matter, and there are so many, quite frankly, unhinged [and] unstable people out there, and when they hear someone on their side telling them, 'Get up in their face,' they take that literally, and they think that gives them a license to be very aggressive, be harassing, throw people out of restaurants, and I don't think anybody wants to live in a country like that," Paul told Breitbart News Deputy Political Director Amanda House.
Her husband, Senator Paul, echoed these sentiments in a recent radio interview. "I really worry that someone is going to be killed," he said. "Those who are ratcheting up the conversation — they have to realize that they bear some responsibility if this elevates to violence."
http://feedproxy.google.com/~r/breitbart/~3/UChisBNosio/