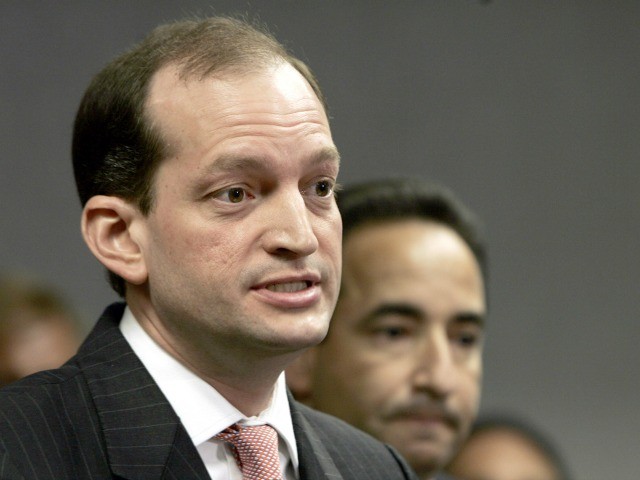 President Donald Trump's secretary of labor helped craft a plea bargain that saved a hedge fund billionaire from a long jail sentence for the sexual abuse of many teenage girls, says the Miami Herald.
The article is built on a huge collection of court documents that the Miami Herald says show that Labor Secretary Alexander Acosta likely negotiated the 2007 deal that saved billionaire Jeffrey Epstein from jail for allegedly sexually abusing many teenage runaways or alienated girls.
The article, titled "How a future Trump Cabinet member gave a serial sex abuser the deal of a lifetime," says:
On a muggy October morning in 2007, Miami's top federal prosecutor, Alexander Acosta, had a breakfast appointment with a former colleague, Washington, D.C., attorney Jay Lefkowitz.

…

Facing a 53-page federal indictment, [Jeffrey] Epstein could have ended up in federal prison for the rest of his life.

But on the morning of the breakfast meeting, a deal was struck — an extraordinary plea agreement that would conceal the full extent of Epstein's crimes and the number of people involved.

Not only would Epstein serve just 13 months in the county jail, but the deal — called a non-prosecution agreement — essentially shut down an ongoing FBI probe into whether there were more victims and other powerful people who took part in Epstein's sex crimes, according to a Miami Herald examination of thousands of emails, court documents and FBI records.
The restaurant deal was hidden from the press and many additional female victims, preventing them from protesting the giveaway — and perhaps implicating other famous men in Epstein's sexual abuse, the newspaper says.
A sidebar article describes Epstein:
A money manager for the super-rich, Epstein had two private jets, the largest single residence in Manhattan, an island in the Caribbean, a ranch in New Mexico and a waterfront estate in Florida.

But Epstein also had an obsession.

For years, Epstein lured an endless stream of teenage girls to his Palm Beach mansion, offering to pay them for massages. Instead, police say, for years he coerced middle and high school girls into engaging in sex acts with him and others.
The article cites a former state investigator who said 50 girls had provided evidence against Epstein.
The newspaper identified 80 women who say Epstein abused them.
Many of those victims can soon testify in a December case involving Epstein and a former state prosecutor, Bradley Edwards.
Many of the girls may also testify in a lawsuit that seeks to reopen the deal. The suit could send Epstein to prison via a declaration that states Acosta and other federal prosecutors broke the law in giving Epstein a favorable, closed-books deal.
Acosta's role in the case was briefly highlighted after President Donald Trump nominated him to run the Department of Labor. According to a Fox News report, Acosta told a Senate panel that "based on all the evidence, professionals within a prosecutor's office decided, that a plea that guarantees someone goes to jail, that guarantees that someone register generally, that guarantees other outcomes is a good thing."
Read the Miami Herald article here.
http://feedproxy.google.com/~r/breitbart/~3/gCeDFXOpWeI/