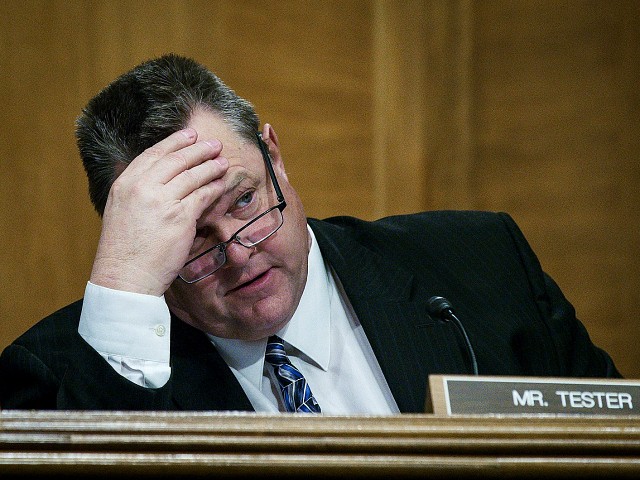 Sen. Jon Tester (D-MT) supported Sen. Dianne Feinstein's (D-CA) post-Orlando Pulse gun control push and has not had a hunting license in his home state of Montana in six years.
On June 12, 2018, Breitbart News reported Jon Tester's support of a gun control measure that would have expanded the prohibited persons list for the National Instant Criminal Background Check System (NICS).
The measure failed because it portended a violation of due process rights by forcing forfeiture of Second Amendment rights on accusations rather than convictions via an incorporation of the terror watch list.
Ironically, the Orlando Pulse attacker was not on a terror watch list to begin with, so Feinstein's push was simply gun control for the sake of gun control. But Tester supported it.
And according to Fox News, although Tester is campaigning on his love for hunting, he has not had a Montana hunting license in six years.
He put out a flier that said, "As we gear up for hunting season, Montanans know that hunting isn't just a sport – it feeds our families, and it creates lifelong memories with our kids and grandkids. Montanans are lucky to have some of the best access, longest seasons and greatest hunting in the world."
Hunting in Montana may create memories and feed families, but Tester does not have a license to take part in it.
Incumbent Sen. Tester is running against Republican State Auditor Matt Rosendale in the Montana senate race on November 6.
AWR Hawkins is an award-winning Second Amendment columnist for Breitbart News, the host of the Breitbart podcast Bullets with AWR Hawkins, and the writer/curator of Down Range with AWR Hawkins, a weekly newsletter focused on all things Second Amendment, also for Breitbart News. He is the political analyst for Armed American Radio. Follow him on Twitter: @AWRHawkins. Reach him directly at awrhawkins@breitbart.com. Sign up to get Down Range at breitbart.com/downrange.
http://feedproxy.google.com/~r/breitbart/~3/1yDGJ7N-HSM/