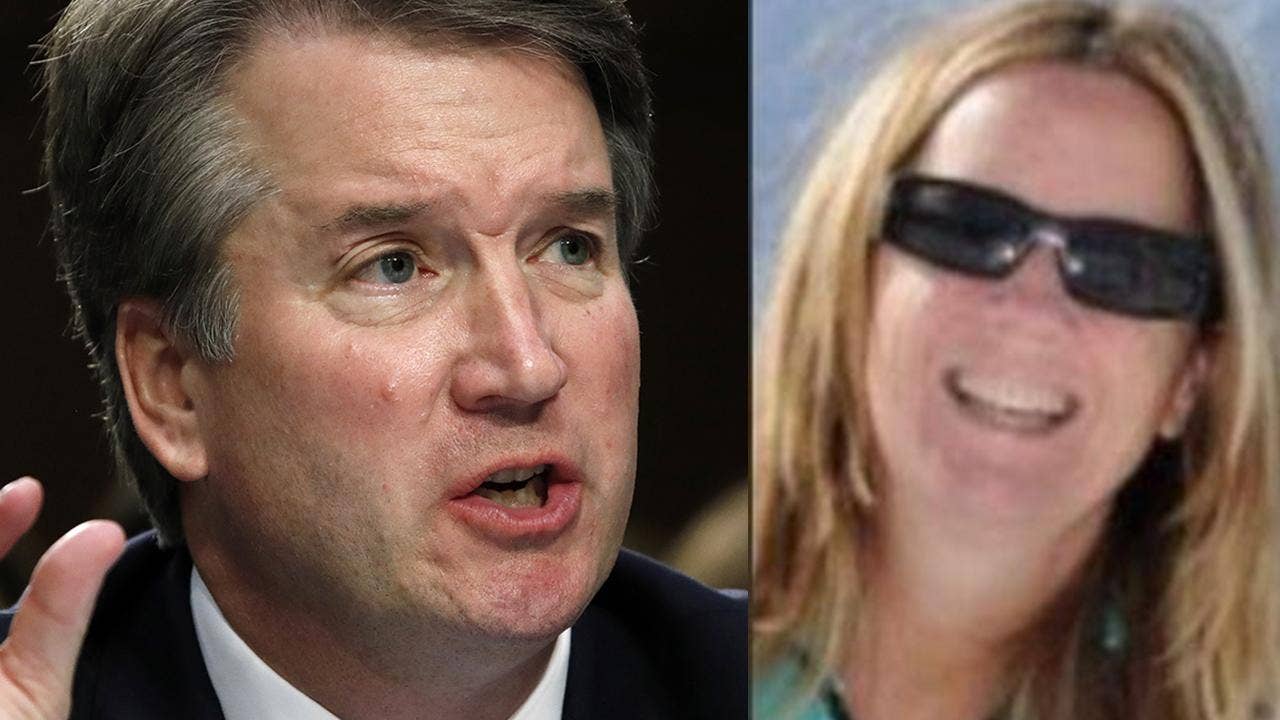 Christine Blasey Ford, the California professor claiming Supreme Court nominee Brett Kavanaugh sexually assaulted her more than 35 years ago, late Tuesday demanded a "full investigation" by the FBI before she will attend any congressional hearing or "interrogation" into her accusations.
Republicans repeatedly have invited Ford and Kavanaugh to testify on Monday after delaying a planned Judiciary Committee vote on his confirmation that had been scheduled for Thursday. Kavanaugh accepted the committee's invitation, but Ford stayed mum until Tuesday night.
The development throws the entire hearing into doubt: Judiciary Committee Chairman Chuck Grassley, R-Ia., had threatened to nix the proceeding if Ford refused to participate. It was also sure to add fuel to Republican claims that the allegations — which were known to ranking Judiciary Committee Democrat Dianne Feinstein in July, but only revealed to federal authorities last Thursday — are part of a concerted effort to stall Kavanaugh's nomination at the last minute.
"While Dr. Ford's life was being turned upside down, you and your staff scheduled a public hearing for her to testify at the same table as Judge Kavanaugh in front of two dozen U.S. Senators on national television to relive this traumatic and harrowing incident," Ford's attorneys wrote to Grassley. 
WATCH: FEINSTEIN ADMITS SHE CAN'T BE SURE ACCUSER IS BEING ENTIRELY 'TRUTHFUL'
In the letter, the lawyers went on to assert that Ford's family "was forced to relocate out of their home" and that "her email has been hacked, and she has been impersonated online."
"The hearing was scheduled for six short days from today and would include interrogation by Senators who appear to have made up their minds that she is 'mistaken' and 'mixed up.' While no sexual assault survivor should be subjected to such an ordeal, Dr. Ford wants to cooperate with the Committee and with law enforcement officials."
The lawyers, Debra Katz and Lisa Banks, said historical precedent supported the delay — echoing comments by ranking Judiciary Committee Democrat Dianne Feinstein, who on Tuesday said on Twitter that the FBI had also "investigated Anita Hill's allegations of sexual harassment against Clarence Thomas."
LAWYER DEBRA KATZ HAD DOWNPLAYED ALLEGATIONS OF SEX ASSAULT AGAINST CLINTON, FRANKEN
"As the Judiciary Committee has recognized and done before, an FBI investigation of the incident should be the first step in addressing her allegations," the letter continued. "A full investigation by law enforcement officials will ensure that the crucial facts and witnesses in this matter are assessed in a non-partisan manner, and that the Committee is fully informed before conducting any hearing or making any decisions."
In response, a federal law enforcement official told Fox News, "It's totally inappropriate for someone to demand we use law enforcement resources to investigate a 35-year-old allegation when she won't go under oath and can't remember key details including when or where it happened."
Because Ford's allegations do not involve any federal crime within the applicable statute of limitations, Fox News has learned that the bureau would require explicit instructions from the White House to conduct any additional probe.
The document concluded: "We would welcome the opportunity to talk with you and Ranking Member Feinstein to discuss reasonable steps as to how Dr. Ford can cooperate while also taking care of her own health and security."
In response, Feinstein and Senate Minority Leader Chuck Schumer released statements backing Ford.
"I agree with her 100 percent that the rushed process to hold a hearing on Monday has been unfair and is reminiscent of the treatment of Anita Hill," Feinstein said. "I also agree that we need the facts before senators—not staff or lawyers—speak to witnesses.
"We should honor Dr. Blasey Ford's wishes and delay this hearing," Feinstein continued. "A proper investigation must be completed, witnesses interviewed, evidence reviewed and all sides spoken to. Only then should the chairman set a hearing date."
FEINSTEIN FACES GOP HEAT FOR SITTING ON KAVANAUGH ALLEGATIONS FOR WEEKS
Feinstein had told Fox News earlier Tuesday that she could not be sure Ford was being entirely truthful.
"This is a woman who has been profoundly impacted by this," Feinstein said. "Now, I can't say everything's truthful. I don't know."
In a separate statement, Schumer said an FBI probe would be consistent with "precedent", adding, "Dr. Ford's call for the FBI to investigate … demonstrates her confidence that when all the facts are examined by an impartial investigation, her account will be further corroborated and confirmed."
Earlier Tuesday, Judiciary Committee member Sen. Lindsey Graham, R-S.C., rejected a comparison to the Clarence Thomas epsiode.
"You're talking about history," Graham said. "We're not looking back. We're looking forward."
The attorneys' letter was yet another curveball in Kavanaugh's ongoing nomination drama, which began last week after a leak to The Intercept revealed that Feinstein was in possession of a damning letter relevant to his confirmation. Republicans have hinted that Senate Democrats orchestrated that leak, which then prompted Feinstein to discuss the letter and its then-anonymous accusations publicly and with the FBI.
Ford went public on Sunday, alleging that Kavanaugh forced himself onto her and covered her mouth in the 1980s, when Kavanaugh was 17 and she was 15. Ford did not mention the incident to others by her own admission until 2012, according to The Washington Post, when her therapist recorded her claim that four individuals had committed the assault.
Ford has since claimed that the therapist incorrectly transcribed that detail, and that she had said there were only two people in the room. Her husband has maintained that Ford mentioned Kavanaugh in the therapy sessions.
Ford also told The Post she could not remember in whose house the alleged incident occured, the exact month of the episode, or why there was a gathering there.
On Monday, Grassley slammed Feinstein for not telling Republicans, even privately, about the claims against Kavanaugh during days of private and public hearings on the nominee. 
"Unfortunately, committee Republicans have only known this person's identity from news reports for less than 24 hours and known about her allegations for less than a week," Grassley continued. "Senator Feinstein, on the other hand, has had this information for many weeks and deprived her colleagues of the information necessary to do our jobs."
Fox News' Jake Gibson and Alex Pappas contributed to this report.
http://feeds.foxnews.com/~r/foxnews/politics/~3/xvZJjLiT0NM/kavanaugh-accuser-christine-blasey-ford-demands-full-investigation-by-fbi-before-testifying-in-letter-from-her-lawyers.html