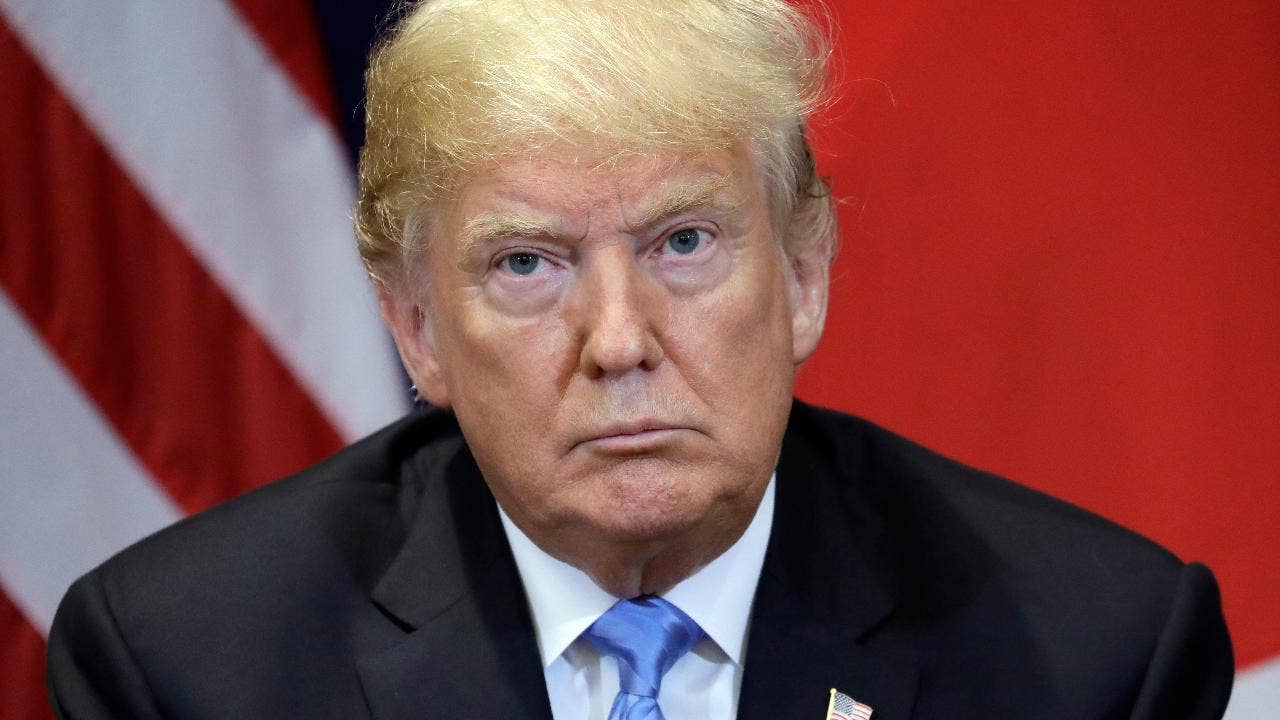 **Want FOX News Halftime Report in your inbox every day? Sign up here.**
On the roster: Imagining 2020 – I'll Tell You What: A very special guest – Trump on Kavanaugh: 'It's happened to me many times' – Gillum's lead over DeSantis grows in Florida – They see him rollin' 
IMAGINING 2020
Michael knew the drill and so did the reporters.  
"I'm very excited to be here today at the Iowa Poultry Guild's candidate forum. I'm looking forward to a great conversation about chickens and also, I'm told, turkeys," the lawyer said, glancing briefly at the sign above him to make sure of the name of the group and the kinds of livestock involved. 
"Before we get to the other very serious issues all of us here want to talk about," he said with a half sweep of his arm at the 19 other candidates seated on the raised platform across the room, "I will answer some of your questions."
The roar that followed was like a pure jolt of dopamine straight to his central nervous system. It happened every time, but he never tired of it. The primal need in their faces. The way they lost themselves. This was pure power. Maybe 200 of them, all there to hang on his every word.
"Okay, okay. This is important stuff, so let's be professionals. Tonight, we're sticking with our new Twitter-only policy," he said, raising his hands to call for calm. "We've asked everyone to submit their questions using the "basta" hashtag and Meredith will read through them. Verified Journalism accounts only."
This was considered outrageous for many in the real political press, the self-styled descendants of "The Boys on the Bus." But the gossip site reporters, international press and social-media stars didn't mind, and even gamed the system to get the most likes and retweets. 
The "real" reporters could either just write their 100th scene pieces about how dumb and damaging it all was or they could try to keep up.  
"Have the photos been digitally altered as Senator Futz has alleged? #basta," said the communications director, her voice straining above the hum of the room. "That's from Dennis at The Hollywood Herald."
"Let me tell you something, Dennis. I know guys like Charlie Futz. I've been fighting guys like that my whole life. They abuse women and then they lie about it. It's who they are," Michael said. "And let me tell you something else. You and your site are doing everything you can to help him. It's sick. Next."
"When will you release the transcripts from the alleged victim? #basta," asked Meredith. "This one is from Rachel at the New York World."
"Rachel, if anyone should understand this, it's you. Your own story has inspired and moved a lot of us. There's more at stake here than the Iowa primary or this campaign or Charlie Futz's place in the polls – fifth and dropping, I might add – this is about justice for victims," the lawyer cooed. "This is about her experience and her process, and I'm not going to start applying arbitrary timetables. Justice is bigger than all of us."
"What do you say to the president tonight who called you a "diseased piece of filth" in a tweet posted just three minutes ago," Rachel herself piped up from the front of the scrum. 
"I just hope he's not in jail before I can kick his sorry ass out of the White House," Michael snapped back, drawing a laugh.
An hour behind schedule and with other participants threatening to leave, Poultry Guild President Mondale Skeens attempted again to call the room to order. He already had one empty chair, Sen. Futz understandably having discovered a last-minute scheduling conflict, so it was time to get these chickens in the coop.
"Welcome to Sioux City, where we are hatching a great discussion tonight…" Skeens began.
Michael sensed his cue.
"Okay folks, that's all we've got time for. Follow up with Meredith. And I'll be on TV tonight for the full hour with Chaz." He shouted over the plaintive cries of the press pack. "I need to get up there and stay in this fight against the con artist in the White House." 

THE RULEBOOK: STAY IN YOUR LANE
"But the great security against a gradual concentration of the several powers in the same department, consists in giving to those who administer each department the necessary constitutional means and personal motives to resist encroachments of the others." – Alexander Hamilton or James Madison, Federalist No. 51
TIME OUT: SOMEBODY CALL SHREK 
Atlas Obscura: "A NASA facility in California has been dealing with odd interference. The Goldstone Deep Space Communications Complex, one of three worldwide facilities of the Deep Space Network that tracks and communicates with far-off spacecrafts, lies in the dry, often scorching heart of the Mojave Desert. But when it gets particularly hot, something strange happens. The office foyer fills with donkeys, preventing scientists from entering or leaving the building. … Seeking shade, they crowd beneath trees, buildings, and, on occasion, incredibly important NASA satellites. But donkey interference, as silly as it sounds, extends far beyond the day-to-day disruption of space scientists. According to Mark Meyers, executive director of Peaceful Valley Donkey Rescue (PVDR), there are too many donkeys in America, and we simply don't know what to do with them. … That's where Meyers comes in. Peaceful Valley, the largest rescue organization of its kind, has recently been tasked with removing thousands of donkeys from national parks across the country. Meyers spends his days venturing into these donkey hot zones, catching them using humane water traps (an enclosed space with water, food, and no exit), and bringing them to his Texas headquarters."
Flag on the play? – Email us at
HALFTIMEREPORT@FOXNEWS.COM with your tips, comments or questions.
SCOREBOARD
Trump job performance 
Average approval: 42.4 percent
Average disapproval: 52.6 percent
Net Score: -10.2 points
Change from one week ago: up 5.2 points
[Average includes: NPR/PBS/Marist: 44% approve – 49% disapprove; Gallup: 40% approve – 56% disapprove; Fox News: 46% approve – 52% disapprove; NBC/WSJ: 44% approve – 52% disapprove; Quinnipiac University: 38% approve – 54% disapprove.]
Control of House
Republican average: 41.2 percent
Democratic average: 50.4 percent
Advantage: Democrats plus 9.2 points
Change from one week ago: Democratic advantage down 1.2 points 
[Average includes: NPR/PBS/Marist: 48% Dems – 41% GOP; Fox News: 49% Dems – 42% GOP; NBC/WSJ: 51% Dems – 43% GOP; Quinnipiac University: 52% Dems – 38% GOP; CNN: 52% Dems – 42% GOP.]

**and now, for this important commercial message**
Consider yourself an Influencer? Become a trusted advisor in our FOX News community and help guide our brand's future. Click here to find out how.
Members of FOX News Influencers have the opportunity to be heard, be part of a special network of peers and influence new initiatives. What's more, you'll receive updates on how your input has made an impact.
Fill out our qualification survey and join us. Thank you for your continued support in our company's growth.
**we now return you to our regularly scheduled political palaver**

I'LL TELL YOU WHAT: A VERY SPECIAL GUEST
While Dana Perino is away celebrating her 20th wedding anniversary, Chris Stirewalt welcomes Josh Kraushaar, politics editor at the National Journal, to the I'll Tell You What podcast! Together they go race by race discussing the key matchups that will likely determine which party will gain control of the US Senate in November. LISTEN AND SUBSCRIBE HERE

TRUMP ON KAVANAUGH: 'IT'S HAPPENED TO ME MANY TIMES'
WaPo: "President Trump told reporters Wednesday afternoon that he could still be persuaded to believe the women who have accused Supreme Court nominee Brett M. Kavanaugh of sexual misconduct. 'You know what? I could be persuaded,' Trump said at a news conference in New York. 'I can't tell you. I have to watch tomorrow.' … But Trump also said he believes that some of the accusations against Kavanaugh are false, and he reiterated that the accusations overall represent a 'con job' by Democrats seeking to derail the nomination. He also defended Kavanaugh, calling him 'one of the most respected people in Washington' and describing what he considers his own, parallel experiences. 'I've had a lot of false charges made against me,' he said. 'I'm a very famous person, unfortunately.'"
Poll: Majority of GOP would confirm Kavanaugh even if guilty – PBS News Hour: "A majority of Americans believe the Senate should not confirm Supreme Court nominee Brett Kavanaugh if Christine Blasey Ford's sexual assault allegation against him is true, according to a new survey from the PBS NewsHour, NPR and Marist Poll. If Kavanaugh sexually assaulted Ford at a party when the two were in high school in the early 1980s, as she claimed earlier this month, 59 percent of Americans said they think he should not be confirmed. In contrast, 29 percent of those polled said they supported his nomination regardless of whether the allegation is true. … Republicans were much more likely than Democrats to back Kavanaugh's nomination to the nation's highest court: 83 percent of Republicans said they supported Kavanaugh, compared to just 9 percent of Democrats who felt the same way. Fifty-four percent of Republicans believe Kavanaugh should be confirmed even if the allegation is true."
Third accuser emerges on eve of hearing – USA Today: "Julie Swetnick, a client of attorney Michael Avenatti, alleged in a signed statement released Wednesday that Supreme Court nominee Brett Kavanaugh would drink to excess and 'engage in abusive behavior' toward teenage girls while he was in high school. In an explosive statement released by Avenatti, Swetnick claimed that in the 1980s, she witnessed efforts by Kavanaugh and his classmate, Mark Judge, to get teenage girls 'inebriated and disoriented so they could then be 'gang raped' in a side room or bedroom by a 'train' of numerous boys.' I have a firm recollection of seeing boys lined up outside rooms at many of these parties waiting for their 'turn' with a girl inside the room. These boys included Mark Judge and Brett Kavanaugh,' she alleged in the statement, naming Kavanaugh's high school classmate. Swetnick alleged she became one of the victims of 'one of these 'gang' or 'train' rapes.' She did not say that Kavanaugh or Judge had sexually assaulted her."
Kavanaugh character witnesses now seek investigation into charges – WaPo: "Three former Yale Law School classmates who endorsed Supreme Court nominee Brett M. Kavanaugh called Tuesday for an investigation into allegations by two women that he engaged in sexual misconduct in the 1980s. Kent Sinclair, Douglas Rutzen and Mark Osler were among roughly two dozen of Kavanaugh's law school classmates who lauded Kavanaugh's qualifications in an Aug. 27 letter to leaders of the Senate Judiciary Committee. Their support for an investigation came as Yale Law professor Akhil Amar – who taught Kavanaugh and testified on his behalf before the committee this month – also called for a probe into what he described as "serious accusations" from the women."
Meet the prosecutor who will be asking the questions – Fox News: "Rachel Mitchell has been selected by the Senate Judiciary Committee to assist Republican lawmakers in questioning the woman who accused Supreme Court nominee Brett Kavanaugh of sexual assault. … Mitchell works in the Maricopa County Attorney's Office in Phoenix as the chief of the Special Victims Division and deputy county attorney. Maricopa is Arizona's most populous county. She is currently on leave. She spent more than a decade supervising attorneys who handle sex-related crimes, including sexual assault, child molestation and prostitution and computer crimes against children. She was also in charge of a satellite bureau that prosecuted such crimes as well as domestic violence and elder abuse, according to the Judiciary Committee. Her boss, Maricopa County Attorney Bill Montgomery, told the Arizona Republic that Mitchell is a 'professional, fair, objective prosecutor' and has a 'caring heart' for victims."
GILLUM'S LEAD OVER DESANTIS GROWS IN FLORIDA 
Quinnipiac University: "Tallahassee Mayor Andrew Gillum, the Democrat, crosses the key 50 percent threshold and leads former U.S. Rep. Ron DeSantis 54 – 45 percent among likely voters in the Florida governor's race, according to a Quinnipiac University Poll released today. This compares to a too-close-to-call outcome in a September 4 survey by the independent Quinnipiac University Poll, showing Mayor Gillum with 50 percent and DeSantis with 47 percent. Women and independent voters are the main drivers of Gillum's lead… Republicans back DeSantis 90 – 9 percent. Gillum leads 96 – 2 percent among Democrats. Black and Hispanic voters also contribute to the Democrat's lead, as black voters back Gillum 98 – 2 percent and Hispanic voters support him 59 – 41 percent. White voters back DeSantis 53 – 45 percent. Among Florida likely voters who name a candidate choice, 94 percent say their mind is made up. Gillum gets a 55 – 31 percent favorability rating, while DeSantis gets a slightly negative 42 – 47 percent favorability rating."
Poll shows tied race for Ohio governor – NBC News: "Ohio's open governor's race is tied, new polling from NBC News/Marist College shows, as Democrat Richard Cordray and Republican Mike DeWine jockey to replace Republican Gov. John Kasich. The new polling shows the governor's race far more competitive than Democratic Sen. Sherrod Brown's quest for re-election — Brown holds a double-digit lead over Republican Rep. Jim Renacci. Overall, the new numbers show advantages for Democrats in enthusiasm and on the generic ballot in a state where President Donald Trump and Republican Sen. Rob Portman won easily in 2016. 'Two years have made a big difference in the outlook of Ohio voters,' Lee M. Miringoff, the director of the Marist College Institute for Public Opinion. 'Donald Trump won the state by more than eight points. But, now, a majority want more Democrats in Congress as a check on his agenda.' Both Cordray and DeWine get support from 47 percent of likely voters; 6 percent say they're undecided."
Connecticut gubernatorial candidates balk on tax returns – Hartford Courant: "Independent Oz Griebel is the first gubernatorial candidate to release his tax return information, which showed he paid about $95,000 in taxes on nearly $400,000 of income that he reported to the Internal Revenue Service for 2017. The former head of the MetroHartford Alliance, who petitioned his way onto the Nov. 6 ballot, provided returns Tuesday for 2017, 2016 and 2015. So far, DemocratNed Lamont and Republican Bob Stefanowski have declined to release their tax returns, opening them up to criticism like Donald Trump faced during the 2016 presidential election. Lamont's campaign has said it would release Lamont's tax returns when Stefanowski provides his. The Greenwich telecommunications magnate is worth an estimated $100 million to $300 million and spent $26 million on two previous bids for statewide office that were unsuccessful."
HOUSE REPUBLICANS START TRIAGE  
The Hill: "Republicans are performing critical triage to their midterm spending strategy as they seek to hold on to their House majority in a difficult midterm year. The House GOP's campaign arm pulled the plug on its remaining ad buys last week for the Pittsburgh media market, where Rep. Keith Rothfus (R-Pa.) is desperately fighting to hang on to his seat in a race against Rep. Conor Lamb (D-Pa.). It's grim news for Rothfus, who has largely been seen as a dead man walking since redistricting left him with a Democratic-leaning district and a difficult opponent in Lamb. For the GOP, it's likely a sign of things to come as the party seeks to target its money toward the races most likely to save its majority. Democrats need 23 seats to take back control of the House, and the GOP is defending dozens of seats that are seen as vulnerable. … The National Republican Congressional Committee (NRCC) must decide if it should put energy into competitive and Democratic-leaning districts that Hillary Clinton carried in 2016 — or if the party is better served protecting GOP strongholds that could be in play if a 'blue wave' materializes."
Rep. Dave Brat faces tight race for Virginia House – WaPo:"Rep. Dave Brat, the Republican upstart who toppled then-House Majority Leader Eric Cantor four years ago, is in a tight race with Democrat Abigail Spanberger, according to a new poll. Spanberger, a former CIA officer and political newcomer, leads Brat 47 percent to 42 percent among all potential voters, according to a Monmouth University poll released Tuesday. Two percent favor Libertarian Joe Walton, and 9 percent are undecided. Spanberger's lead shrinks when the poll applies two different models to the race in Virginia's 7th Congressional District, a mix of suburban and rural territory in the central part of the state that stretches from Culpeper to Nottoway County. The candidates are tied at 47 percent when the survey assumes turnout will follow historical norms for midterm elections."
Mimi Walters falls behind in California – NYT: "Katie Porter is a consumer protection lawyer and a professor [with] 41% favorable rating; 24% unfavorable; 36% don't know … Mimi Walters is the current representative and a former investment banker [with] 40% favorable rating; 42% unfavorable; 18% don't know … This often-redrawn district in Orange County, once a pillar of the Reagan-era Republican Party, has experienced an influx of Asian-American and Latino voters. Although some suburban voters may be uneasy with President Trump, the district is not exactly liberal. Ms. Walters has supported President Trump on issues like repealing Obamacare and passing a tax overhaul. She says 'people are starting to see the benefits of tax reform.' Ms. Porter says the tax law 'punishes voters' in this high-tax district compared with people with similar incomes who live in lower-tax states. First elected to Congress in 2014, Ms. Walters won re-election handily in 2016 even as Hillary Clinton carried her district."

Wild leading in Pennsylvania's 7th district – NYT: "Susan Wild is a litigator and was the first female solicitor of Allentown [with] 34% favorable rating; 19% unfavorable; 47% don't know … Marty Nothstein is a former Olympic and professional cyclist [with] 30% favorable rating; 22% unfavorable; 48% don't know. Redistricting made this open district, whose territory had been mostly represented by the Republican moderate Charlie Dent, both more left-leaning and more compact. Mr. Nothstein was one of America's greatest track cyclists, winning a silver medal in the 1996 Olympics and a gold medal in the 2000 Olympics. He says he's running as a conservative outsider. Ms. Wild has stressed her ability to compromise, although most of her policy positions are progressive and she has been an outspoken advocate for abortion rights. She has outraised Mr. Nothstein by about 2 to 1 in the most recent reporting cycle."

ADS ON ADS ON ADS UNTIL NOVEMBER
Politico: "For the next six weeks TVs will be increasingly swamped with political ads (not that they weren't already). Just today, we saw more than a dozen new Senate ads, seven new gubernatorial ads and more than five dozen new House ads across the map. … If you can't watch them all, here are some major themes: In the Senate, attack ads are beginning to take over. Majority Forward, a nonprofit aligned with Democratic Leader Chuck Schumer, released ads attacking Florida Gov. Rick Scott as a 'shady millionaire' and going after Montana Republican Matt Rosendale as 'all hat, no cattle.' Not to be outdone, the GOP-aligned Senate Leadership Fund released ads attacking Democrats in Indiana, Nevada, Missouri, Tennessee and West Virginia. The top issues? Guns, health care and accusing Democrats of having gone Washington. On the House side, the sheer number of ads shows just how large the playing field could be this fall. For Democrats, ads run the gamut: several attack Republicans for voting for the GOP's Obamacare repeal effort last year; several criticize Republican opponents for taking special interest money; a few ads tie Republican candidates to President Donald Trump."

Bredesen vows he won't support Schumer if elected – Fox News: "Tennessee Senate candidate Phil Bredesen promised voters he would not vote for Chuck Schumer as majority leader if he's elected and Democrats take control of the Senate. 'We need to get new leadership,' Bredesen, Tennessee's former governor, said during a debate Tuesday night. 'I can tell you right now, that if I'm elected, and when I'm elected and go to Washington, I am not going to be voting for Chuck Schumer.' A Democrat from New York, Schumer is currently the minority leader in the Senate. Still, throughout the debate, GOP nominee Marsha Blackburn attempted to align the Democratic candidate to Schumer and reiterated multiple times his campaign is 'bought and paid for' by the minority leader. Later, she doubled down with reporters, claiming Schumer recruited Bredesen to run for the open seat and pointed out he's praised former President Barack Obama, former Secretary of State Hillary Clintonand other prominent Democrats.

REPORT: TRUMP CONSIDERING KEEPING ROSENSTEIN 
WSJ: "President Trump told advisers he is open to keeping Deputy Attorney General Rod Rosenstein on the job, and allies of the No. 2 Justice Department official said Tuesday he has given them the impression he doesn't plan to quit. That raised at least the possibility that a roller coaster of a week could end with no major shake-up in the top ranks of the Justice Department, even as White House and Justice officials cautioned that it was impossible to know for sure what Mr. Trump would do. Mr. Rosenstein oversees special counsel Robert Mueller's investigation into Russian meddling in the 2016 election and any links to Trump campaign officials. Mr. Trump has dismissed the probe as 'a witch hunt.' The president has told advisers that he wants to hear directly from Mr. Rosenstein about reports that he discussed secretly recording the president and recruiting cabinet members to remove him from office, according to people who have spoken to the president. That meeting is scheduled for Thursday afternoon."
Goodlatte to subpoena McCabe memos – Roll Call: "House Judiciary Chairman Robert W. Goodlatte told reporters Tuesday evening that he plans to subpoena the Justice Department for memos Andrew McCabe wrote during his tenure as acting FBI director. The memos allegedly chronicle conversations in which Deputy Attorney General Rod Rosenstein discussed secretly recording President Donald Trump and invoking the 25th Amendment to remove him from office. 'I had my consultation with the Democrats so that we can issue the subpoena now in two days,' the Virginia Republican said. Two days — i.e., Thursday — is also when Rosenstein, who denies that he planned to record the president or wanted to invoke the 25th Amendment, is scheduled to meet with Trump to discuss his future. … Meanwhile, House Freedom Caucus leaders Mark Meadows and Jim Jordan want Goodlatte to call Rosenstein to testify about the allegations raised in the McCabe memos and are threatening to bring a privileged resolution to the floor calling for Rosenstein's impeachment if Goodlatte and Republican leaders do not call a hearing."
PLAY-BY-PLAY
Hickenlooper gears up for 2020 run – Politico
Anne Applebaum: "A Warning From Europe: The Worst Is Yet to Come" – Atlantic

Damon Linker: "If you think another civil war is imminent, get off Twitter" – The Week
AUDIBLE: CHEEEEESE
"That's the famous Senator Kennedy, I want a picture of him!" – Sen. Patrick Leahy, D-Vt., said while snapping pictures of Sen. John Kennedy, R-La. Kennedy was in a gaggle with the press discussing the latest Kavanaugh allegations when Leahy snuck in the back of the gaggle.
FROM THE BLEACHERS
"'The decision to lower the threshold first for lower-court nominees and then the Supreme Court will reverberate for many years to come.' Wondering what effect increasing the number of justices on the Supreme Court would have. To maybe 11… Congress could do this by statute." – Mike Tardif, Santa Ana, Calif.
[Ed. note: I bet we'll get the chance to discuss that question at great length when Democrats take over Washington the next time!] 
"Your 9/25 response to Matthew Lincoln's comment about the current 51-vote threshold for judicial nominees and legislation is unreasonable under the current circumstances. There was a day when judicial nominees were fairly considered based on the qualifications, not policy differences and unprovable allegations. Unfortunately, the day of due process and fairness in judicial confirmations has past. Similarly, there was a day when legislation could be passed on a bi-partisan basis. Gridlock has made that a thing of the past too.  Elections DO have consequences. Under the current climate, the majority rules (not super-majority) until the People vote to change the majority at the ballot box." – Tim Kasparek, Goodyear, Ariz.
[Ed. note: I'm afraid you may have misunderstood me, Mr. Kaspareck. I was lamenting to Mr. Lincoln the caustic consequences of hyper-partisanship in the Senate. I wasn't assigning blame to one party or the other, only the results for the country have been and will be increasingly dire. I don't know which party will blow up which of the last parts of the wall that kept barbarism at bay. And I don't particularly care. Certainly, though, using the self-serving reasoning of partisanship you can make a strong case for being on the wrecking crew. As partisans come to believe that their opponents aren't just wrong but actually evil, why would you leave any stick of dynamite in the box. I hate to quote myself, but what I said Tuesday stands on my end: "I am afraid to say that we will probably see all of that and more before we become so sick of partisanship that voters begin to rebel."]

Share your color commentary: Email us at
HALFTIMEREPORT@FOXNEWS.COM and please make sure to include your name and hometown.

THEY SEE HIM ROLLIN' 
WNBC: "An injured turtle is riding in style thanks to zoo keepers at The Maryland Zoo. The wild eastern box turtle has been outfitted with a wheelchair made of Lego bricks. A zoo employee found the injured turtle in Druid Hill Park in Baltimore, Maryland, in July. … The turtle underwent surgery to fix its fractured shell. … The shell had to stay off the ground in order to heal, posing a challenge to staffers who had a hard time helping the turtle get around in the meantime. That's when someone came up with the idea of the Lego wheelchair. 'They don't make turtle-sized wheelchairs. So, we drew some sketches of a customized wheelchair and I sent them to a friend who is a Lego enthusiast,' said Garrett Fraess, veterinary extern at the Zoo. A few weeks later, the grapefruit-sized turtle received his own custom Lego wheelchair. Zoo officials say the turtle took off as soon as he was outfitted with the miniature design."

AND NOW, A WORD FROM CHARLES…
"Fluctuations in great power relations are inherently ephemeral. For a man who sees a moral arc in the universe bending inexorably toward justice, calculations of raw realpolitik are 20th-century thinking — primitive, obsolete, the obsession of small minds." – Charles Krauthammer (1950-2018) writing in the Washington Post on Aug. 18, 2016.  
Chris Stirewalt is the politics editor for Fox News. Brianna McClelland contributed to this report. Want FOX News Halftime Report in your inbox every day? Sign up here.
http://feeds.foxnews.com/~r/foxnews/politics/~3/llO0hUhBVAM/imagining-2020.html