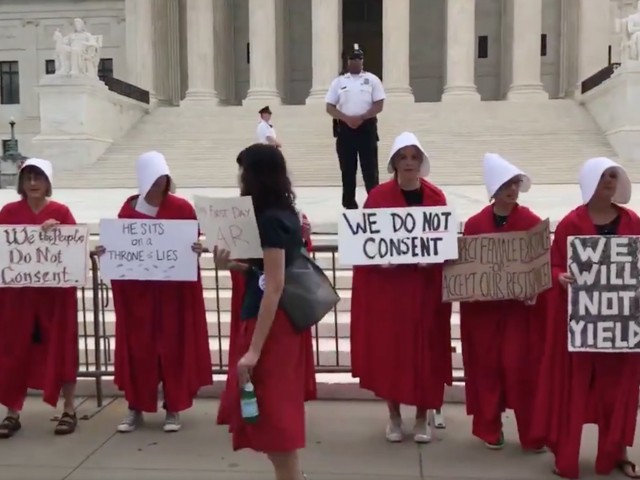 Protesters greeted newly confirmed Supreme Court Justice Brett Kavanaugh for his first day of work on Tuesday dressed as characters from the TV show The Handmaid's Tale.
"Say it loud, and say it clear: Kavanaugh's not welcome here!" they chanted, dressed in long red robes and white hats in temperatures slated to reach 80 degrees.
They held up signs that said, "We do not consent," "We will not yield," and "You failed your mom."
Guardrails and at least six police officers could be seen in one video posted on Twitter:
Look who is here for Justice Kavanaugh's first day at #SCOTUS. pic.twitter.com/6SN9kL5Viw

— Jason Calvi (@JasonCalvi) October 9, 2018
The protest signaled that liberals' anti-Kavanaugh fervor would not dissipate ahead of the November midterm elections.
During Kavanaugh's confirmation process, dozens of women had dressed up in similar costumes to represent the TV show's depiction of women living under a dystopian fundamentalist regime.
Hundreds of protesters had also swarmed the steps of the Supreme Court.
One recent video that has gone viral showed two young protesters dancing around a lone, elderly, pro-Kavanaugh protester silently holding up signs. At one point, one of the protesters hit his signs, appearing to damage them:
Leftists harassing an elderly Trump supporter. More footage for Trump 2020 ads. pic.twitter.com/bd3pzycAxV

— Paul Joseph Watson (@PrisonPlanet) October 6, 2018
The video was mentioned in a Washington Post article on Tuesday that said Republicans were trying to "recast" Democrat protests as an "out-of-control" anarchy.
"The GOP fervor extends across the Internet," the article said, before mentioning the video.
http://feedproxy.google.com/~r/breitbart/~3/4Rm4MwFIGMA/