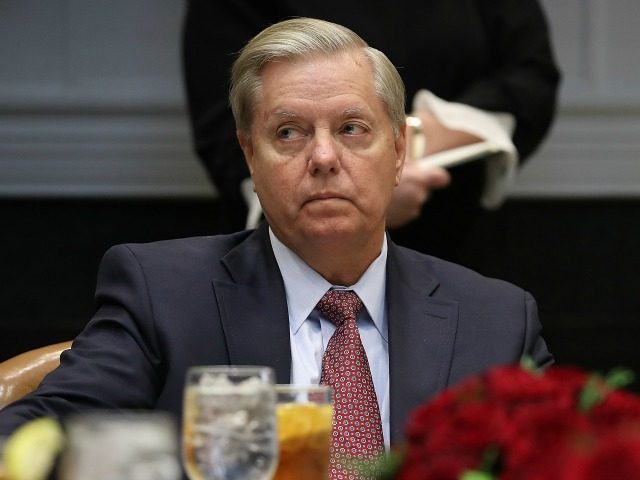 Sen. Lindsey Graham is shutting down business-boosted suggestions that he join President Donald Trump's cabinet, likely in place of Attorney General Jeff Sessions.
Graham is a business-first, pro-migration, cheap-labor legislator from South Carolina who launched the "Gang of Eight" amnesty effort in late 2012. He likely needs Trump's support to win his 2020 reelection race.
"I'm definitely, running," he told reporters on Monday, adding "I have zero interest in serving in President Trump's cabinet."
The Tweet from Graham's press secretary shows the Senator saying:
I like him, I want to help him, I want him to be successful. I think I can do more good for the country and help President Trump more effectively by being in the Senate. I will help him where I can, say no when I have to, and I'm going to continue being South Carolina's voice.
Reporters and pundits continue to speculate on @LindseyGrahamSC plans for the future.

Tonight in South Carolina he again made it clear:

1) Definitely running for reelection to the Senate in 2020.

2) ZERO INTEREST in serving as Attorney General or in the Cabinet.

WATCH: pic.twitter.com/DKg1leXj2W

— Kevin Bishop (@KevinDBishop) October 9, 2018
Graham's statement is a relief to pro-American immigration reforms, who are praising AG Sessions for his aggressive overhaul of the nation's pr0-migration rules and policies. Sessions' reforms are opposed by business groups because he changing procedures, policies and migration numbers through the agencies.
However, Graham is hoping to take over the Senate's judiciary committee in 2019 if Iowa Sen. Chuck Grassley shifts to another committee.
Graham played a visible role in rebuking Democrats' criticism of Judge Brett Kavanaugh, but Grassley led the committee which overcame Democratic criticism and won Senate confirmation for Justice Kavanaugh.
The committee chairmanship which would allow Graham to stall Trump's pro-employee immigration reforms — and would help Graham push his donors' cheap-labor policies.
In January, Graham said he wants to import more workers for skilled and unskilled jobs:
We need more legal immigration … I don't want green cards just for computer engineers. If you are out there working in the fields, if you are a construction worker, I want some of those people to have a way to stay here, because if you are running a business and you have a guest worker who is really good, and would add value to our country, I want them to have a chance to get a green card. I just don't want to be a country in the future of just computer engineers or high-tech people.
Graham's agreement to work with the Democrats to push the 2014 cheap-labor amnesty proved disastrous to his Democratic allies. In November 2014, voters switched five Senate seats to the GOP.
In debates over migration, business groups and Democrats tout polls which prod Americans to declare support for migrants and for the claim that the United States is a "Nation of Immigrants."
But the alternative "priority or fairness" polls — plus the shocking result in the 2016 election — show that voters in the polling booth put a much higher priority on helping their families, neighbors, and fellow nationals get decent jobs in a high-tech, high-immigration, low-wage economy. Polls also show that voters blame business — not migrants — for the problem.
Four million young Americans will join the workforce this year, but the federal government will also import 1.1 million legal immigrants, and allow an army of at least 2 million visa-workers to work U.S. jobs, alongside asylum-claiming migrants and illegal aliens.
Overall, the Washington-imposed economic policy of economic growth via immigration shifts wealth from young people towards older people by flooding the market with cheap white-collar and blue-collar foreign labor.
That flood of outside labor spikes profits and Wall Street values by cutting salaries for manual and skilled labor offered by blue-collar and white-collar employees. The policy also drives up real estate prices, widens wealth-gaps, reduces high-tech investment, increases state and local tax burdens, hurts kids' schools and college education, pushes Americans away from high-tech careers, and sidelines at least 5 million marginalized Americans and their families, including many who are now struggling with opioid addictions. Immigration also pulls investment and wealth away from heartland states because investment flows towards the large immigrant populations living in the coastal states.
http://feedproxy.google.com/~r/breitbart/~3/Hb0o1cArua8/