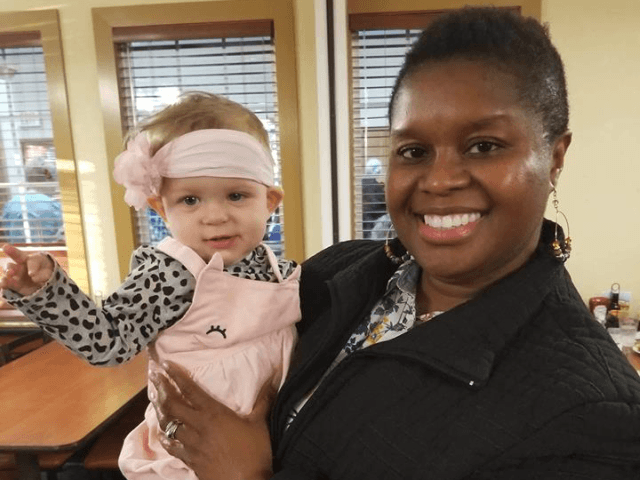 A Good Samaritan stepped in to save one baby's life at a North Carolina Golden Corral on Thanksgiving Day, stopping her from choking on a morsel of food.
Hannah Marie Jarvis, a new mother, had been enjoying a Thanksgiving meal with her family at the restaurant when her seven-month-old daughter, Calli, began choking on some mashed potatoes.
"We were all at the Golden Corral. We were celebrating Thanksgiving," Jarvis told WLOS. "We were just feeding her some mashed potatoes. She just started gagging all of a sudden. She was choking."
A waitress then yelled out to the restaurant, asking if any volunteers could assist the baby.
Deborah Rouse, one of the restaurant's patrons, stepped up to the plate and started performing the Heimlich maneuver to save the infant's life.
"This lady named Deborah intervened, and she started performing the Heimlich maneuver on her," Jarvis said. "She held her down, like this, taking multiple blows to her back. It was miraculous, she started breathing again."
The Heimlich maneuver is a first aid procedure often performed on people who are choking. According to the Mayo Clinic, the procedure is performed on infants with forceful back blows while the baby remains face down with its head and neck supported.
Jarvis said her daughter was evaluated later at a local hospital and has been "happy and healthy" since the incident.
Jarvis was so overjoyed when Rouse saved her daughter's life that she gave her a hug.
"I will never forget the many tears that were shed today in Golden Corral as this angel stepped in to preform [sic] the heimlich maneuver that saved my baby from choking to death. Most importantly, thank you Jesus for hearing our desperate cries for Calli this Thanksgiving afternoon," Jarvis posted on Facebook Thursday. "Christ was with us today."
But Jarvis wanted to a give a more heartfelt expression of her thanks to the woman who saved her daughter's life. The mother said she forgot to ask Rouse, a mother of five, for her phone number that day to give a more detailed thank you message.
Thanks to the power of social media, Rouse noticed the media coverage of the incident and Jarvis' Facebook post and reached out to the mother directly.
"Good evening Mrs. Hannah, I saw the news article and I messaged you my number! I'm elated that Callie is doing well, y'all have been on my mind since yesterday! Love you all and take care," Rouse responded.
http://feedproxy.google.com/~r/breitbart/~3/Ke2M4monG5s/