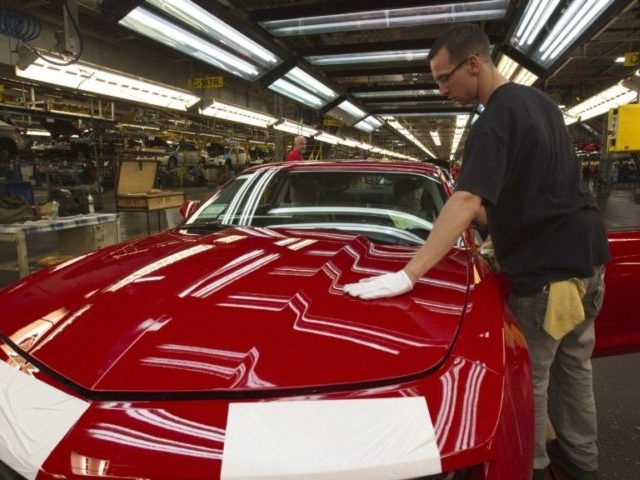 The major restructuring of General Motors, the first since its bailout in 2009, will result in the company cutting up to 14,700 jobs.
The company said Monday that it would cut 15 percent of its salaried workforce in North America. That is likely to be around 8,000 employees.
In addition to the white collar job cuts, the company is shutting down plants that make models it is discontinuing. This will result in around 6,700 job cuts.
The closures and layoffs follow similar moves by other big U.S. automakers as the industry adjusts to lower consumer demand for passenger cars. While sales smaller cars temporarily boomed in the wake of the financial crisis, largely due to Obama administration subsidies and a steep rise in the price of oil, compacts and sedans have fallen out of favor with American consumers. Demand has shifted to trucks, vans, and SUVs.
The layoffs and closures will face protests from autoworker unions. The United Auto Workers union has said the move was callous.
General Motors employed around 180,000 employees worldwide at the end of 2017, with around approximately 103,000 in the U.S. Earlier this year, it offered a buyout package to some employees. It is not clear how many took the company up on the offer.
While the company has said that it believes tariffs on steel and aluminum will add about $1 billion in costs over the next year, there is little sign that the layoffs and closures are related to the tariffs. The company had around $145 billion in sales last year and costs of production of $118.7 billion, down significantly from $130.5 billion four years prior. So the overall additional costs of the tariffs is relatively small for GM.
Many of the cars that General Motors says it will cease producing were hailed as major break-throughs when introduced. The high-priced Chevy Volt, which initially benefited from enormous government subsidies intended to promote electric vehicles, and the more modestly-priced Chevy Cruze, however, both were sales disappointments. Both were derisively called "Obamamobiles" by some critics, based on the support the Obama administration through behind them.
President Obama relentlessly promoted the Chevy Volt, promising to buy one when he left office (he didn't)

He also autographed a Chevy Cruz describing is as "the car of the future"

GM announced today they will end production for both cars in 2019 pic.twitter.com/qqgR3YdVWW

— Charlie Spiering (@charliespiering) November 26, 2018
http://feedproxy.google.com/~r/breitbart/~3/T11Qek3znHg/