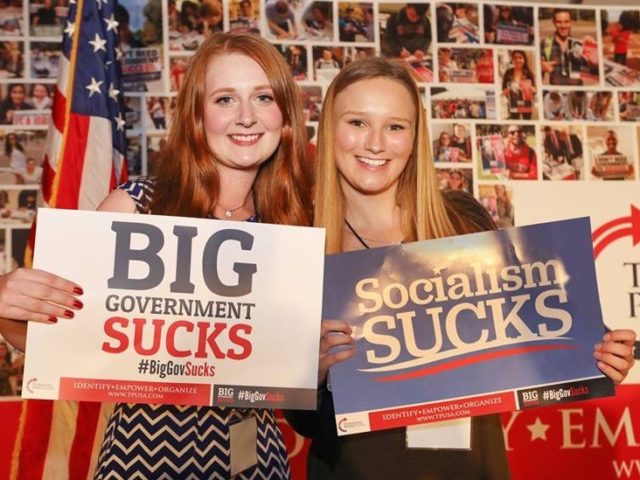 Republicans face an uphill battle to maintain control of the House of Representatives, but recent polling suggests that white millennials in working-class districts could tip the scales for some GOP nominees in November.
The New York Times and Siena College has done live polling throughout the country in swing congressional districts. Several districts that have a large population of white-working class voters have seen an interesting trend: millennials are breaking towards the Republican candidate.
Nowhere is this more evident than in West Virginia's Third Congressional District, the district compromises the southern counties of the state. Republican Carol Miller is in a close election against state senator and Iraqi War veteran Richard Ojeda. The district is considered as a tossup but Miller has the advantage of having a huge lead with young voters.
Miller wins voters under 30 by a 58-point margin, 74 percent to 16 percent, respectively. She also holds a more narrow lead with older millennials, 48 to 46 percent, according to the New York Times/Siena Poll.
In Ohio's First District, which encompasses Cincinnati and some surrounding suburbs, incumbent Republican Steve Chabot is in one of the tightest re-election campaigns of his career. Fortunately for the Republican Congressman, he leads his Democratic rival by 15 points with voters under 30.
Similarly, Republican Rep. Scott Taylor running for re-election in Virginia's Second District, which includes Virginia Beach, has a tremendous double-digit lead with older millennials. Taylor leads his Democratic rival by 22 points among voters age 30 to 44, among younger millennials and Gen-Z he trails by only six points.
Maine's Second District, the northern regions of the state which swung hard for President Trump in 2016, have the only Republican Congressman in New England who's fighting in a tough re-election battle. Rep. Bruce Poliquin is running against Jared Golden and holds a five point lead, 47-42 according to the New York Times polling. If Poliquin manages to squeak out a victory, it may be thanks to his popularity with older millennials, 30-44-year-olds support Polquin 51-39.
Conservative firebrand Dave Brat, who is the in toughest re-election battle of his career, is winning huge support among millennials in his Richmond suburb district. According to polling in Virginia's Seventh District, Brat's has a 20-point lead among voters under 30 and a nine point lead among older millennials and Gen-Xers.
Other Republican candidates enjoying the boom with working-class white millennials are Rep. Mike Bost running for re-election in Illinois' 12th district, compromising the southern tip of the state, is winning voters under 30 by eight points.
Republican challenger in the open seat in Minnesota's Eighth District, Pete Stauber is in a tied race with his Democratic opponent but holds a seven point lead with voters under 30 and a 12 point lead with voters 30-to-44 years old.
Democrats have counted on millennials as the backbone for their election success, but polling suggests that young voters may be the demographic group that denies Nancy Pelosi the Speaker's gavel.
http://feedproxy.google.com/~r/breitbart/~3/21-1Zh68-MY/