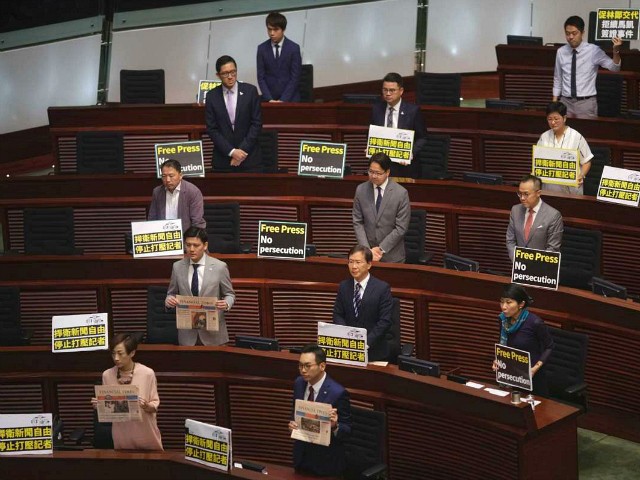 Over a dozen Hong Kong lawmakers staged a protest in the legislature on Wednesday, chanting "Protect press freedom!" and holding up placards reading "Free Press, No Persecution" until security guards escorted them from the chamber.
The protest was inspired by Hong Kong's refusal to renew the visa of Financial Times editor and Foreign Correspondents' Club (FCC) vice-president Victor Mallet.
Mallet was effectively expelled from Hong Kong last week when the government did not renew his work visa, apparently in retaliation for inviting the leader of the banned Hong Kong National Party to an FCC meeting. The government had not yet banned the party when leader Andy Chan spoke at the FCC event.
The demonstration and walkout occurred during Hong Kong Chief Executive Carrie Lam's policy address to parliament. Lam took a hard line against challenges to mainland China's authority.
"Hong Kong will not tolerate any acts that advocate Hong Kong's independence and threaten the country's sovereignty, security and development interests," she said. "We will fearlessly take actions against such acts according to the law in order to safeguard the interests of the country and Hong Kong."
According to the Hong Kong Free Press, a number of pro-democracy lawmakers greeted Lam with the "protect press freedom" chant when she entered the chamber and then walked out. Several others continued chanting until they were escorted out by security guards.
"After Lam's speech, Democratic Party lawmaker Ted Hui asked for a debate on the visa rejection issue at the chamber, but it was rejected by Legislative Council President Andrew Leung," HKFP reported.
UK Foreign Minister Jeremy Hunt supported the complaints made by pro-democracy Hong Kong lawmakers and said the British government is "very concerned" by Mallet's expulsion.
"In the absence of an explanation from the authorities, we can only conclude that this move is politically motivated. This undermines Hong Kong's freedom of speech and freedom of the press, both guaranteed by the Joint Declaration, and the Basic Law, and increases the pressure on the 'One Country, Two Systems' framework," Hunt said, referring to the legal code that guarantees Hong Kong certain freedoms denied to mainland Chinese and makes the island semi-autonomous.
"I urge the Hong Kong authorities to reconsider this decision. Confidence in Hong Kong's rights and freedoms is an essential component of its future success," Hunt said.
Mallet was allowed back into Hong Kong for one week on Tuesday to clean up his affairs, after a stern interrogation by immigration officials. International media organizations, business groups like the U.S. Chamber of Commerce, and the European Union criticized Mallet's expulsion and his brisk treatment by immigration officials, noting his one-week return is much shorter than the six months typically granted to British tourists.
Hong Kong officials refuse to state exactly why Mallet's visa renewal was denied, even after the Hong Kong Journalists Association submitted a petition with 15,000 signatures demanding a full explanation.
http://feedproxy.google.com/~r/breitbart/~3/34t8H3vKvsI/