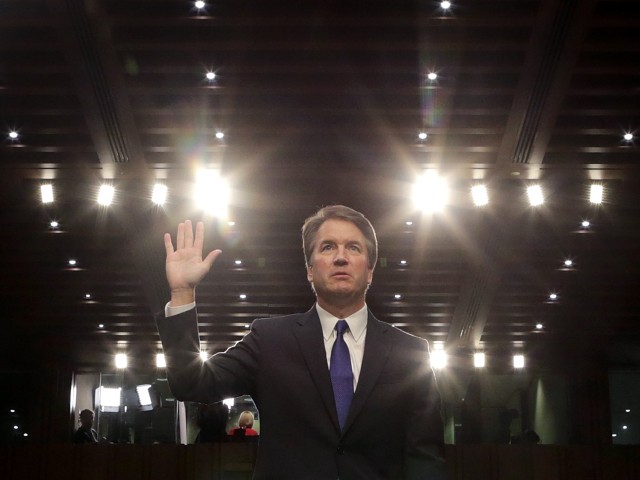 The exorcist for the Diocese of San Jose, California, said that an upcoming gathering of witches to place a hex on Supreme Court Justice Brett Kavanaugh is a "demonic" act and shows that people in the Satanic world are becoming bolder.
As Breitbart News reported, dozens of witches are meeting in Brooklyn Saturday to place a curse on Justice Kavanaugh "and upon all rapists and the patriarchy which emboldens, rewards and protects them."
"We will be embracing witchcraft's true roots as the magik of the poor, the downtrodden and disenfranchised," the event's website states, "as often the only weapon, the only means of exacting justice available to those of us who have been wronged by men just like him."
California exorcist Father Gary Thomas, whose training in Rome was the subject of the 2010 book and 2011 film The Rite: The Making of a Modern Exorcist, said he was "appalled" by the ritual.
"I sent this to a load of exorcists yesterday and their reaction was similar to mine," he said.
Father Thomas told the National Catholic Register that in the 12 years since becoming an exorcist, he has seen people in the satanic world growing more audacious as Satanism becomes more mainstream.
"They are more confident that the general public will be more accepting of the demonic," the priest said. While throughout history, Satanic groups have been secretive, they are now acting publicly in the name of freedom of religion.
According to Father Thomas, this is an abuse of religious liberty to spread evil and irreligion.
"This is a conjuring of evil—not about free speech," he said. "Conjuring up personified evil does not fall under free speech. Satanic cults often commit crimes; they murder and sexually abuse everyone in their cult."
Those participating in the curse on Kavanaugh clearly believe in the power of personified evil, Thomas said. "They are going to direct the evil to have a permanently adverse effect on the Supreme Court justice."
According to the exorcist, such curses can have a real impact on people, especially if they are open to evil, whereas when they are "directed at people in a state of grace, they have little or no effect."
Thomas said that in his work he has seen harm come to people such as physical illness, psychosis, depression and demonic vexation.
"The decision to do this against a Supreme Court justice is a heinous act and says a lot about the character of these people that should not be underestimated or dismissed," he said.
"These are real evil people," he said.
As a response to the witches' hex, the priest said he will offer Mass for Justice Kavanaugh this week.
The witches' hexing of Justice Kavanaugh is tied closely to the subject of abortion and fears that the Supreme Court could eventually overturn the 1973 decision to make abortion on demand the law of the land.
The abortion lobby has warned that Kavanaugh is "serious threat" to a woman's right to abortion and urged Congress not to confirm him.
The witches have declared that they will donate a quarter of the proceeds from the sold-out event to abortion giant Planned Parenthood.
Meanwhile, other Christians are reportedly praying, fasting, and giving alms in support of Kavanaugh, asking God to strengthen and protect him. Many have placed the witches' hex in the context of "spiritual warfare" and have committed to doing their part to defeat them.
In February 2017, a group of witches attempted to use black magic to neutralize U.S. President Donald Trump by casting a "binding spell" to keep him from carrying out his campaign promises.
The "mass spell to bind Donald Trump" was performed at midnight on February 24, and the group pledged to repeat the spell on every waning crescent moon "until Donald Trump is removed from office."
So far their efforts have been unsuccessful.
Follow Thomas D. Williams on Twitter Follow @tdwilliamsrome.
http://feedproxy.google.com/~r/breitbart/~3/w_EOw5G-Xsk/