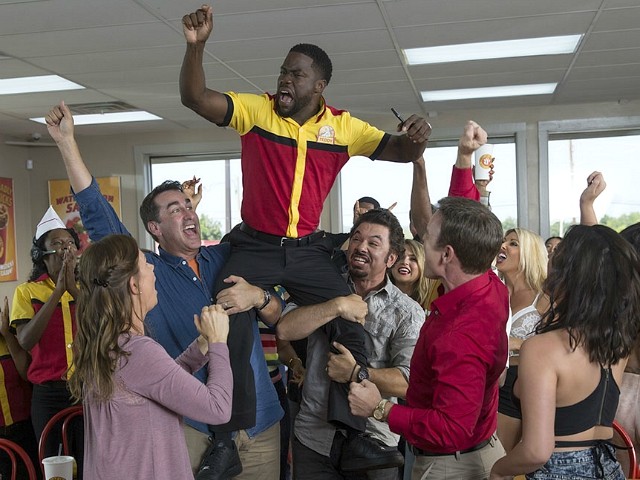 Closing out September, the Kevin Hart comedy Night School went to the head of the class for this weekend's box office earnings, leaving the Channing Tatum and LeBron James-voiced cartoon Smallfoot in the dust — but still at number two.
Night School follows Kevin Hart's attempt to earn his high school GED diploma as an adult along with a group of misfit students while their teacher, co-star Tiffany Haddish, employs some rather unusual motivational techniques to push them over the line and into achieving their goal.
The Hart comedy brought in over $26 million for its debut weekend appearing in about 3,000 theaters, according to Hollywood Reporter.
Meanwhile, the animated Smallfoot, a story following the friendship between a group of Yeti creatures and a human, debuted with a disappointing $23 million for the weekend take. The film, starring the voices of Channing Tatum and LeBron James, debuted in over 4,000 theaters. The original story is hitting behind last year's The Emoji Movie which debuted with $24.5 million. Smallfoot may be able to hold for a few weeks, though, because it faces no other animated competition until November when The Grinch hits theaters.
Among the other top five films, The House With a Clock In its Walls, which debuted last weekend, timed in at number three. This weekend's $14 million earnings brings the Jack Black-starring film's total to around $41 million so far.
Lionsgate's thriller, A Simple Favor, maintained its top five spot as the fourth biggest movie for the weekend. On its third week in theaters, the film earned another $6.8 million meaning it will likely top $43 million in its first three weeks.
Rounding out the top five films for the weekend, scarefest The Nun came screaming in at number five earning around $5 million in its third weekend bringing its total to about $109 million, handily remaking its $22 million production budget.
As to the top ten films, Crazy Rich Asians is still bringing in the yen with another $4.4 million as it slips to the sixth spot on the top ten list. The Warner Brothers romantic comedy has earned an incredible $165 million since its August 15 opening. Following the amazing Asians is Hell Fest, The Predator, White Boy Rick, and Peppermint.
Follow Warner Todd Huston on Twitter @warnerthuston.
http://feedproxy.google.com/~r/breitbart/~3/KWL9WzTcPfM/