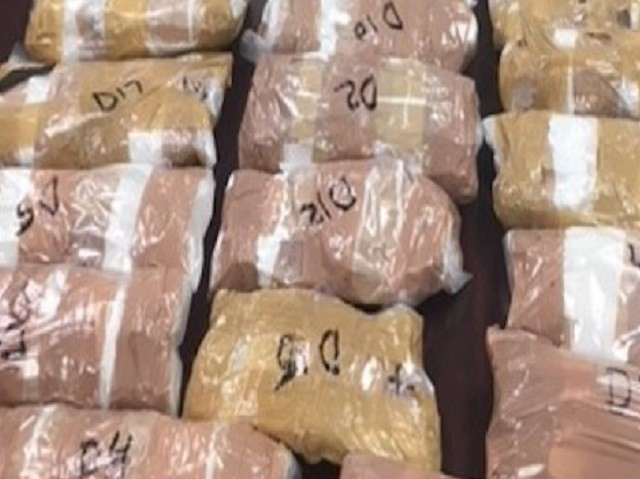 The United States Customs and Border Protection seized more than 300 pounds of methamphetamine during three separate inspections over the weekend in Arizona and California.
The incidents in Arizona occurred after Nogales Border Patrol Agents working the I-19 immigration checkpoint arrested two U.S. citizens and one Mexican national after finding nearly 150 pounds of methamphetamine during two separate busts. Nogales is located approximately 180 miles south of Phoenix and shares a crossing with Nogales, Sonora.
On Friday morning, an 18-year-old male from Arizona in a Dodge Ram was referred to secondary inspection after a U.S. Border Patrol K-9 alerted to odors. Agents discovered 53 packages of methamphetamine, weighing more than 58 pounds, hidden in the vehicle. The drugs were worth more than $175,260.
The second incident occurred almost 48 hours later when agents at the same checkpoint referred a 26-year-old Mexican female and driver of a Dodge Grand Caravan and her 22-year-old female passenger from Rio Rico, Arizona, for secondary inspection. Agents discovered 38 packages of methamphetamine concealed in the vehicle. The narcotics, valued at approximately $271,140 weighed close to 90 pounds.
Agents arrested both drivers and the passenger of the van for drug smuggling and turned the case over to the Drug Enforcement Administration.
Breitbart News previously reported on a seizure in Nogales, Sonora, by the Mexican Army consisting of six AK-47 rifles, ammo, extra magazines, and tactical equipment belonging to the "Gente Nueva" or La Gente Nueva de Los Salazar. La Gente Nueva is a transnational criminal organization (TCO) and is an enforcement/smuggling organization that works as an element of Los Salazar. La Gente Nueva and Los Salazar are elements of the Sinaloa Cartel.
The seizure in California occurred on Saturday, October 13, when U.S. Customs and Border Protection Agents working the Calexico East port of entry contacted a 22-year-old male driving a 2001 Ford Ranger. During a routine inspection, the officer detected inconsistencies with the traveler's itinerary. CBP officers used the port's imaging system and a narcotics K-9 to conduct an intensive inspection. Officers extracted 163 pounds of liquid methamphetamine concealed inside the gas tank. The estimated street value of the narcotics was $407,500.
The driver, a Mexican citizen, was arrested for a narcotics smuggling attempt and is in the custody of Homeland Security Investigations agents.
Robert Arce is a retired Phoenix Police detective with extensive experience working Mexican organized crime and street gangs. Arce has worked in the Balkans, Iraq, Haiti, and recently completed a three-year assignment in Monterrey, Mexico, working out of the Consulate for the United States Department of State, International Narcotics and Law Enforcement Program, where he was the Regional Program Manager for Northeast Mexico (Coahuila, Tamaulipas, Nuevo Leon, Durango, San Luis Potosi, Zacatecas.) You can follow him on Twitter. He can be reached at robertrarce@gmail.com
http://feedproxy.google.com/~r/breitbart/~3/sxgZPBgMZ4Y/