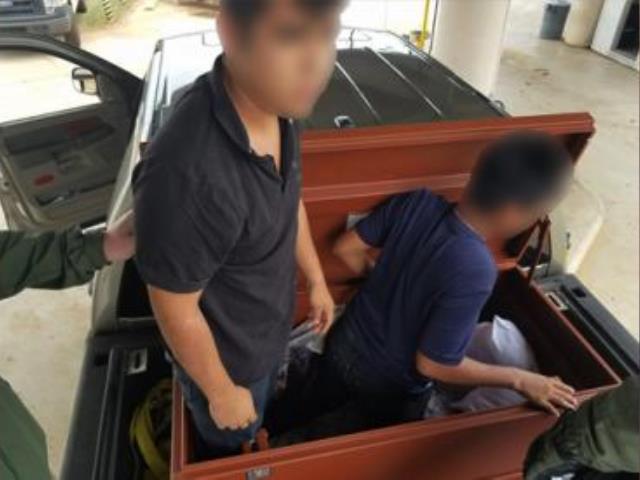 Border Patrol agents in the Laredo Sector disrupted three human smuggling attempts leading to the arrests of more than 50 migrants. The incidents occurred during a traffic stop and two immigration inspections at a checkpoint.
Laredo Sector agents received a call for assistance from a local law enforcement agency shortly after midnight on October 16. A Webb County Sheriff's Office deputy made a traffic stop on Highway 59 near Laredo, Texas, and discovered what he believed to be a load of migrants being smuggled in a vehicle, according to Laredo Sector Border Patrol officials.
The agents responded and found the deputy with 10 migrants. An interview determined that all 10 were illegally present in the United States. The agents search the area near the vehicle and found two more hiding in the brush. The dozen arrested migrants included four Unaccompanied Alien Children. All were taken to the Laredo Station for processing.
The deputy seized the vehicle for the Webb County Sheriff's Office. The search of the brush did not uncover the driver, who fled the scene.
Later that afternoon, agents assigned to the Interstate Highway 35 Checkpoint observed a pickup truck approaching for inspection. During the initial interview, a K-9 agent alerted to the possible presence of drugs or human cargo in the truck. The agent referred the driver to a secondary inspection station where a search of the truck uncovered four migrants. The agents found two of the migrants hiding behind the back seat of the truck while the other two were in a locked toolbox in the bed of the truck.
The agents seized the truck and placed all of the occupants in custody for immigration violations and possible human smuggling charges.
Agents assigned to the same checkpoint observed a tractor-trailer approaching for inspection later that evening. During the initial inspection, the agents determined the driver to be a U.S. citizen. The agents directed the driver to a secondary inspection station. The search of the trailer revealed a group of 37 migrants locked in the back. The agents arrested the driver and the migrants. They also seized the tractor-trailer.
Bob Price serves as associate editor and senior political news contributor for Breitbart Border/Cartel Chronicles. He is a founding member of the Breitbart Texas team. Follow him on Twitter @BobPriceBBTX and Facebook.
http://feedproxy.google.com/~r/breitbart/~3/mHCNUOcwuuY/