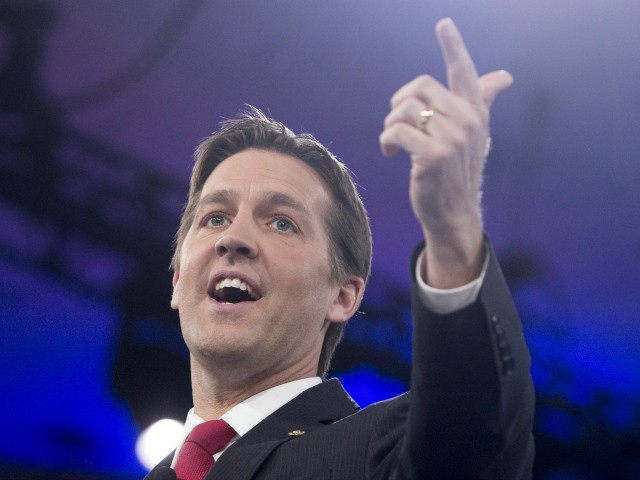 Sen. Ben Sasse (R-NE) announced Friday morning that he will vote to confirm Judge Brett Kavanaugh as the next U.S. Supreme Court Justice.
JUST IN — Sen. Ben Sasse is voting yes on Judge Brett Kavanaugh pic.twitter.com/S0vmmUsx8C

— Samantha-Jo Roth (@SamanthaJoRoth) October 5, 2018
"I'm voting for confirmation because of the evidence and Judge Kavauagh's qualifications. After spending more than 150 hours doing my homework, I complete my reading of the FBI's seventh background investigation this morning," Sasse said in a statement. "This broken and politized process has further undermined public trust. Washington embarrassed itself for the last month, but it is clear that most Americans are yearning for more than tribal blood feuds."
The announcement comes after Sasse delivered an emotional Senate floor speech Wednesday evening in which the Nebraska senator took aim at both Democrats and Republicans for their handling of Kavanaugh's confirmation process.
"A Supreme Court confirmation vote isn't a grand choice about whether we love our daughters or whether we trust our sons," said Sasse. "That is not the choice before us. This is a consent decision about one person for one seat."
Sasse, a staunch critic of President Donald Trump, also took aim at the president's remarks about Christine Blasey Ford, the California psychology professor who last month brought forth a decades-old sexual misconduct allegation against the Supreme Court nominee. "We all know that the president cannot lead us through this time," the lawmaker said. "We know he is dispositionally unable to restrain his impulse to divide us."
In an opinion-editorial published Thursday evening, Breitbart News's senior legal editor, Ken Klukowski, called on Sasse to put his issues with President Trump's America First agenda and brash personal system aside and vote to confirm Kavanaugh, or risk "blowing up the Supreme Court."
"Sasse understands the Madisonian Dilemma from The Federalist No. 51, that if men were angels, no government would be necessary, but because those who serve in government are not angels either, the power of government must be constrained," wrote Klukowski. "One of those constraints Madison identifies is the separation of powers, and another is federalism."
http://feedproxy.google.com/~r/breitbart/~3/6wvBWvGebjA/