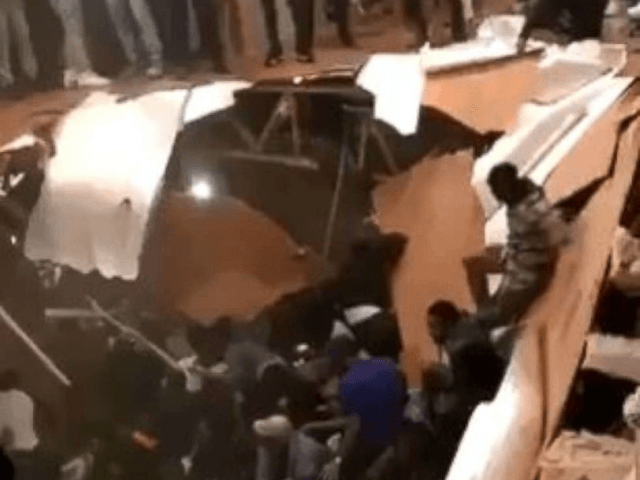 At least 30 people were injured after the floor collapsed at a Clemson apartment, causing people to fall into the basement early Sunday morning.
A cell phone video captured the moment a large portion of a wooden floor inside a clubhouse at Woodlands Apartments gave way, causing dozens of Clemson students attending a homecoming party to fall one floor into the basement below.
People had been jumping up and down to the music at the party, causing the first floor to cave into the basement.
"Everybody was jumping, next thing you know, I'm jumping, I had my hands in the air, and I can feel myself falling. Then I wake up, because I blacked out, and there [were] girls everywhere with blood all over their face," said Leroy Pearson, who witnessed the incident.
Officials say they received the call about the collapse at 12:30 a.m. Sunday. Emergency medical response teams transported 30 people to local hospitals. Some suffered broken bones, but no one injured suffered life-threatening injuries, police said.
Clemson University Associate Vice President for Strategic Communications Joe Galbraith said in a statement that the Kappa Alpha Psi Fraternity hosted the homecoming party.
Clemson University President Jim Clements sent a tweet Sunday morning saying that he is "monitoring the situation," adding that the school would provide a "support system" for those affected:
I'm monitoring the situation, and my thoughts and prayers are with all who were injured. Our entire student support system will be available for any student impacted. https://t.co/QnSUdbP1GA

— Jim Clements (@ClemsonPrez) October 21, 2018
Authorities are continuing to investigate the incident.
http://feedproxy.google.com/~r/breitbart/~3/VW5vqjABXO0/