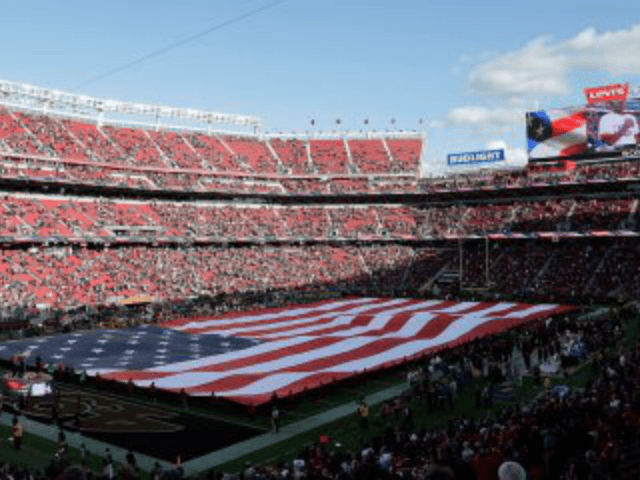 With Week Seven underway and the league almost to its halfway point in the 2018 season, it appears that some stadiums are still not packing the stands.
There was an explosion of fans tweeting out how shocked they were over the number of empty seats for the Washington Redskins and Dallas Cowboys game at FedEx Field. With the Skins playing for first place and hosting their arch rivals, fans were stunned at the number of empty seats in Washington.
FedEx at kickoff. pic.twitter.com/TXaPFIfGK5

— Rudy Gersten (@DCBarno) October 21, 2018
Lots of empty seats and lots of Cowboys fans here pic.twitter.com/sBF2AzM5Wj

— Todd Archer (@toddarcher) October 21, 2018
Is it me or are there a ton of empty seats at FedEx field?

— Rest of season Saints LIFER (@canemutiny5X) October 21, 2018
No wonder Chris Cooley was giving tix away. The upper bowl on the DC/Dallas game is empty. And are half the third tier seats scarce too? 👓

— Dot (@dotdjohnson) October 21, 2018
The 20,000 or so empty seats (and another 20,000 disguised as #Cowboys fans) at FedExField is almost enough to make even the #Chargers and Dean Spanos jealous. Almost.

— Logan of Lonsdale (@LoganOfLonsdale) October 21, 2018
Good. This year it's finally getting attention. Entire upper top rim is covered in burgundy tarps covering empty seats we can't sell. Enough people finally fed up

— Emperor Grunfeld (@harDCor_barra) October 21, 2018
First place team. Dallas week. And yet 1000s of Fed Ex Field upper deck seats empty. (Must be the #DCvNYC mania?)#redskinscowboys pic.twitter.com/ovImL0edPq

— Matthew Felling (@matthewfelling) October 21, 2018
This is just a tiny selection. There are literally dozens of tweets from people shocked at the lack of fans for the Redskins.
In nearby New Jersey, the Minnesota Vikings took on the New York Jets at home and beat the New Yorkers handily 37-17, but by some reckoning the fans were apparently otherwise engaged.
@EmptySeatsPics Yea if I was a @nyjets fan I'd be fed up to pic.twitter.com/NF08LN2hXX

— Pat Rick (@pbhockey04) October 21, 2018
Every week there's way too many empty seats and opposing team's fans at MetLife. I guess that it will remain that way until the Jets start winning more.

— Marshall Siegel (@JETSFAN139) October 21, 2018
The Los Angeles Rams came to the San Francisco 49ers' Levis Stadium and left the home team in the dust 39-10, but the fans weren't around to see it.
Rams fan re: non-Rams crowd RT @KingTony91: @[me] so much for the so called 49er faithfull they should change the name to 1and9ers pic.twitter.com/bO5NUvkdvL

— Empty Seats Galore (@EmptySeatsPics) October 21, 2018
Looks like a lot of empty seats at Levi's Stadium despite the 49'ers hosting a division rival that happens to be the best team in the NFL

— Jeff Sargeant (@jeffthesarge) October 21, 2018
As an @RamsNFL fan, I think it's sad to see so many empty seats at the @49ers game. SF is a great franchise with amazing history and for them to have a nearly half empty stadium almost every home game, it shows the location of the new site was a bad idea…

— Javier Canales (@Javi31280) October 21, 2018
Rams play in a metro area of 13 million and still have lots of empty seats each home game

— Lee (@Lee_Keybum__) October 21, 2018
The Tampa Bay Buccaneers hosted and barely toppled the Cleveland Browns in a close 26-23 final, but some fans felt the stands were not as full as they could have been.
Empty seats in Tampa… pic.twitter.com/YkG9hecucu

— ΓΞV (@r3v_d) October 21, 2018
Bucs' announced attendance for today's game against Browns was 53,682 — down from 62,571 for last home game vs. Steelers.

— Greg Auman (@gregauman) October 21, 2018
East side upper deck looked half empty – tons of empty seats on west side too – Buc need to consider the price increases – the energy in the building 2nd half was low – Can't believe they wont think of lowering prices

— Keith Fraley (@FraleyKeith) October 21, 2018
The Indianapolis Colts may have crushed it on the field by taking out the Buffalo Bills 37-5 at Indiana's Lucas Oil Stadium. But no one was crashing the gates to get in to see the game according to some fans on hand.
Alas the crowd size was not as full as we hoped #emptyseats pic.twitter.com/PyW2QXPdsI

— Concertvids34 (@concertvids34) October 21, 2018
More ✊🍌 material for my Sundays-only followers #BUFvsIND RT @onanyesfbb: Bills at Colts. @EmptySeatsPics pic.twitter.com/NYWZ7tYPey

— Empty Seats Galore (@EmptySeatsPics) October 21, 2018
However, at least one game took the attendance award. The Ravens seemed to do well today. According to Twitter user Todd Karpocivh, there were only a few empty seats at M&T Bank Stadium in Baltimore. And his photo sure did make attendance look like a packed house.
Few empty seats at soldout M&T Bank Stadium. #RavensFlock pic.twitter.com/iFWpaYvAqM

— Todd Karpovich (@toddkarpovich) October 21, 2018
Follow Warner Todd Huston on Twitter @warnerthuston.
http://feedproxy.google.com/~r/breitbart/~3/_OJWPrgIRmc/