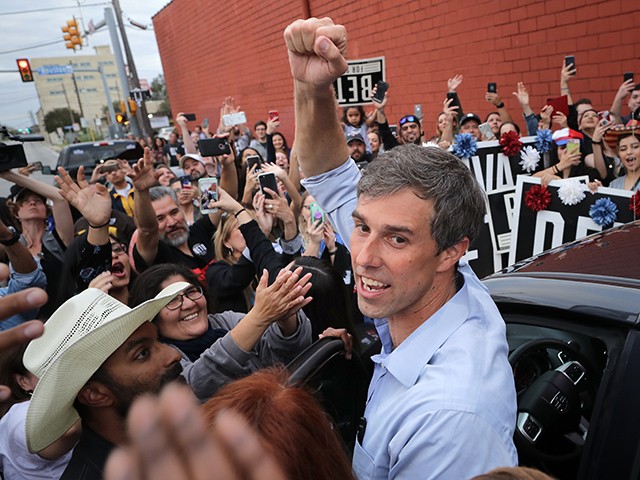 Members of Rep. Robert Francis "Beto" O'Rourke's (D-TX) inner circle are reportedly in talks with top political operatives who assisted former President Barack Obama's campaign in New Hampshire and Iowa, according to CNBC.
CNBC, citing multiple sources with knowledge of the conversations, reports the discussions are being spearheaded by O'Rourke's chief of staff, David Wysong. However, details of what has been discussed between O'Rourke's camp and Obama allies in key primary states is unclear.
"This is the phase for someone exploring a presidential campaign in that they're doing everything they can to decide who they may want to run an organization and who they could turn to if he enters the race," one unnamed Obama aide told CNBC.
Thursday's report comes as buzz about the failed U.S. Senate candidate launching a bid for the White House in 2020 continues to build.
Last month, O'Rourke reportedly met with Obama at the former president's Washington, D.C., office, and — once again — details of what the pair discussed during the sitdown are unknown. Spokespeople for both camps declined to comment on the matter.
O'Rourke said recently he isn't ruling out a potential 2020 presidential run, walking back earlier claims that he wouldn't run for the presidency regardless of the outcome of his campaign against Sen. Ted Cruz (R-TX).
During a recent interview with his former campaign strategist David Axelrod, Obama paid O'Rourke a compliment that raised eyebrows in Democrat circles: The younger progressive congressman reminded him of himself.
The Washington Times reported:
Mr. Obama was reacting to a report that a top Democratic bundler had said of the Texan that "he's Barack Obama, but white."

"The reason I was able to make a connection with a sizable portion of the country was because people had a sense that I said what I meant," Mr. Obama said, telling his former aide that Mr. O'Rourke is one of several potential 2020 Democratic candidates like that.

"We've got a number of people who are thinking about the race who I think fall in that same category," said Mr. Obama, who also described Mr. O'Rourke as an "impressive young man."
In addition to meeting with O'Rourke, Obama has sat down with a number of potential 2020 candidates, including Sens. Bernie Sanders (I-VT), Elizabeth Warren (D-MA), and failed Flordia gubernatorial candidate Andrew Gillum.
http://feedproxy.google.com/~r/breitbart/~3/H1t7E7LHSaU/