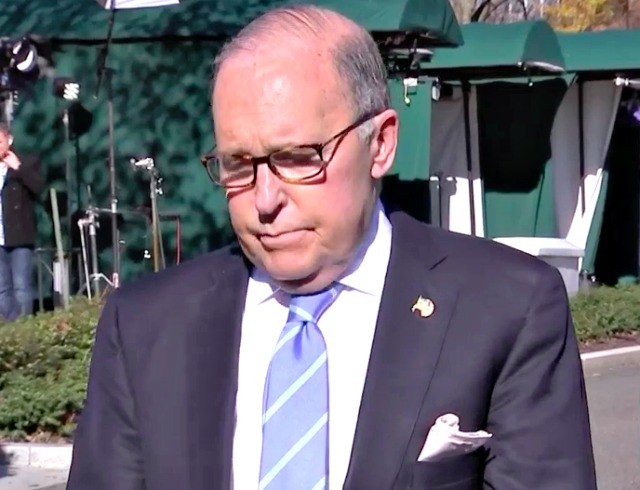 Hours after the president's top economic adviser said an economic truce with China over tariffs would begin on January 1, the White House issued a correction noting that the truce began on December 1.
Axios's Jonathan Swan reported that the White House corrected the record with him on Monday evening:
Administration officials and China hawks close to the White House were stunned by Kudlow's comments. The Trump team left Saturday's dinner with Chinese President Xi Jinping on the sidelines of the G20 summit in Buenos Aires and announced to the world the 90-day negotiating clock began immediately. Kudlow's comments threw that timeline into confusion. I emailed the White House repeatedly to get clarity. It took them until shortly before 6pm to correct the record.
The White House said the following on Saturday via statement following the same day's meeting between President Donald Trump's and Chinese President Xi Jinping:
On Trade, President Trump has agreed that on January 1, 2019, he will leave the tariffs on $200 billion worth of product at the 10% rate, and not raise it to 25% at this time. China will agree to purchase a not yet agreed upon, but very substantial, amount of agricultural, energy, industrial, and other product from the United States to reduce the trade imbalance between our two countries. China has agreed to start purchasing agricultural product from our farmers immediately.

President Trump and President Xi have agreed to immediately begin negotiations on structural changes with respect to forced technology transfer, intellectual property protection, non-tariff barriers, cyber intrusions and cyber theft, services and agriculture. Both parties agree that they will endeavor to have this transaction completed within the next 90 days. If at the end of this period of time, the parties are unable to reach an agreement, the 10% tariffs will be raised to 25%.
Breitbart Finance Editor John Carney noted the skepticism of "China hawks" towards Trump's trade negotiations with his Chinese counterpart:
President Donald Trump and China hawks in his administration have frequently criticized prior U.S. presidents for being out-maneuvered and out-smarted by China's tactic of engaging in endless negotiations and holding out the promise of reform while continuing to carry out its economic predation.  The Obama administration spent years in what was known as the Strategic and Economic Dialogue without anything of substance to show for it.

Swan similarly observed the suspicion of "China hawks" towards ongoing U.S.-China trade negotiations, describing China's "favorite game" as a "never-ending 'strategic economic dialogue' that produces puny concessions" while failing to halt intellectual property theft and forced technology transfers.
During a Monday press gaggle, Kudlow expressed optimism that trade negotiations with China would yield improvements as per Trump's stated desires for an economic end game characterized by "zero tariffs, zero non-tariff barriers, and zero subsidies," adding that, "I think President Xi is amenable to those goals."

Follow Robert Kraychik on Twitter.
http://feedproxy.google.com/~r/breitbart/~3/-ka0dUZvFUY/