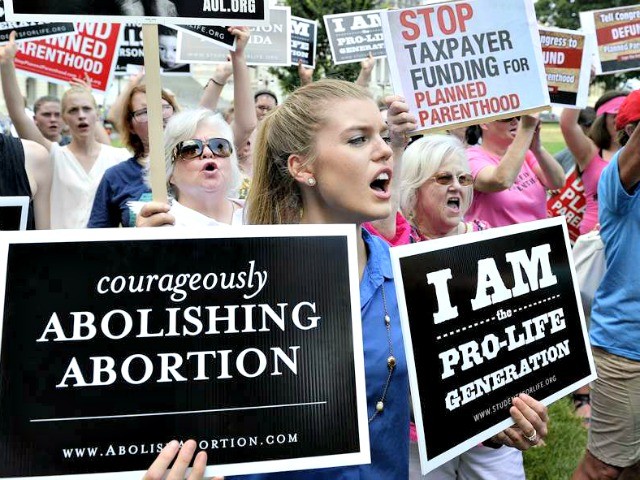 The pro-life movement gained victories both with ballot measures and in the U.S. Senate, but Democrat control of the House will present a fierce challenge.
Voters in Alabama and West Virginia passed constitutional amendments in their respective states that protect the lives of the unborn.
The amendment in Alabama grants "fetal personhood" to unborn babies and agrees to "recognize and support the sanctity of unborn life and the rights of unborn children." With this measure, the state Constitution rejects any provision of a right to an abortion or to funding for abortion.
In West Virginia, voters passed a constitutional amendment that essentially states there is no right to abortion or abortion funding.
"Given the chance to influence abortion policy directly, voters have embraced life as West Virginia and Alabama already have weighed in with legal protections," said Students for Life of America president Kristan Hawkins. "In a world after Roe, the voters will finally get to decide what abortion policy they support, and in this election, we saw people getting ready for the day in which Roe becomes a footnote in history."
Oregon citizens, however, rejected a ballot measure that would have banned public funding of most abortions. Measure 106 was a response to legislation, signed into law in 2017 by Democrat Gov. Kate Brown, that required nearly all taxpayers to fund free abortions on demand for all women regardless of their ability to pay or their citizenship status.
"While the leaders in West Virginia, Alabama and Oregon had three different approaches to abortion-related law; they all agree that the values of the people of their states – rather than of a few judges – should be most important," Hawkins added.
Democrat West Virginia Sen. Joe Manchin, however, won his re-election bid against the GOP's Patrick Morrissey. Though Manchin claims he is "pro-life," he said he would vote against the amendment in his state. In the Senate, Manchin has also voted to continue taxpayer funding to abortion business Planned Parenthood.
"It's interesting that those Senators in tight races who voted against the confirmation of Justice Kavanaugh lost tonight while West Virginia rewarded Sen. Joe Manchin with another term in office," Hawkins said.
Pro-life activists did pick up the seats of several champions of life in the U.S. Senate Tuesday, making it less likely their initiatives will be dependent on pro-abortion rights GOP Sens. Susan Collins of Maine and Lisa Murkowski of Alaska.
Josh Hawley defeated pro-choice Democrat Sen. Claire McCaskill in Missouri, and Mike Braun beat Indiana Democrat Sen. Joe Donnelly – who also claims to be pro-life, but votes to fund Planned Parenthood.
In addition, Republican Kevin Cramer, an opponent of abortion,defeated Democrat Sen. Heidi Heitkamp in North Dakota.
Governors' races in Iowa, Florida, Georgia and Ohio all yielded pro-life Republican winners as well.
With Democrats in control of the House, however, the issue of life may be in danger.
Reacting to the news of the Democrats' takeover, Jeanne Mancini, president of March for Life, said, "Protecting vulnerable, unborn citizens should be a bipartisan goal but sadly Democrats today are held hostage to an extremist pro-abortion lobby."
She continued:
Since they now have control of the U.S. House of Representatives, we can expect pro-abortion Committee Leadership as well as legislative initiatives that advance a pro-abortion agenda. All pro-life gains made by this Administration will come under fire, and we will no doubt see efforts to expand taxpayer funding for abortion as well as the erosion of conscience rights.
Nevertheless, Mancini does make several suggestions to "minimize the damage."
"The President should issue an immediate veto threat any time standing pro-life policies, for example the Hyde amendment, are stripped from legislation and continue to fill out appointments in the various Departments with people who will work toward a pro-life agenda," she recommends. "The Senate, too, can accelerate the rate at which Judicial and Executive branch nominations are confirmed."
Additionally, Hawkins observed that, even with the loss of support in the House, "pro-life Americans have not given up our hopes for a nation in which life is protected in law."
"And we won't back down now," she added. "One election doesn't change the fact that all life deserves protection and that we love both women and their children."
http://feedproxy.google.com/~r/breitbart/~3/zHlVlljPJnc/